When we first made the call to our readers for suggestions on where to hunt some Boat Noodles (without heading all the way to KL that is), everyone said the same thing – head to the Sutera Mall area in JB.
Well, darn right they were too because there was not just one but TWO choices to get our Boat Noodle fix there. The first was Amphawa Boat Noodle (which you can read about by clicking HERE) and the other is called simply 'The Original" Boat Noodle.
A little Googling will show you that this "The Original" Boat Noodle is apparently the same brand that made all those headlines all that time ago in KL so I guess technically they can lay claim to being the "original" or at least the first popular one in Malaysia. And yes, the name is techically just 'Boat Noodle' so we will stick to that okay LOL
So on our next visit to Sutera Mall, we decided to check this one out to see how much we liked it compared to our first encounter with this seemingly simple yet complex dish.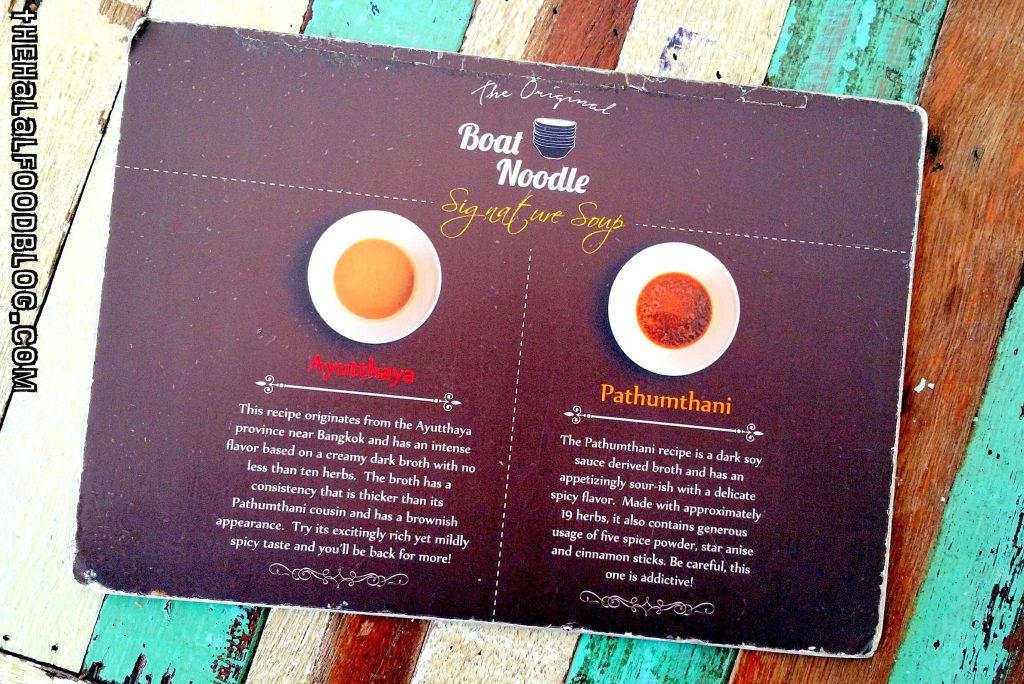 The first thing we noticed was that there were only 2 types of broth to choose from namely the Ayutthaya (Herb-based) and the Pathumthani (Sweet and Sour Soy-based) compared to the 3 flavours at Amphawa.
Technically it seems like they had similar things going on in terms of the base broth.
For example, here it's called Ayutthaya but at Amphawa, the Herb-based broth is called Rangsit. Here the Sweet and Sour Soy-based is called Pathumthani but over there it's called as simply Amphawa.
The only broth that was offered as a choice at Amphawa but not here at Boat Noodle was the Tom Yum. Quite surprising to be honest.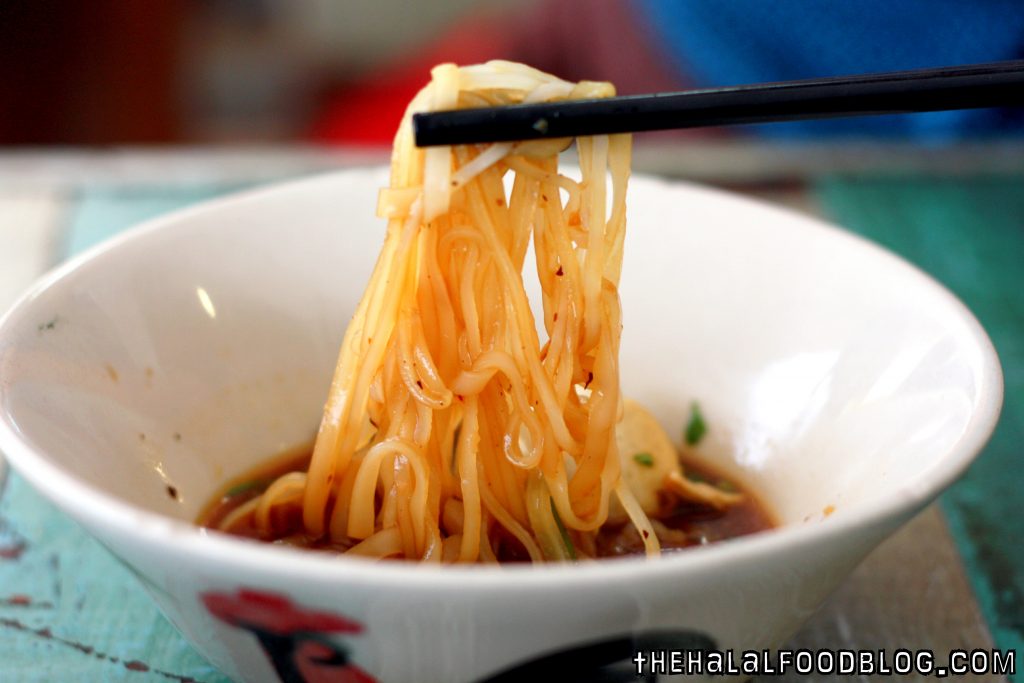 Another big difference you will notice is that there is only one type of noodle here at Boat Noodle and that is the 'Rice Noodle' as seen in the photo above.
It's actually a pretty good noodle choice for this sort of dish because it goes well with the broth without actually absorbing it so it doesn't actually 'kembang'. But the lack of choice means you're going to get pretty full pretty quickly on these noodles compared to, for example, 'Glass Noodle' that Amphawa offers along with the Rice Noodle option.
But hey enough comparisons for now and let's get on with the dishes!!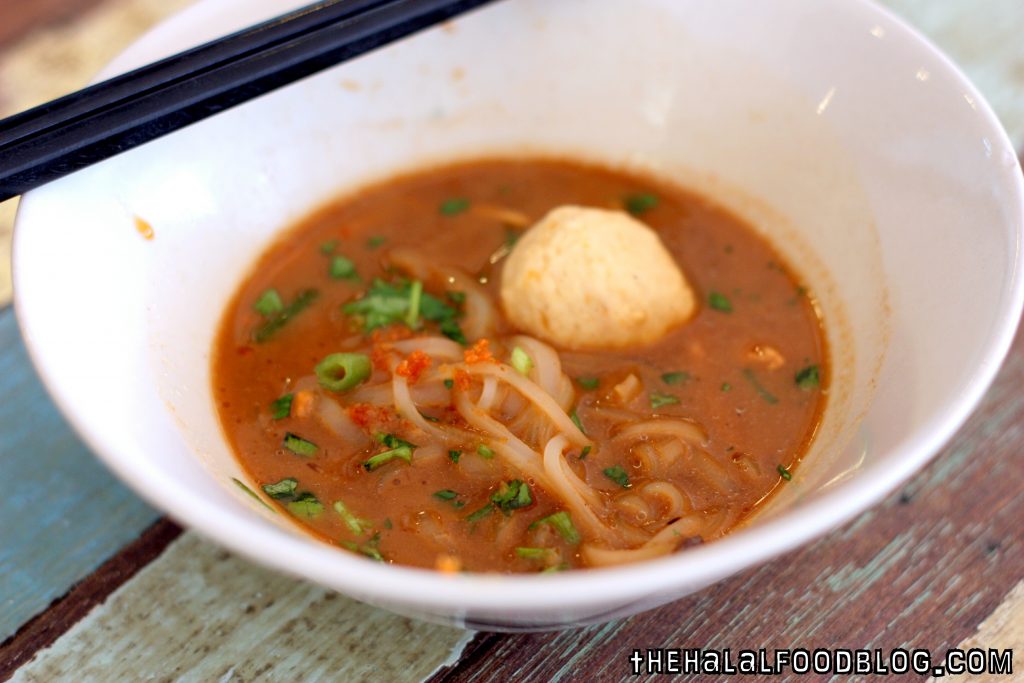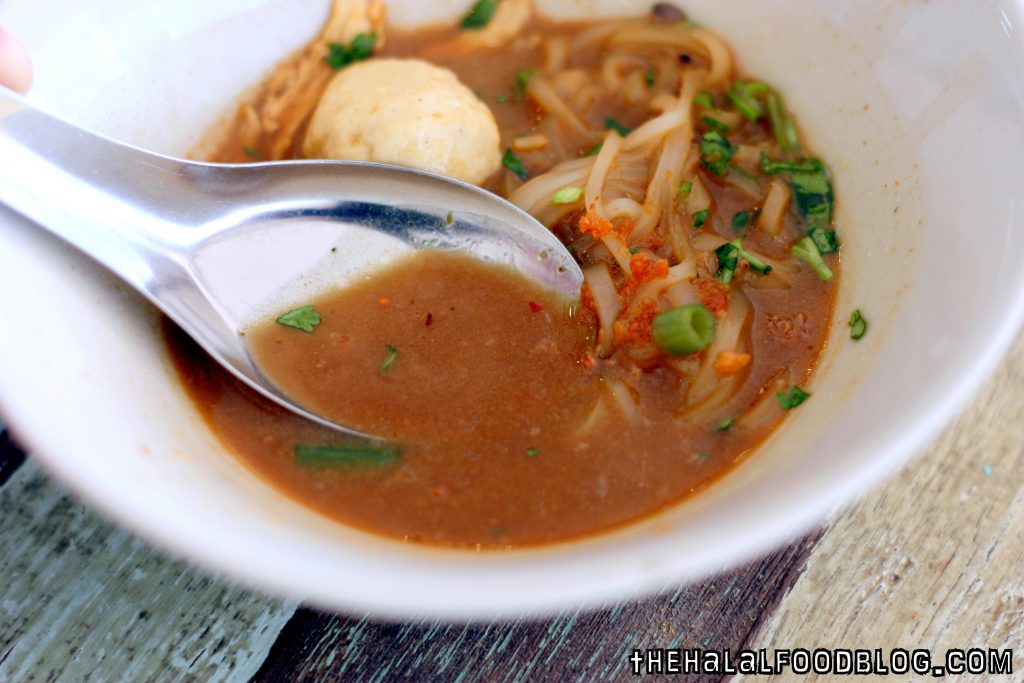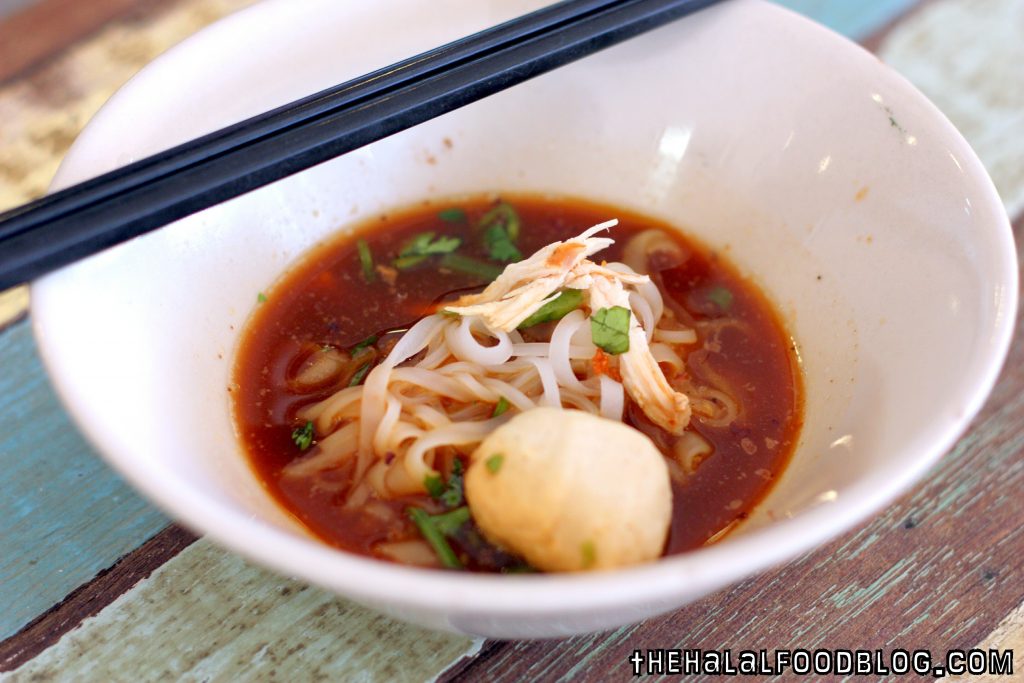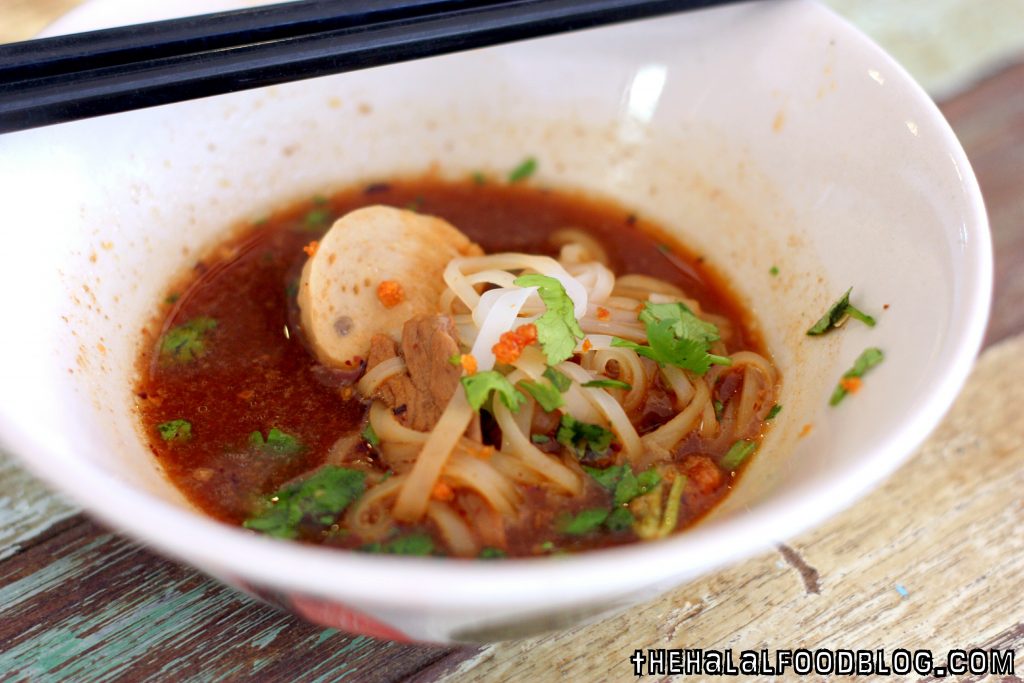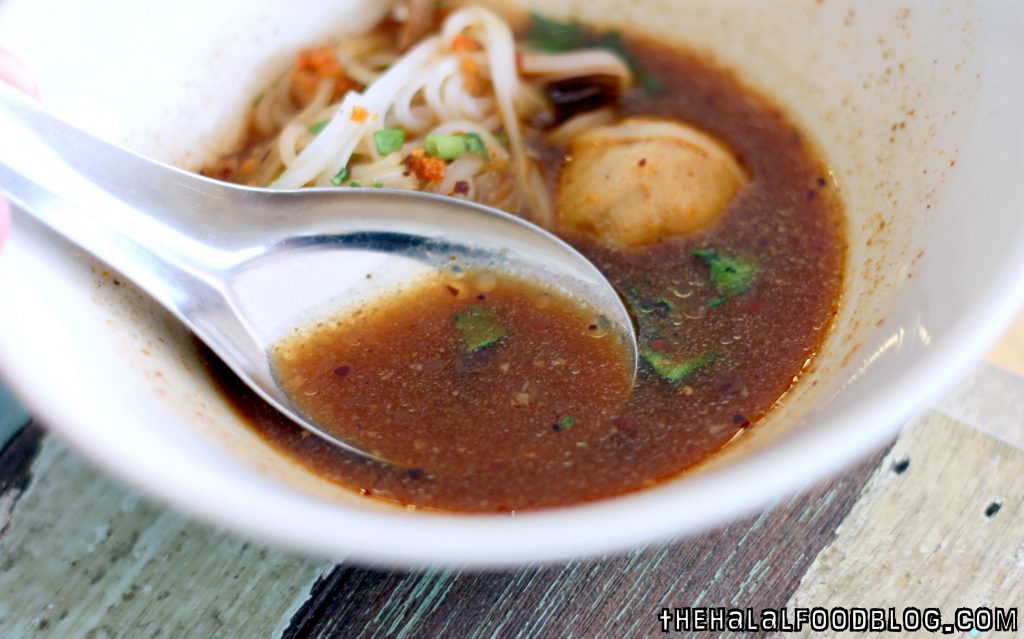 So you can still choose between Chicken or Beef with either broth and you'll get some shredded meat and a meatball (either chicken or beef like duh) along with your rice noodles.
You can also see from those photos above the difference between the broths.
The Pathumthani definitely had a more robust flavour because of the salty-sour combination thanks to the soy and the herbs but make no mistake, the Ayutthaya may be so-called milder but the flavour still packs quite a punch.
Still missing that Tom Yum though… Hmmmm….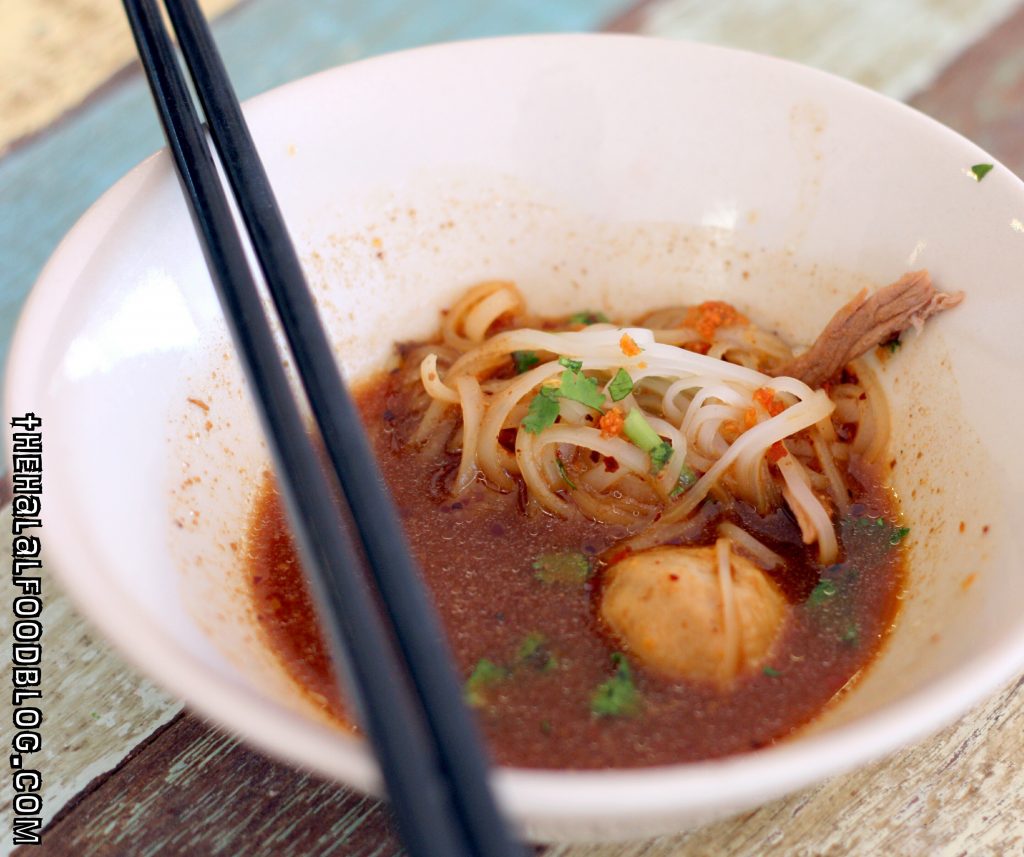 And I know that Boat Noodles are generally a small serving (literally 1-3 slurps and it's gone!) but some of the bowls seemed to have less noodles than the rest? Not sure if the bowls were a little bigger compared to our last visit maybe? But no worries because if not enough and still hungry – just order more bowls because at RM1.90, it's a steal.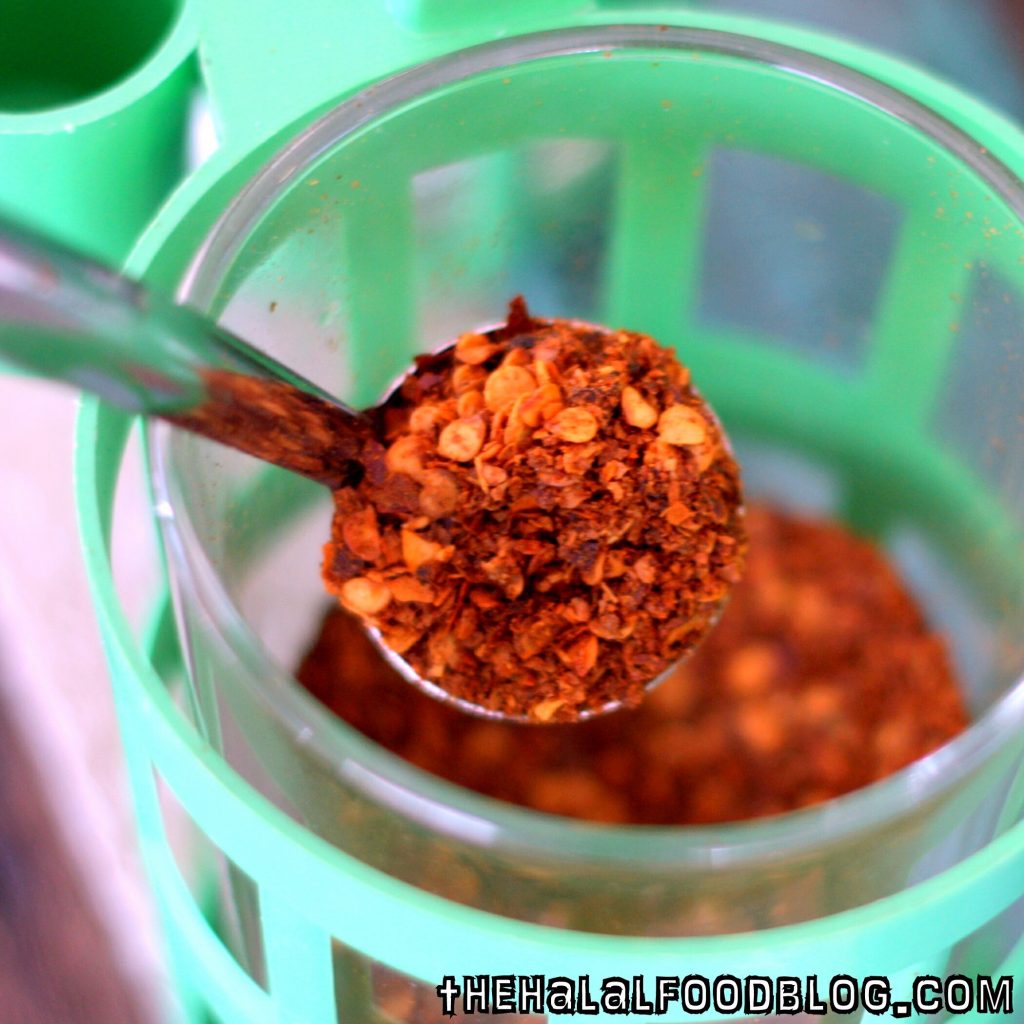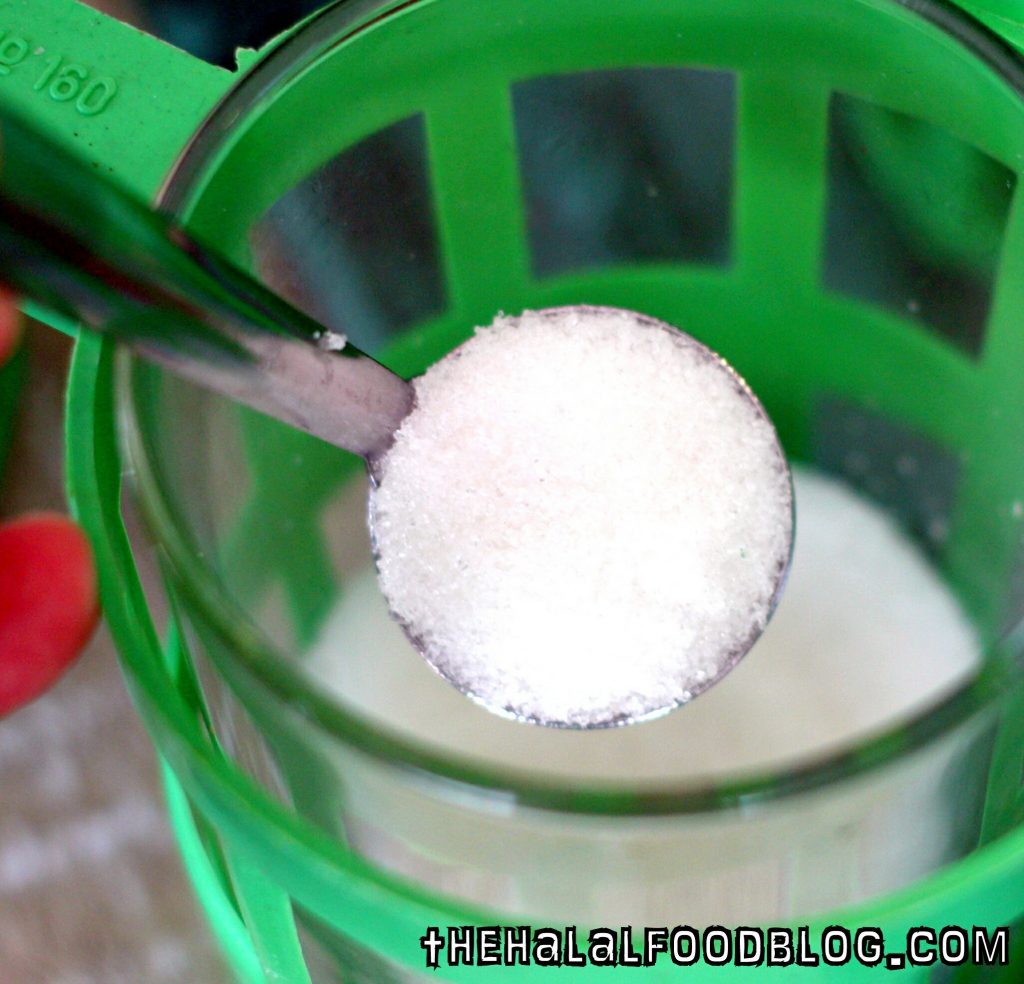 And of course, don't forget the usual line-up of condiments on the side to add even more flavour to your boat noodles LOL as if they were not already flavourful enough
Anyways, besides the boat noodles, they also have quite a few other dishes to choose from on the menu including Chicken with Basil Rice and a whole array of side dishes like Thai Chicken Wings, Grilled Meat Balls and even Thai Popeye's Tempura (aka Spinach Tempura) among other things.
But after all that, you're definitely going to want to wash it all down with a nice refreshing beverage.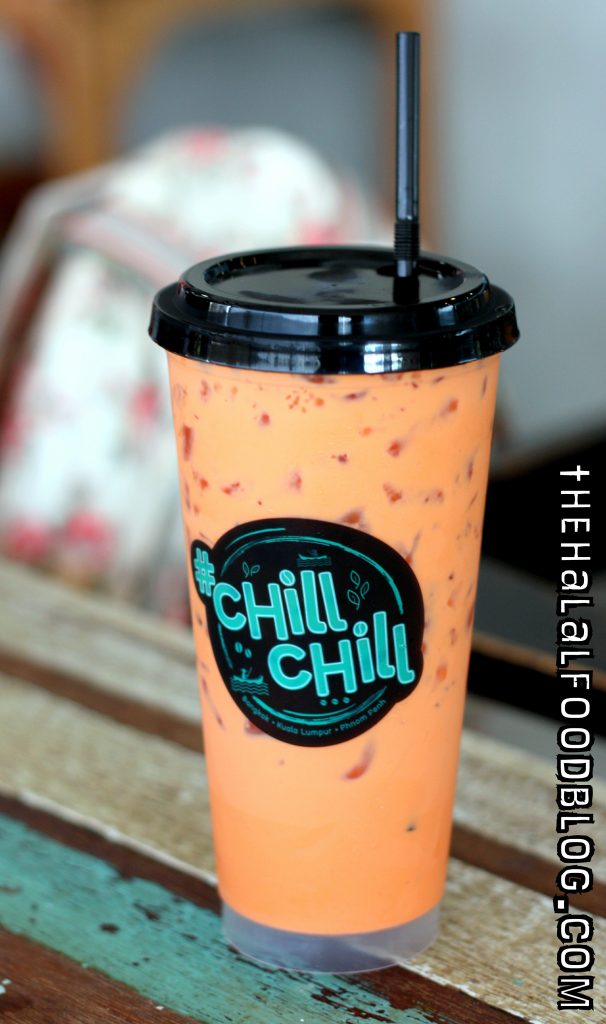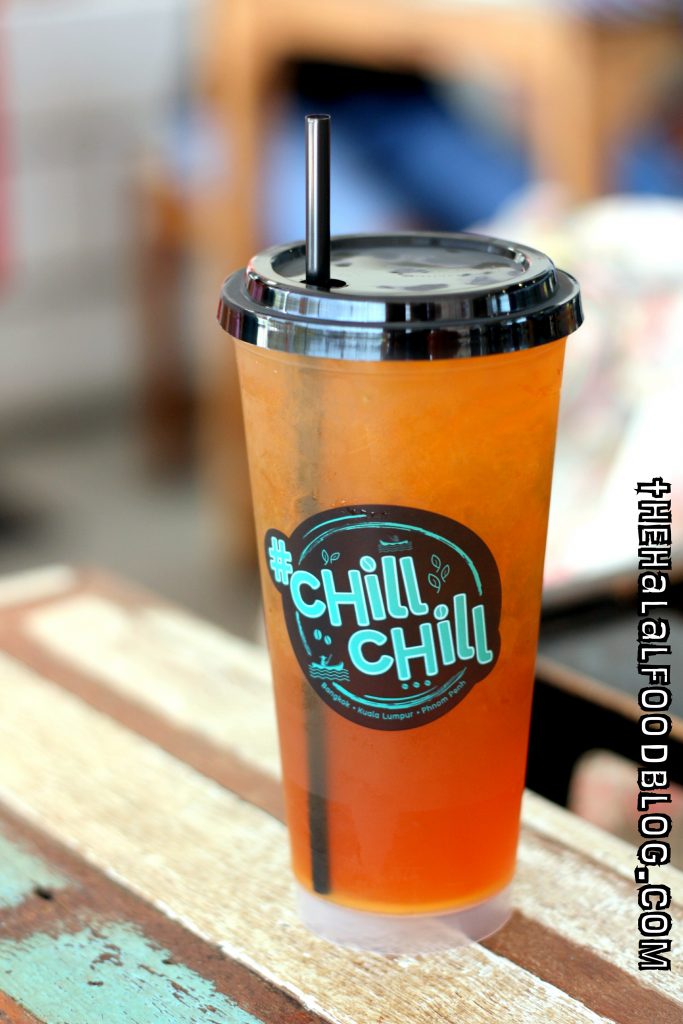 Definitely highly recommended are the Cha-Yen (Thai Iced Milk Tea) and the Cha-Manao-Yen (Thai Iced Lemon Tea) which were not only refreshing because it was a hot day but they actually genuinely tasty drinks!
The Cha-Yen has that familiar Thai Milk Tea flavour although I do think it could have been a bit milkier but the Cha-Manao-Yen really takes the cake because it was nice and tangy and makes you pucker up but you keep going back to gulp some more! Addictive!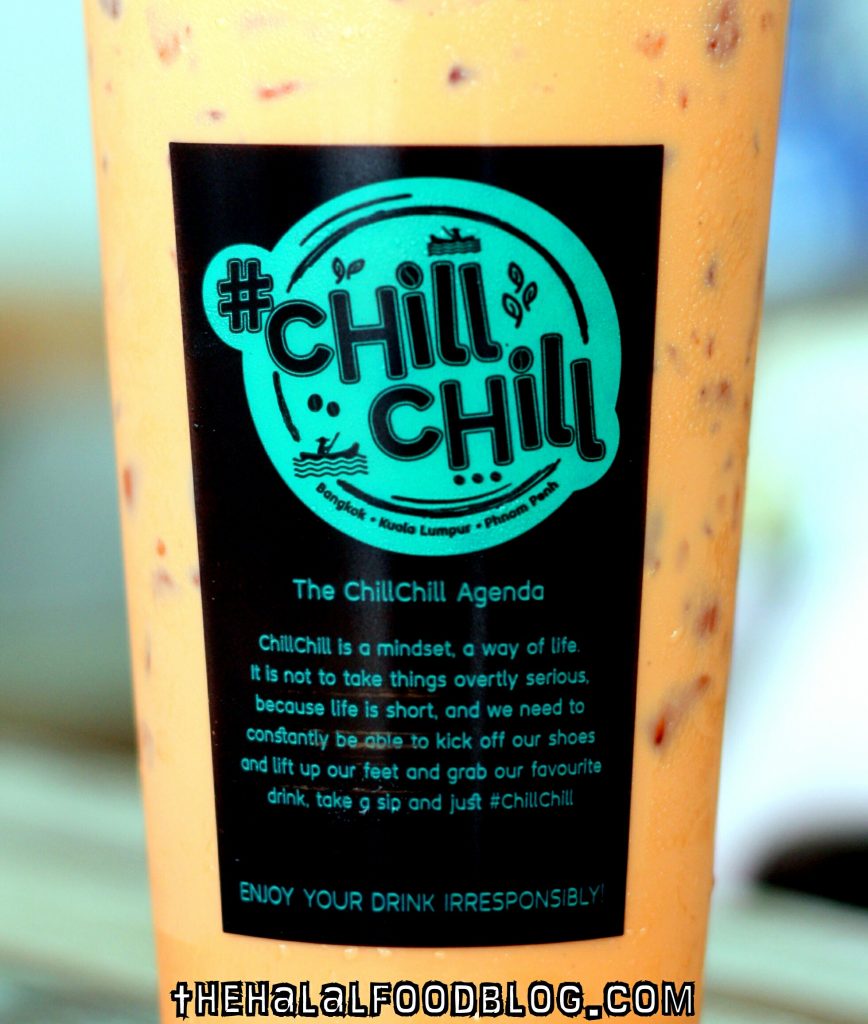 I'm not sure if this was a permanent thing at Boat Noodle but our drinks were served in plastic tumblers from The ChillChill Agenda. So what exactly is The ChillChill Agenda? Just read above LOL
I think it was pretty cool because they were pretty good quality plastic tumblers and you could bring them home with you after you're done but I'm guessing this is why the drinks are on the price side of RM6.90 (that's like 3 bowls of boat noodles and change man!) LOL but it's fine lah. Just #ChillChill because the drinks were really sedap.
CHILD FRIENDLY FACTOR — 3.5/5
It's been awhile since we included a Child Friendly Factor Rating in our posts and it's about high time we started again lah because I think it somewhat helps right?
Well, the good news is that this is quite a good place even with the kids. The outdoor seating area is pretty spacious plus they have pretty sturdy wooden baby chairs too. Plus the kids are gonna enjoy slurping their noodles!
Adam's Ratings:
Ayutthaya Boat Noodles 2.5/5 — Pathumtahani Boat Noodles 3/5 — Cha-Yen 2.5/5
Cha-Manao-Yen 4/5
Maryah's Ratings:
Ayutthaya Boat Noodles 2/5 — Pathumtahani Boat Noodles 2/5 — Cha-Yen 3/5
Cha-Manao-Yen 4.5/5
I know I said I'd try and stop comparing Boat Noodle to Amphawa Boat Noodles but I guess it's difficult because the latter was our first experience and that's where we set the benchmark. But I'm not saying that Boat Noodle is not nice or anything because it's actually not bad at all.
Okay let me put it this way – Let's just say that if I were in KL and hankering for some boat noodles, I'd definitely head down to Boat Noodle. But if I were in the Sutera Mall area, I'd definitely go back to Amphawa Boat Noodle. How's that for a fair assessment!
Having said that, Boat Noodle also has outlets in Damansara, Petaling Jaya, Cheras, Klang, Kota Kemuning and Beraya Times Square too so head down to whichever is closest to you 🙂
PS the Sutera Mall says operating hours at 10am but we had to wait til 11am before the noodles were ready for ordering so just FYI okay
Sutera Mall
No 1 Jalan Sutera Tanjung 8/4
Taman Sutera Utama 81300 Skudai
Johor Bahru Malaysia
www.boatnoodle.com.my
Facebook: www.facebook.com/myboatnoodle/
Instagram: @myboatbnoodle
Operating Hours: 10.00am til 10.00pm Daily
All information (including prices, availability of item on menu and Halal status of establishment) are accurate at the time of posting. All photos used in this site are property of The Halal Food Blog unless stated otherwise.