We tried visiting Blink Burgers when it first opened but unfortunately we'd arrived too late. It had received plenty of buzz and so many people came down to Blink Burgers that they ran out of food! Literally! Well, that's gotta mean something delicious must be cooking at Blink Burgers right???
So what exactly do they sell at Blink Burgers? Well, Burger!! Like duh!!
But don't be surprised to see some unique dishes on offer on the weekends. They call them the 'Chef's Specials' and they're only available for a limited time so keep an eye out on their FB page for updates.
We were lucky that when we visited, there was a Chef's Special on offer!!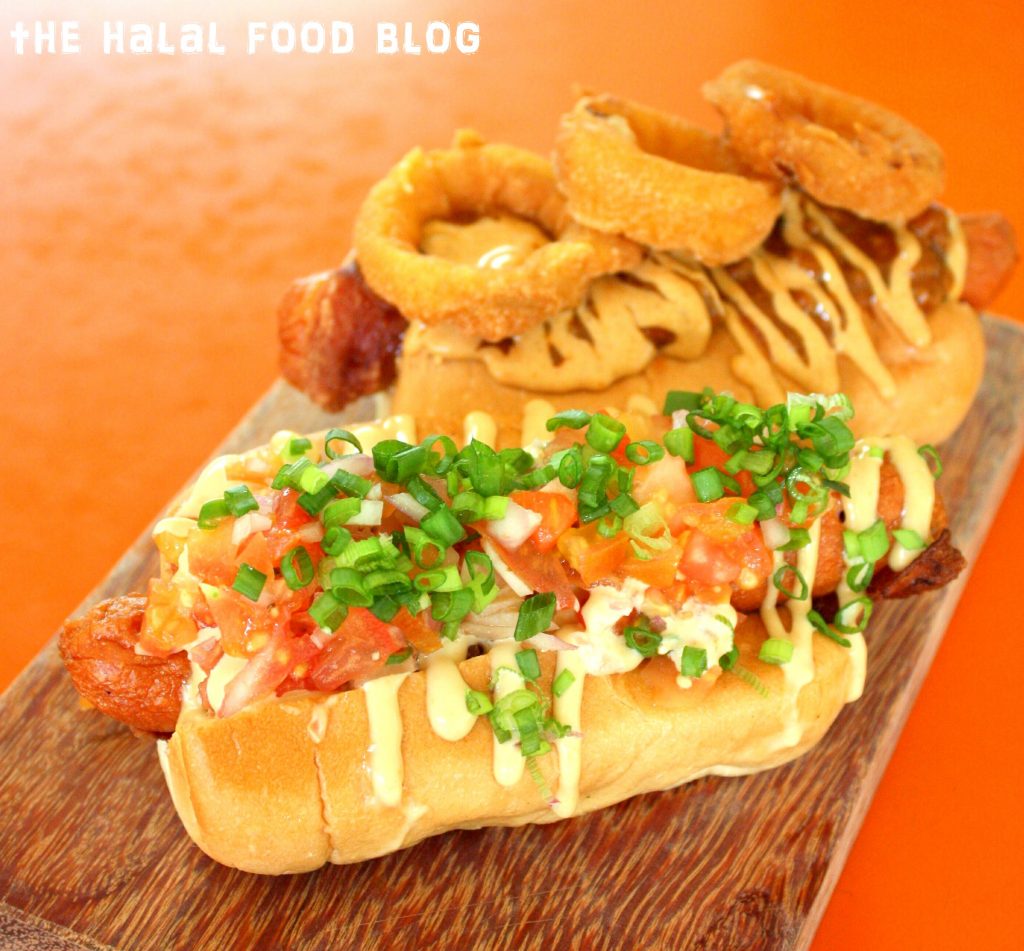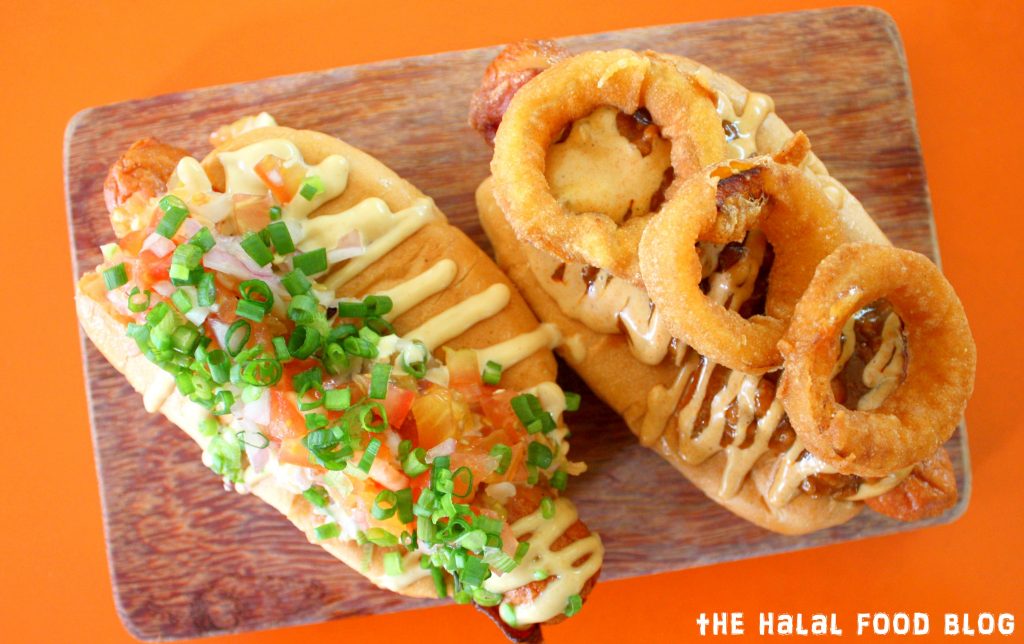 Oh yeah we had hot dogs at Blink Burgers! LOL
Which is not a bad thing because we seriously loves us some hot dogs and here we are getting a platter of 2!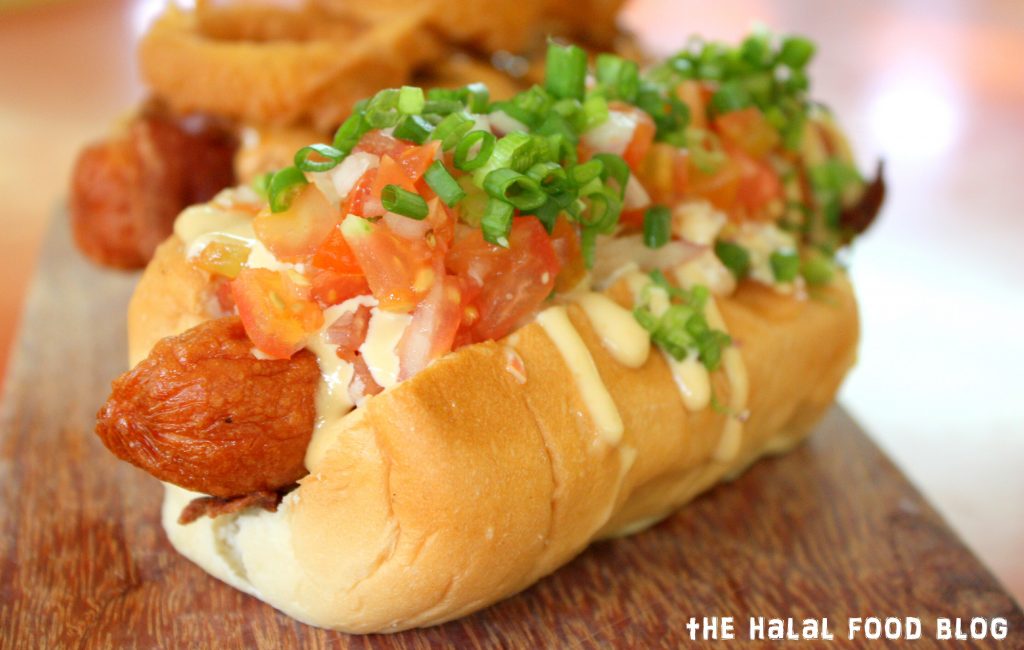 So they collectively named the pair 'Double Trouble' but didn't give individual names to the hotdogs.
So we're gonna do just that – give em some names just for fun.
So this is Double Trouble #1 aka The Ronaldinho Hot Dog. Because it's got salsa and makes us wanna samba. LOL
So you've got a bacon-wrapped cheese chicken hotdog as your main protein source here. Add some Miso Mayo, Spring Onions and Spicy Salsa and you're all set to samba like Ronaldinho Gaúcho himself! Aye Caramba!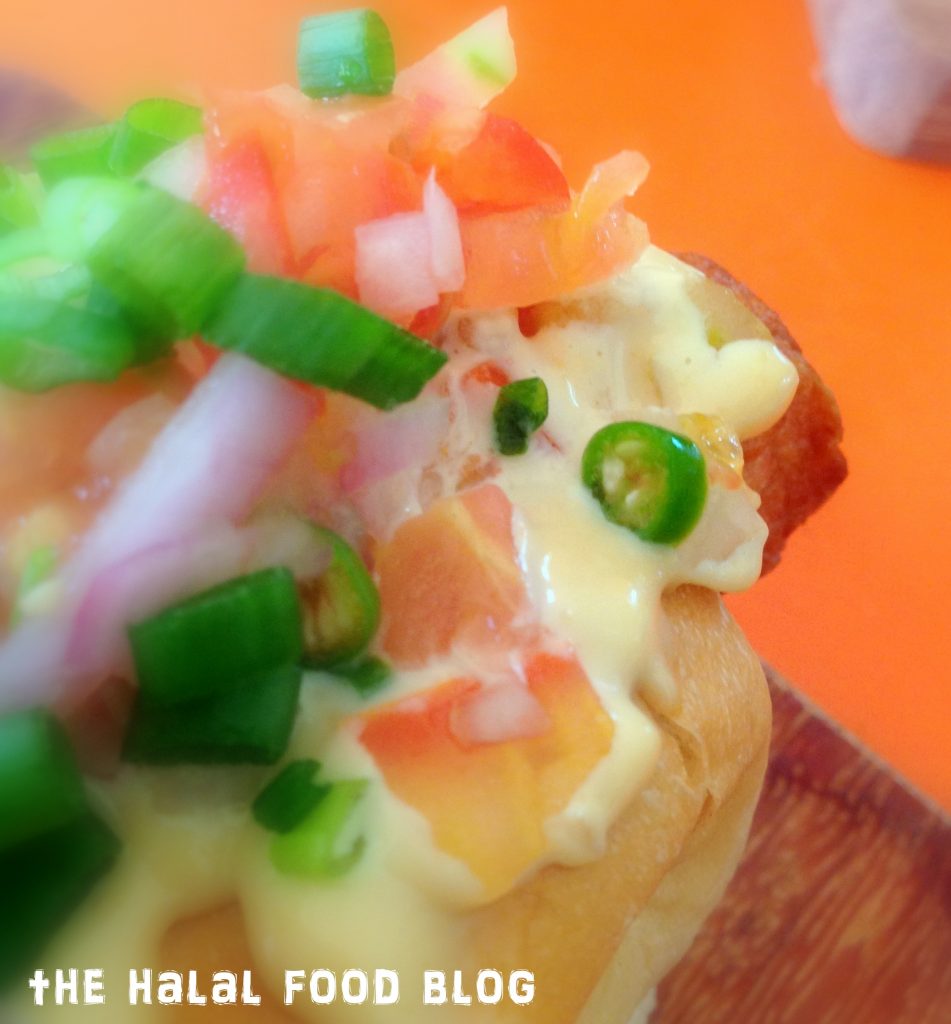 And just a word of advice – when they say Spicy Salsa, they really do mean spicy salsa! There's quite a generous helping of chili padi hijau (aka Green Bird's Eye Chillies) in there and they do give you quite a kick when you chomp down right into that bugger.
For those of you not so kuat pedas, maybe better tell them to leave out the chili padi eh.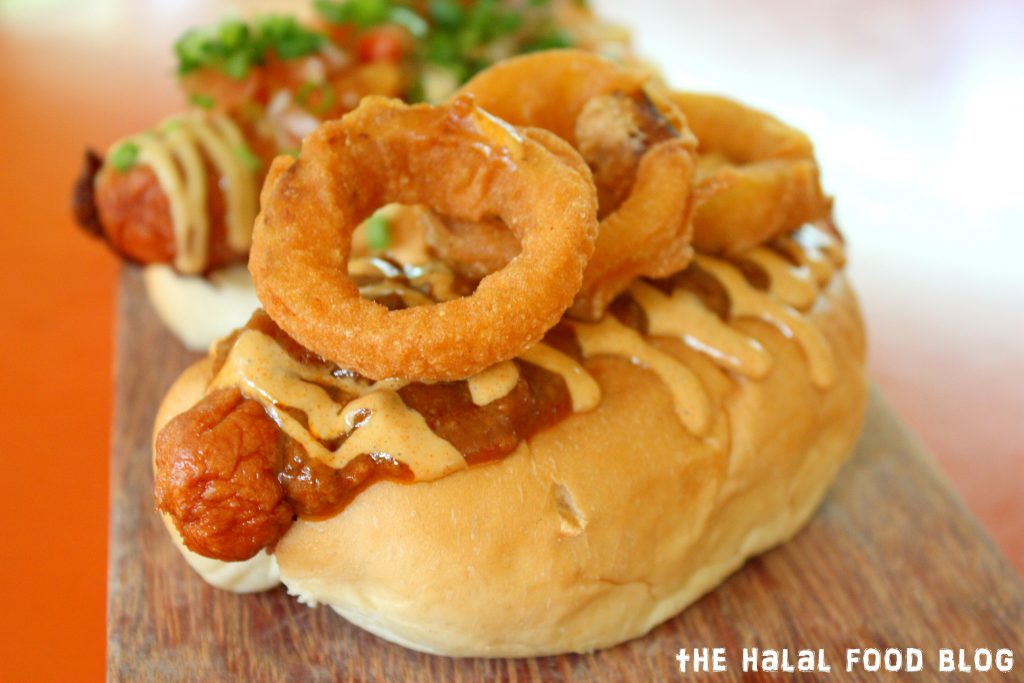 Double Trouble #2 is now hereby affectionately known as The PBG Hot Dog.
And by looking at the hot dog, I'm guessing you can see why we're calling it that. 😛
So also a bacon-wrapped hotdog here topped with a nice big serving of chili concarne! That's right we're trying to relive the Coney Dog style here so you know you wanna come along for this ride. But we're not stopping there. You've also got some Garlic Aioli drizzled on there and finally topped off with not 5, not 4 but THREE onion rings!! (Like as if 3 is not enough is it?)
And these were the really power onion rings not those small and thin types. We're talking the real onion slices battered and deep fried to a crispy perfection! Great crunch and great onion flavour too! Wonder if they sell them as a side dish also…
Anyways both hot dogs were pretty different but still pretty yummy either way so it's perfect for sharing!!
But hey when you go to a place with the word 'Burgers' in the name, you know down right you've gotta have the burgers right? So we decided to try 2 of their burgers that we've heard lots of people raving about.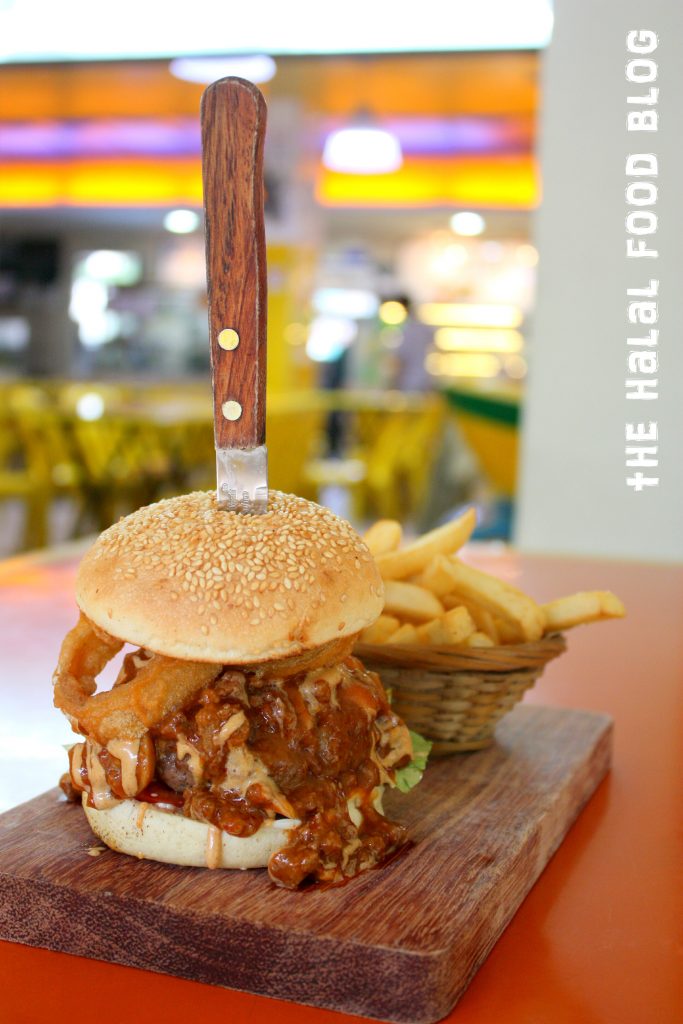 While you all take a few extra blinks and rub your eyes a little, we'll take the chance to explain what Umami is.
You can read all kinds of articles and the likes about what 'Umami' means but this is what we understand –
Umami is basically the 5th primary taste in food (along with sweet, sour, salty and bitter) and is mostly induced by glutamates (like MSG for example but it is not necessarily always the case). Anyways, for us, it just means that extra little bit that makes the food that little bit extra delicious. It can be so subtle that we don't even know we are tasting Umami but all we know is that the food has got that extra ooomph!!
So when you take a look at the Umami 2.0 burger, you know you're in for a treat! I'm not sure if Umami can be translated by sight but this burger has got us going just by the looks of it. There's something about a big messy burger that somehow gets us excited! LOL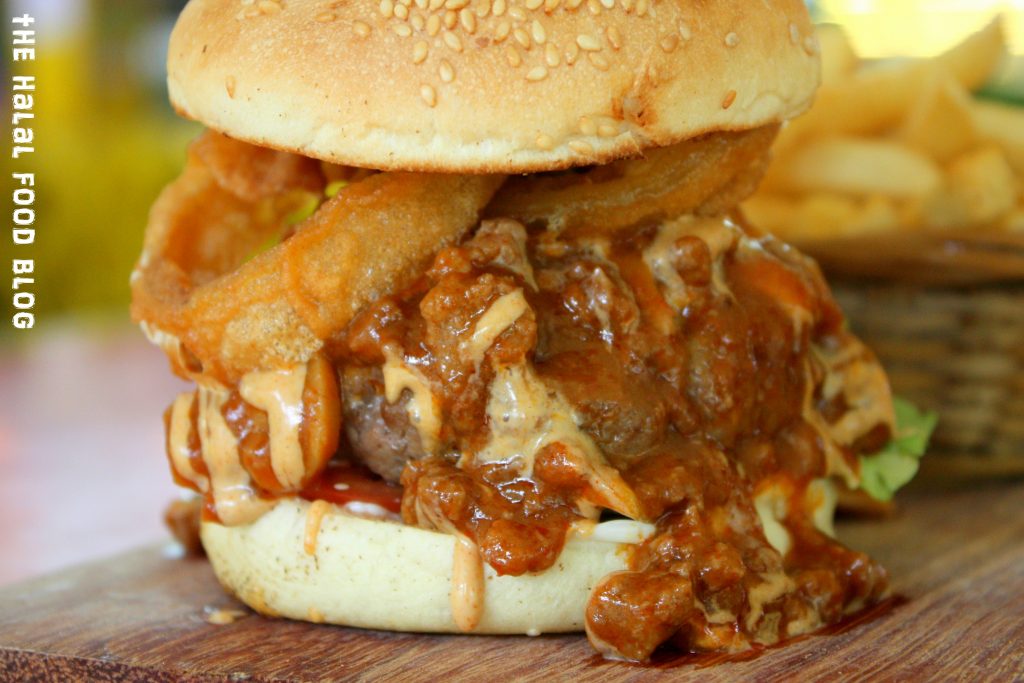 **trying hard to maintain**
So what exactly goes into the Umami 2.0? You've got a good ol' fashioned beef patty cooked to juicy perfection plus a good heaping of their Chili Concarne piled on to make it a nice sloppy turn-on ala Sloppy Joe style.
And then you add in some more tomato slices, cheese, what seems like the Garlic Aioli and then finally some more of those excellently crispy onion rings right on the top.
And if just talking about it is such a mouthful, wait til you actually take a big mouthful! LOL
We really enjoyed the Chili Concarne but we were a bit puzzled later on because after taking a closer look at their FB page, the burger we got and the burger in the pictures online were quite different. But fret not – a clarification with Blink Burgers confirms they are the same burgers with an updated twist. And to be honest, the version we got looked much better 😛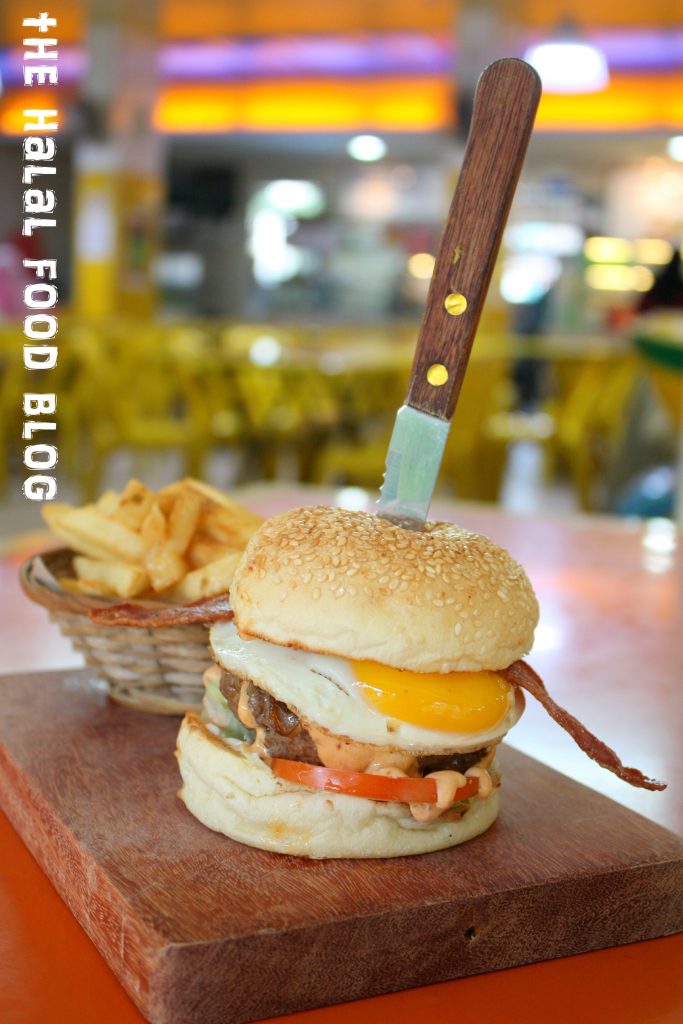 Here's another burger we kept hearing about. One of their signatures by the looks of it – the Angels & Demons!
So you've got the beef patty with cheddar cheese, turkey bacon, caramelized onions, tomato slices, chipotle mayo and a nice sunny side up egg to finish the job (as if it wasn't already enough to fill you up!). Maybe the reason why people might like this burger because it probably seems like the most classic type of burger on the menu. It's still a satisfying burger especially if you're looking for something within your comfort zones and you're not in the mood to try the other fantastic-sounding burgers on the menu.
Plus, you know we have a thing for runny egg yolks…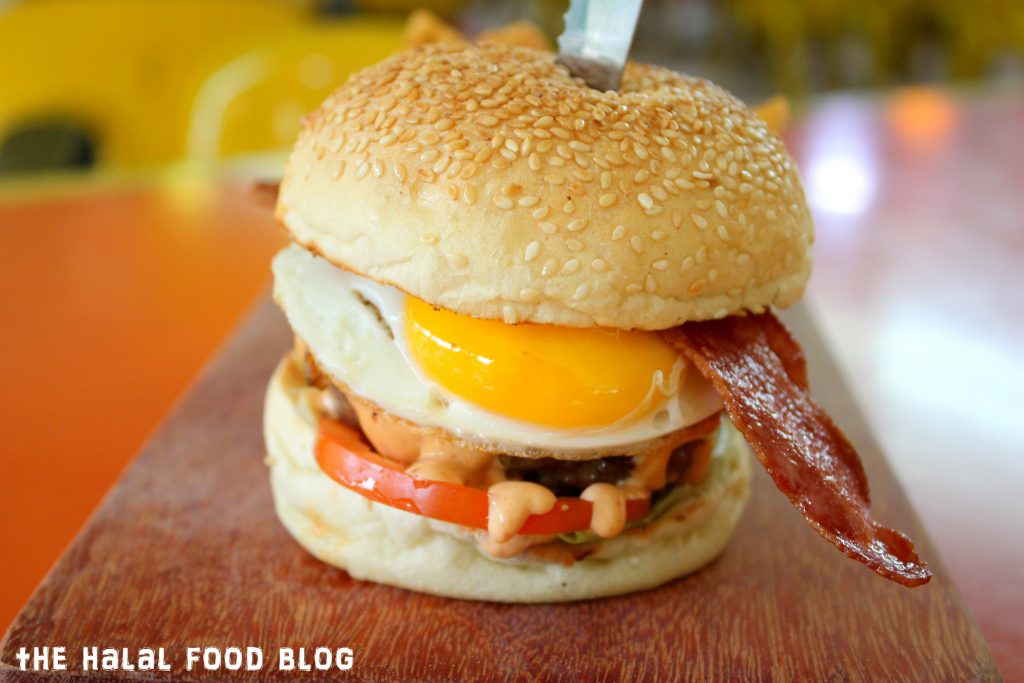 The one thing constant about the 2 burgers we had (and probably the rest of the beef burgers on the menu) is the patty. They proudly proclaim on the menu that Blink Burgers does not use any preservatives or binding agents in their patties and it's very obvious that they take great pride in their patties!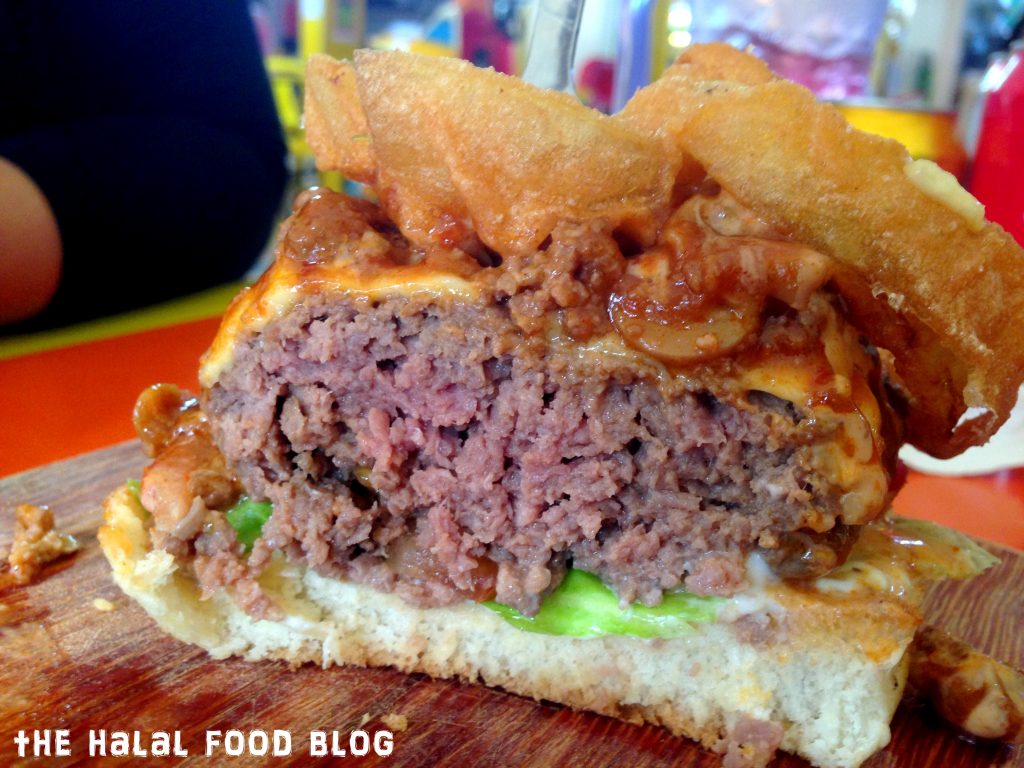 Nice and juicy patties is what they serve here at Blink Burgers!
It's really easy to overcook a beef patty which results in a dried-out and tough clump of meat but none of that here. The beef patty on its own is also very tasty so no problems with the seasoning here.
I think for me the only downer was the buns. Not sure what buns they used but turned out a little bit too hard for my liking. It wasn't a problem with the toasting though so I'm guessing maybe it was just the bun itself.
If you're looking for other burgers here besides the 2 we tried, they also have the Abg Ramlee (Egg Pillow, Pepper Glaze, Chili Sauce, Pickled Cucumber and Coleslaw), the Korean-inspired Gang Gogi (Kimchi, Galbi Beef and Chipotle Mayo) and the only non-beef burger – The Lady NZ (Crispy Chicken Thigh, Chicken Ham, Sambal, Pickled Cucumber, Coleslaw and Garlic Aioli). That last one sounds not bad actually! Might try that the next time!
Adam's Verdict:
Double Trouble #1 aka The Ronaldinho 3/5 — Double Trouble #2 aka The PBG 3.5/5The Umami 2.0 3/5 — Angels & Demons 2/5
Maryah's Verdict:
Double Trouble #1 aka The Ronaldinho 3/5 — Double Trouble #2 aka The PBG 2/5
The Umami 2.0 2.5/5
Azlan's Verdict:
Double Trouble #1 aka The Ronaldinho 4/5 — Double Trouble #2 aka The PBG 2/5
The Umami 2.0 3/5 — Angels & Demons 3.5/5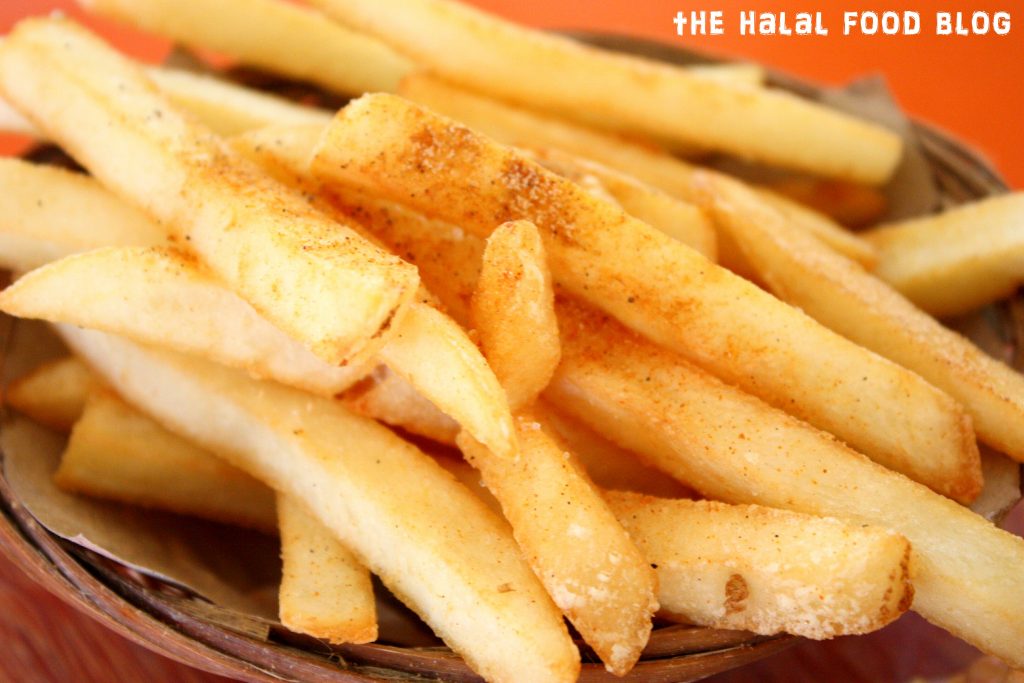 Last 2 pieces of information for yous all.
#1 – The default is the potato fries as shown above but you can also get sweet potato fries if you prefer. Side order  costs $6.00.
#2 – You also have the option of the 'Black Bun' for your burgers. Don't be afraid to try it. Just be sure to let them know when you order. No extra charge!
Yeah I foresee us heading down to Blink Burgers again soon in future!
**UPDATED ON 23 APRIL 2016**
Apparently Blink Burgers has packed up and moved across the Causeway!
Now located in the Larkin area of JB! See new address below and note the new FB and IG pages!
Blk 537 Bedok North Street 3
Hawa Restaurant
No 1, 1-01 Jalan Dataran Larkin 3
Taman Dataran Larkin 80350 Johor Bahru

Facebook: www.facebook.com/blinkburgerssg
Instagram: http://instagram.com/blinkburgers/
Operating Hours:
3.00pm til MidnightDaily

All information (including prices, availability of item on menu and Halal status of establishment) are accurate at the time of posting. All photos used in this site are property of The Halal Food Blog unless stated otherwise.