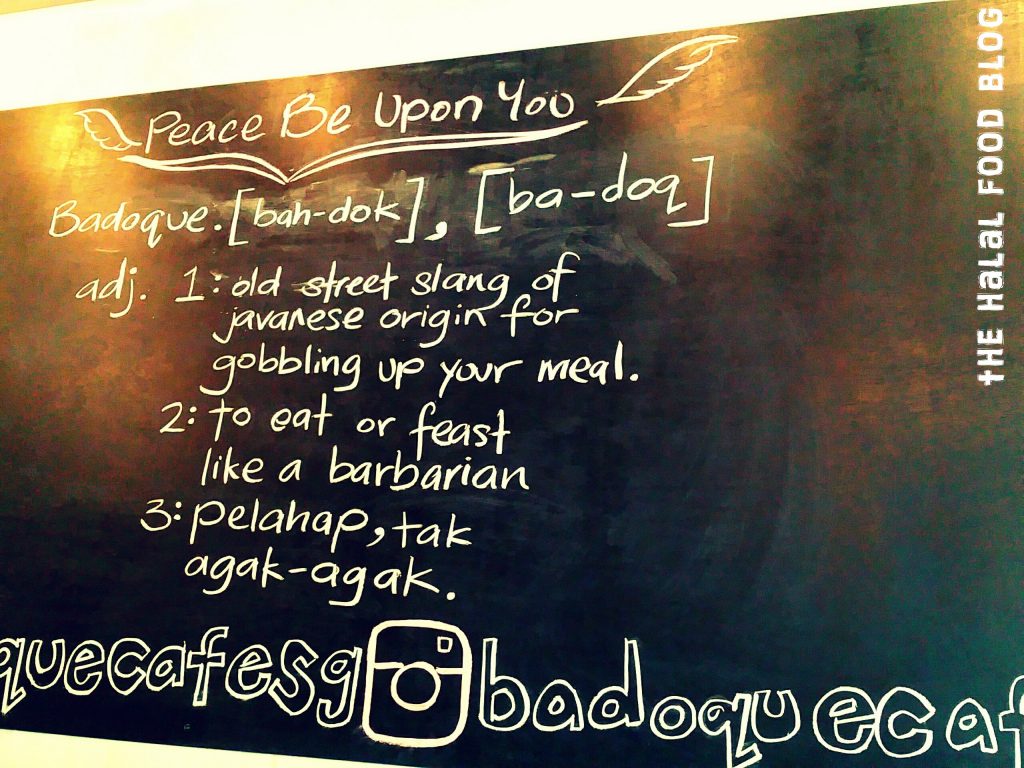 You all know how much we adore Badoque right? 2 visits to their Simpang Bedok outlet in recent times but never to their outlet in Upper Thomson before. And when their Simpang Bedok outlet was under renovation, we decided it was finally time to make our way up to Upper Thomson. Cos we felt like stuffing ourselves to the max. LOL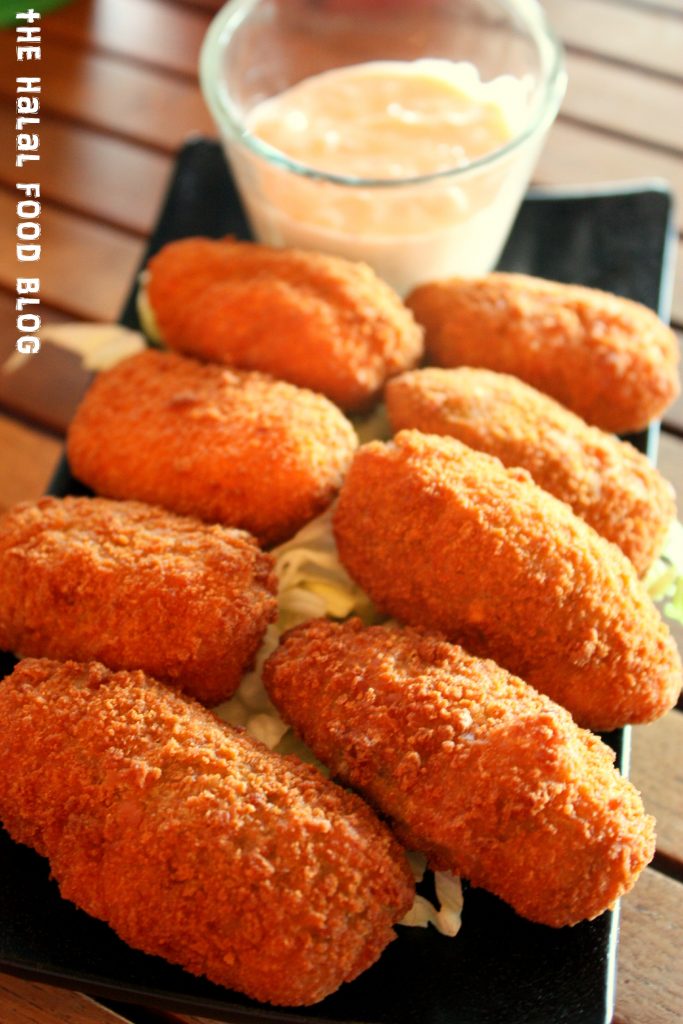 So we're always gonna start off with some appetizers (or chemil-chemilan as they like to call it there) and something new we spotted on their IG was a dish they called Chili Chombi. Some sort of nuggets it seems?
Whoa were we glad we ordered this dish!
It's actually their version of the popular Jalapeno Poppers!
(When you read that, you gotta read it in a Mexican accent okay. "Hala-pay-neo")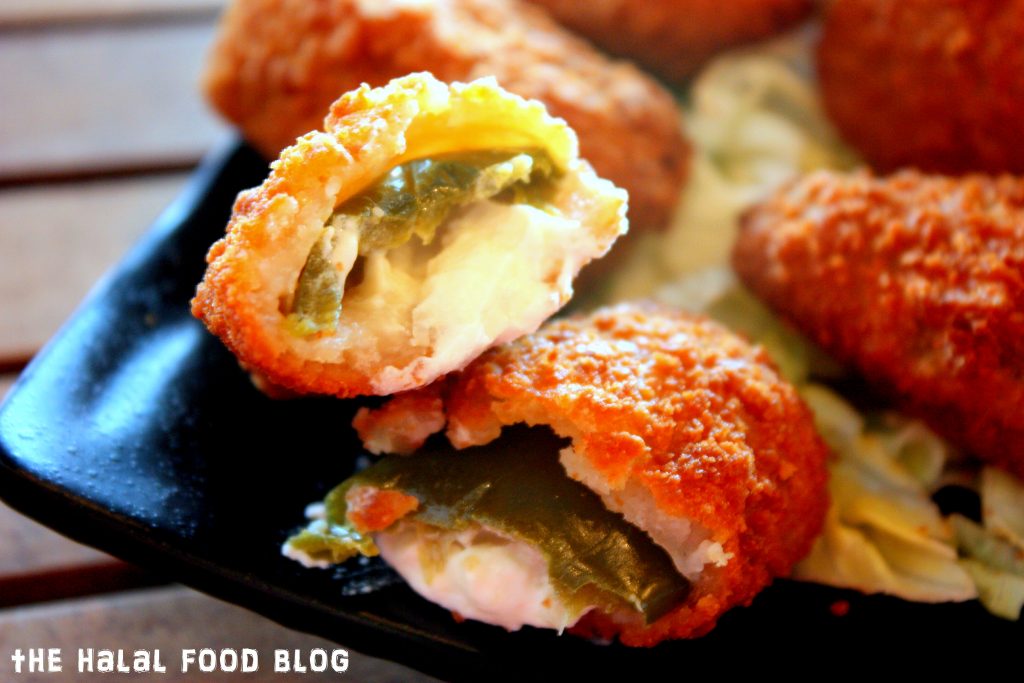 So you've got these little breaded and deep-fried nuggets of delicious goodness. And inside the crisp outer shell you'll find the spicy Jalapeno (don't forget the Mexicano accent)! But fret not there's some cream cheese in there to cool you down but the combination is the bomb. If you've ever had Jalapeno Popper (Mexicano accent) before, you'll know what I mean and won't give this a miss!
It comes with a chili mayo dip too but to be honest it's good enough on its own lah.
But as you can see, even their appetizers come in what we would consider a very generous portion. So good for sharing!! But if you wanna be hero and go for it on your own also can! Good luck! LOL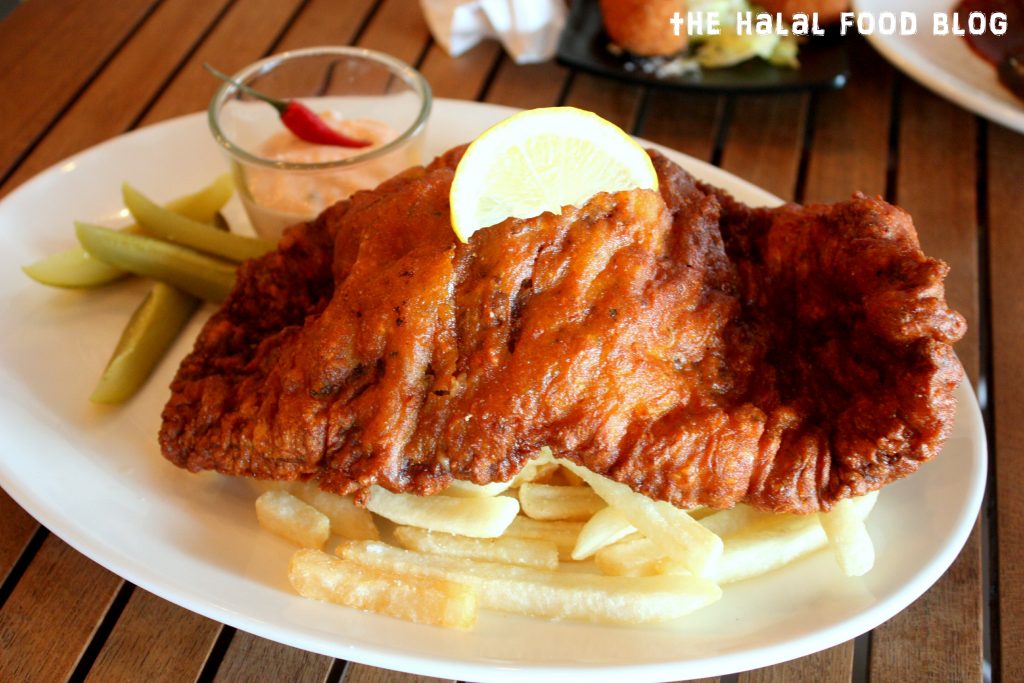 At first glance, you might think it's Fish And Chips or something but then you'd be pleasantly surprised.
That's actually a nice big hunkin' steak!
Yeah I'd like to think of this as the Badoque version of a Chicken-Fried Steak. With a Chicken-Fried Steak, you get a piece of beef which is coated and battered with seasoning (chicken seasoning that is) and then deep fried to a nice golden crisp. I'm not sure what seasoning they use here for the coating to be honest but it reminds me a lot of a batter we'd use to fry up chicken wings or something like that! Very unique taste and goes well with the beef.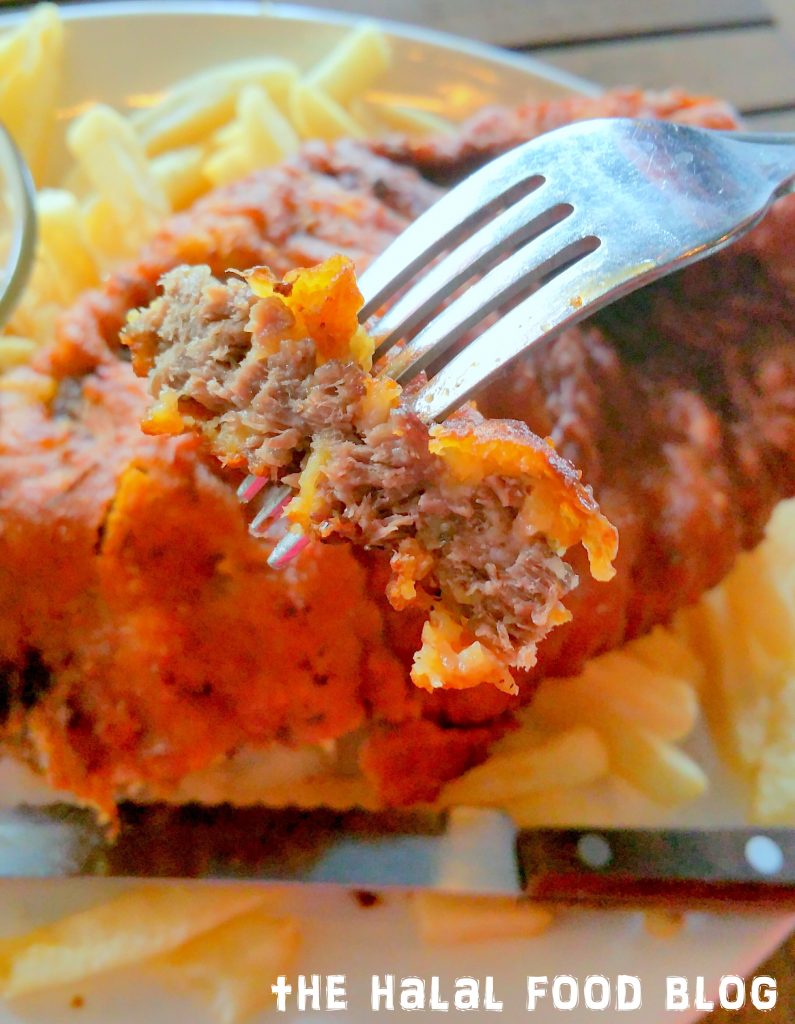 So as you can see, we were not kidding about the meat. It's a nice cut of beef which is actually great for a sandwich too (hint hint Badoque). It's served with a really big portion of shoestring french fries and some pickles on the side which was a very nice touch because we absolutely love the (often under-appreciated) pickle. Gives a nice tang to the dish when you take a nice chomp of meat.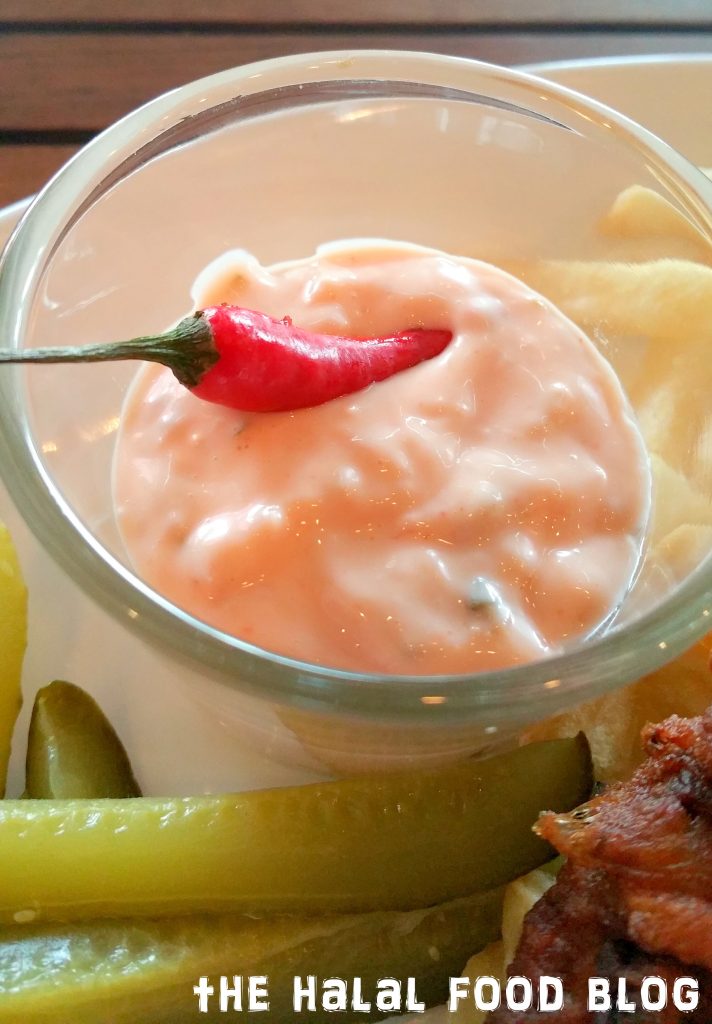 The Beef Bongo also comes with a dipping sauce which is kinda like a spicy mayonnaise as far as we can place it. It's not like super-duper spicy but it's actually quite tasty and goes well with the dish.
This is also the same sauce that comes with the Chili Chombi and the Fried Oysters too – which we hope to try next time! Cos we were told it was not available but then later the table next to us who came later managed to order… 🙁
Anyways let me end of by saying that this Beef Bongo is a VERY BIG piece of meat. It's so big that we actually had problem finishing it!!! (Ah ah order chemil-chemilan some more lah gatal!!) As tasty as it was, it's really quite a mouthful and fulfills the tradition of 'The Badoque Big Serving' well.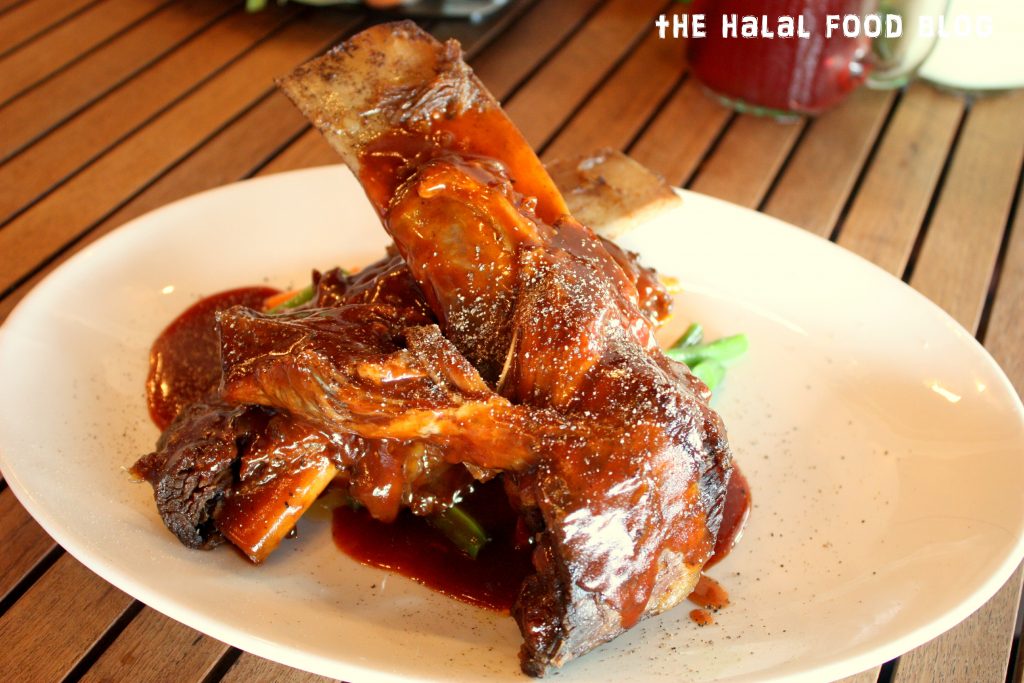 My Darling Wife decided on the Badoque Beef Ribs which I recommended to her to try.
That's not a very good shot to be honest (I'm gonna blame the……. lighting! LOL) so you can CLICK HERE to see the shots from the first time I tried the Beef Ribs.
The only gripe my Darling Wife had was that she would have liked more veggies. Yeah, she loves her veggies!!
We should all eat more veggies! Veggies are good for you! (This message was brought to you by The Halal Food Blog)
I think this is still one of the best Beef Short Ribs available to us here in Singapore today.
There are not many places but if someone asks me where to go for ribs, I'm gonna say Badoque as the #1 choice.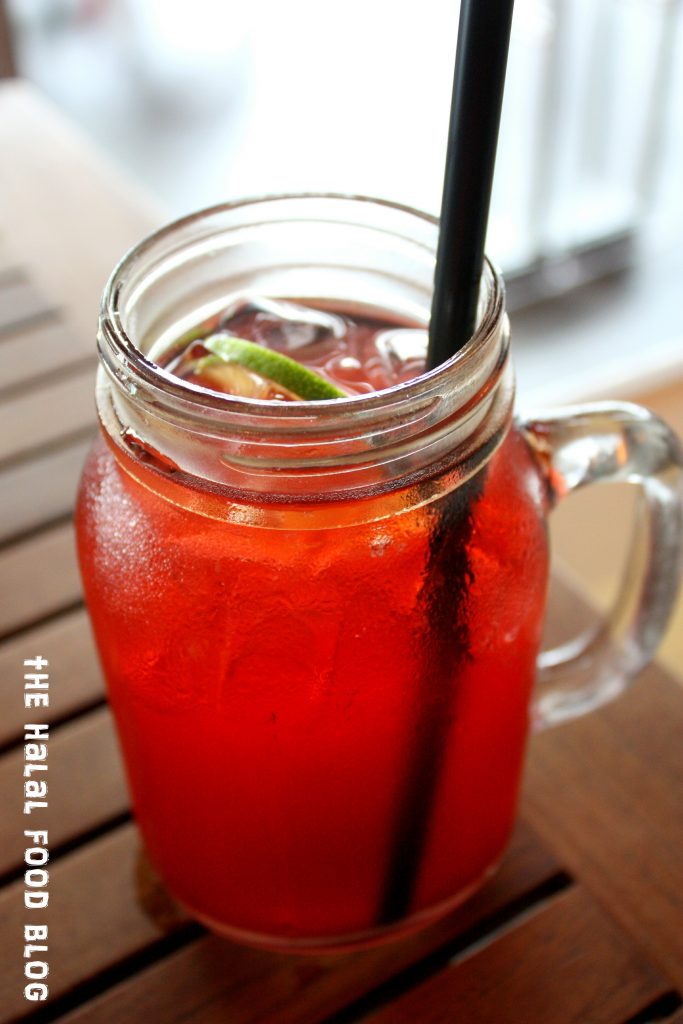 Went for something refreshing for myself because it was a pretty hot day. As tempted as I was to get something else, I chose the Iced Fruit Tea (in case the Chili Chombi were too hoot to handle y'know what I mean) which was very refreshing indeed.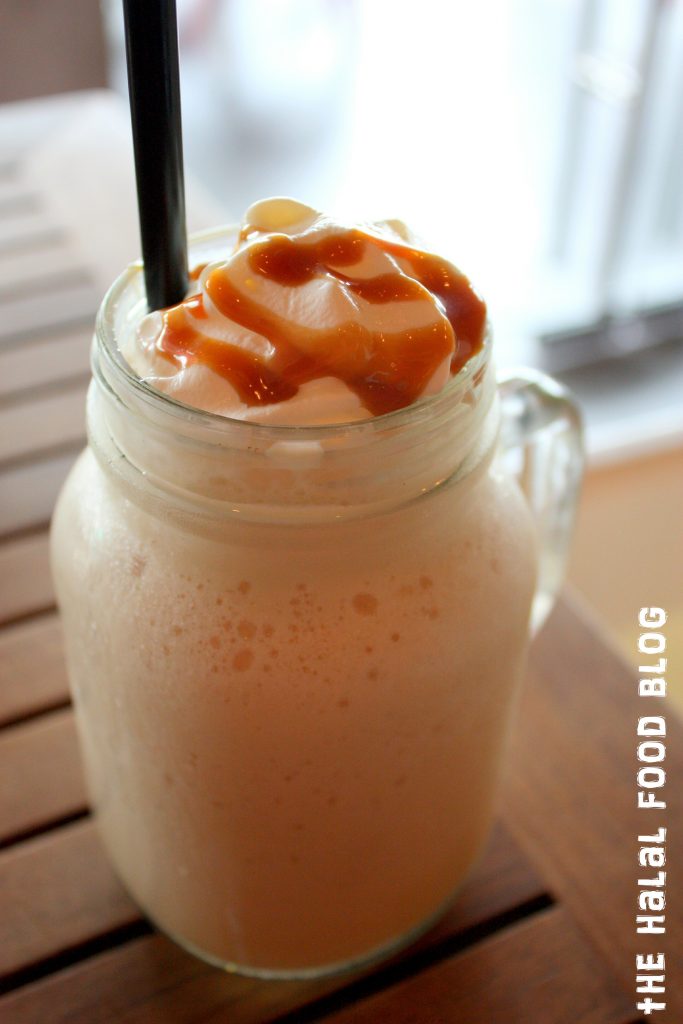 Another recommendation I made to my Darling Wife was the Iced Salted Caramel and I scored 2/2 on that test LOL This drink is the bomb because it's delicious, refreshing and it doubles up as a dessert too (technically).
Adam's Verdict:
Chili Chombi 4.5/5 — Beef Bongo 3.5/5 — Fruit Iced Tea 4/5
Maryah's Verdict:
Chili Chombi 4/5 — Beef Ribs 4.5/5 — Fruit Iced Tea 4.5/5 — Salted Iced Caramel 4.5/5
CHILD FRIENDLY RATING — 3.5/5
Got baby chair so power but a bit cramp. Our princess did enjoy watching the world pass by though cos we were seated near the front window.
So far 3 visits to Badoque and high ratings all around. Could this be one of those places that rocks so much that every time we visit and try something new it still rocks?? Hmmm… seems legit!!
Hopefully the Simpang Bedok outlet re-opens soon after renovations so we can save the trip all the way to Upper Thomson. But to be honest, if we had the time, wouldn't mind going all the way ther. Food is good and the staff are always the power to the gedegak to the max. All Hail Badoque we says.
PS if you wanna read about our previous visits to Badoque, CLICK HERE!!
  246 Upper Thomson
  Tel: 6552 1646
  FB: https://www.facebook.com/badoquecafeSG
  IG: @badoquecafe
  Operating Hours:
  12.00pm to 10.00pm Daily
All information (including prices, availability of item on menu and Halal status of establishment) are accurate at the time of posting. All photos used in this site are property of The Halal Food Blog unless stated otherwise.