We all know Badoque. Synonymous with delicious food and Badoque-sized servings that are guaranteed to not only fill you up but satisfy every craving you have. And now – they are pushing the boundaries again… In fact, I think they are blowing the boundaries away LOL
So the story goes (di da di di da di da di da di da di da di) like this – we saw a 'Guess the Meat' contest on their Instagram and just for fun – we submitted our entry. Little did we know that we would be one of only three winners and the prize was a chance to be among the first few to try something new and special on their menu.
One beautiful weekend evening, we made our way to Badoque not knowing what to expect…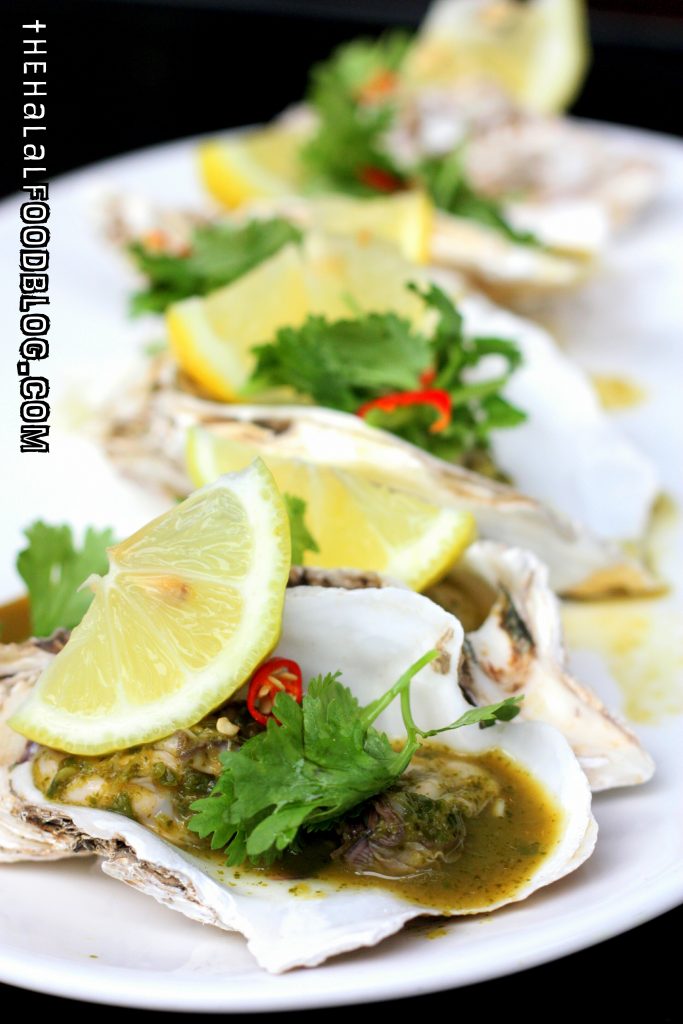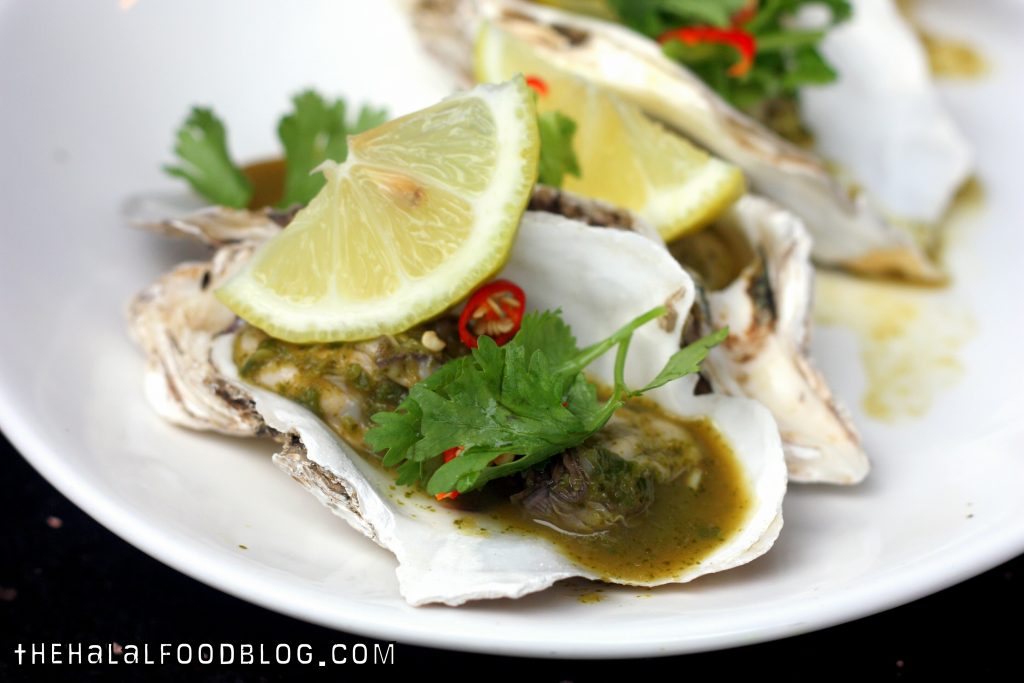 So we started with some Starters (see what I did there?) and something new on the menu.
The Oysters Ceviche is the Badoque take on a dish where (typically) seafood is 'cured' with citrus juices like lime and/or lemon. But of course, at Badoque, they take it up a notch higher.
This version has the citric touch of lemon juice but the oysters are also accompanied with a spicy dressing that is very reminiscent of Cabe Hijau. And boy did this one have a spicy kick! Power!
And in case you're going "Oh no no no thanks I don't like Oysters." or "no raw stuff for me please", don't worry. The oysters are technically 'cooked' by the acidic citrus juices but for good measure, they also blanch the oysters very quickly so if you love Oysters, this is a must have. If you've always wanted to try oysters, this is the perfect chance.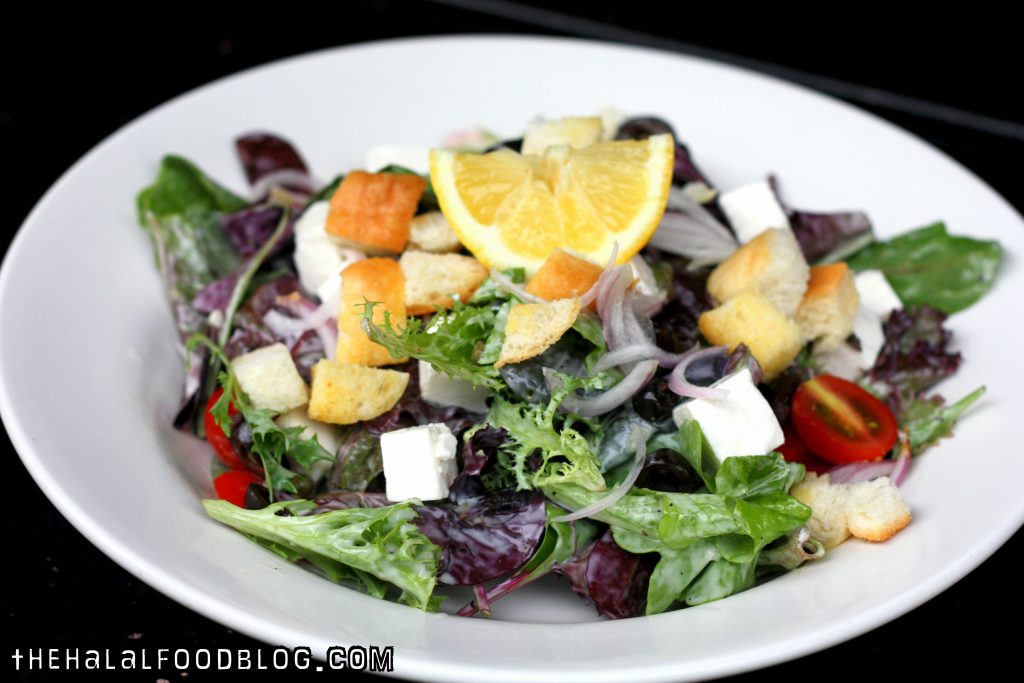 If you're looking for a starter that's a bit more traditional then My Big Fat Greek Salad is right up your alley.
And if you ask me, I personally think this is a very under-appreciated salad. Everyone's going for salads like the Caesar and the Greek Salad is almost always overlooked. Well, όχι πια!
You have got a great mix of leafy greens in there along with some Feta cheese, onions, olives, cherry tomatoes and croutons too.
As an added treat, they shave fresh Parmesan cheese before you tuck into this gorgeous salad.
As usual, it's a Badoque-sized serving so we're talking about a ginormous salad here but it's a damn good one.
Something else we appreciated – the dressing was just right. It was used sparingly but was not lacking.
Does that make any sense at all? LOL I guess the technical term is "just right".
And the FETA CHEESE SOFT AND SEDAP GILA.
And before you know it – we found out what we had come for. *GULP*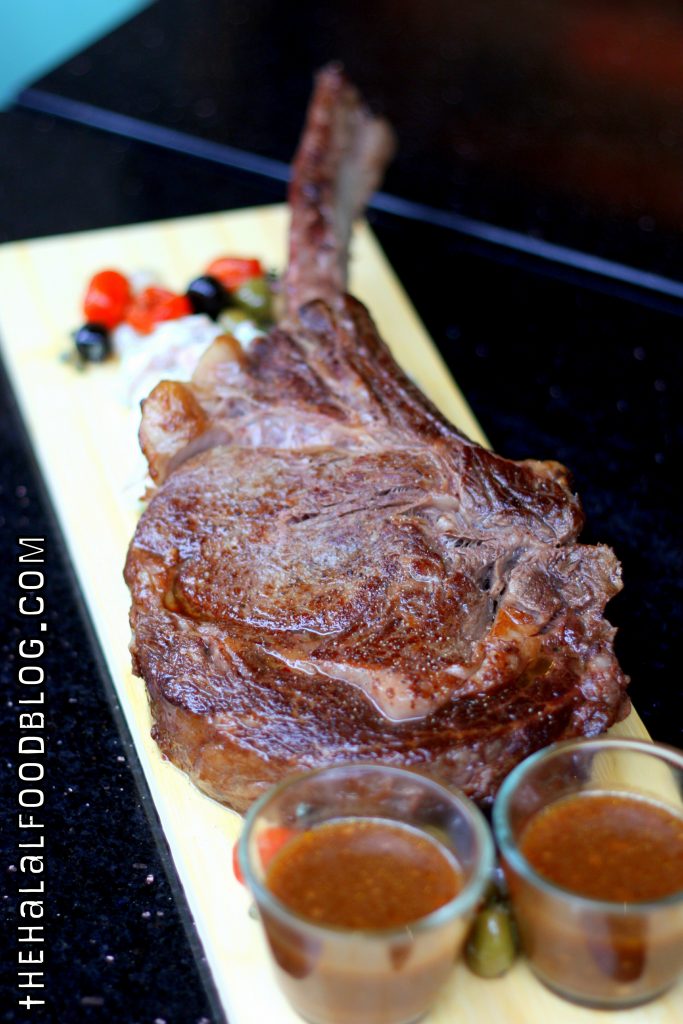 Ladies and Gentlemen – presenting The Badoque Tomahawk Steak.
No, it's not a dinosaur bone but it might as well be. We have come to affectionately call it the 'Badoque-saurus'.
And yes – you really have to "kuat makan daging" as they say in Badoque speak.
A few more pictures of the dino… errr.. steak? Sure!
This is "Daging Gedegak" Level 99999!!
So this is actually a Ribeye cut (yeah that's the rib bone) which means this is gonna be one awesome steak.
Not only that, it also has a pretty impressive marbling score (somewhere along the line of MS5 or MS6? Or maybe even better who knows!) so we're talking super tender and tasty.
Cut through the meat like butter? Close enough I can tell you that honestly!
See what I mean about that beautiful marbling? Slurrpppppp
The steak is cooked just about Medium Rare. To be honest I normally have my steaks done a little more but no complaints here! The steak was really really tender, juicy and seasoned to perfection so you can enjoy the natural flavour of the beef.
And in case you were wondering, that's a whole 1.2kg of meat which is probably enough to feed 4 people (or just 1 or 2 really hungry/greedy meat lovers LOL) okay!
In case you were too enraptured by the Badoque Tomahawk and didn't notice, there are also some sides on the err side including some roasted tomatoes, olives and onions plus a serving of potato salad.
But we reckon you'll be spending most of your time with the meat LOL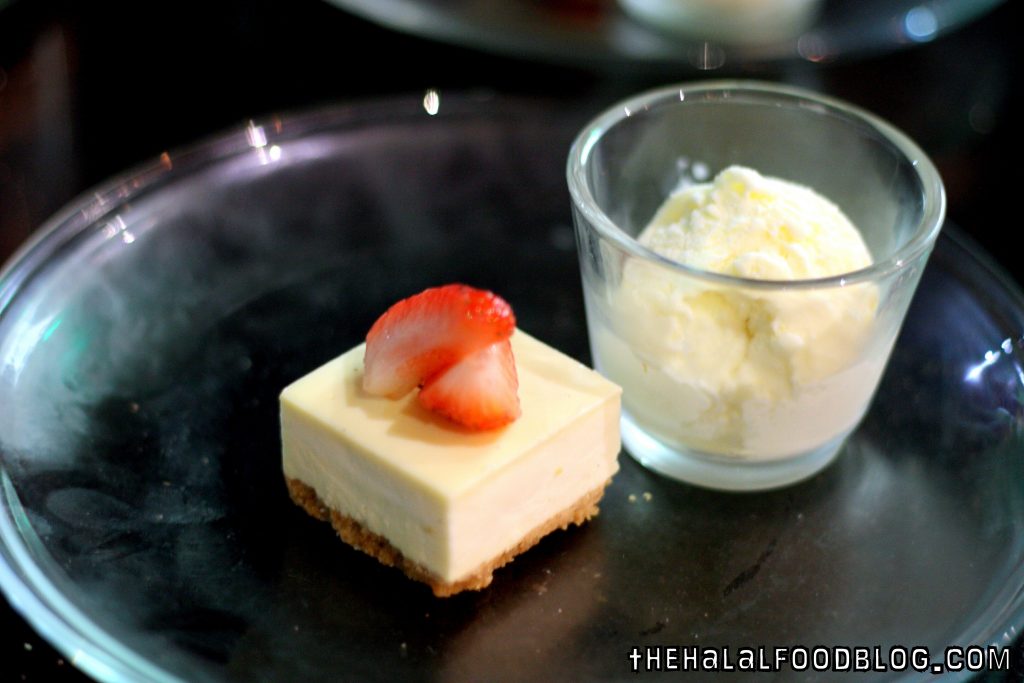 And to complete your meal, a serving of dessert to ensure a sweet end to an epic meal!
And yes – you will definitely have space for dessert since most of us have separate stomachs just for desserts.
Right?
We also had some tasty beverages too! You enjoy any 2 drinks from the menu as part of the set meal!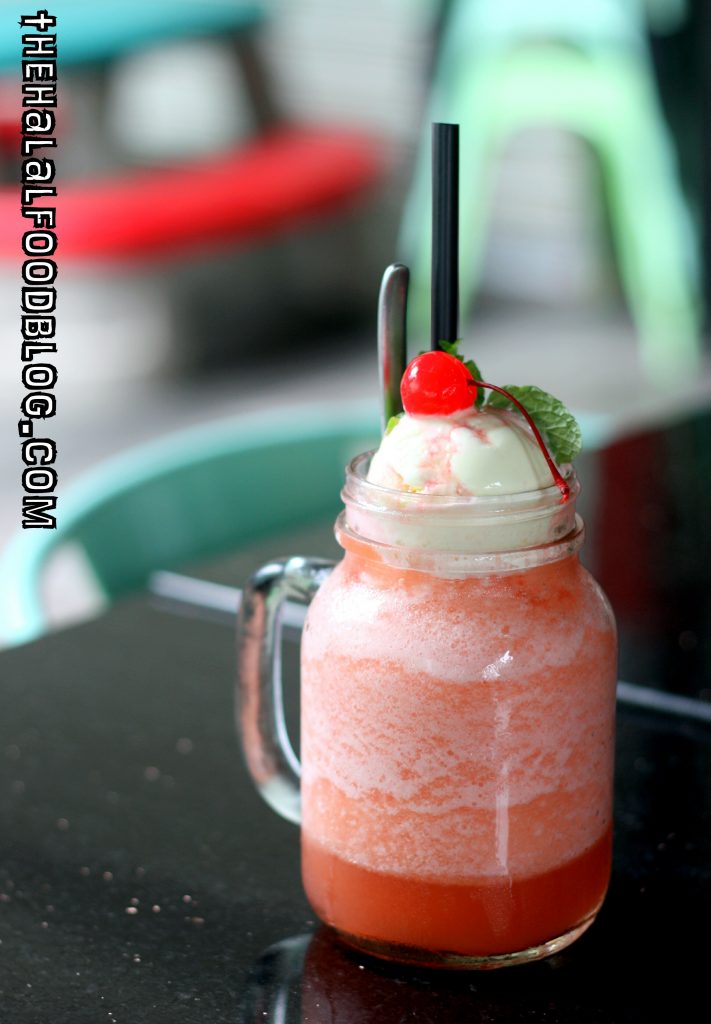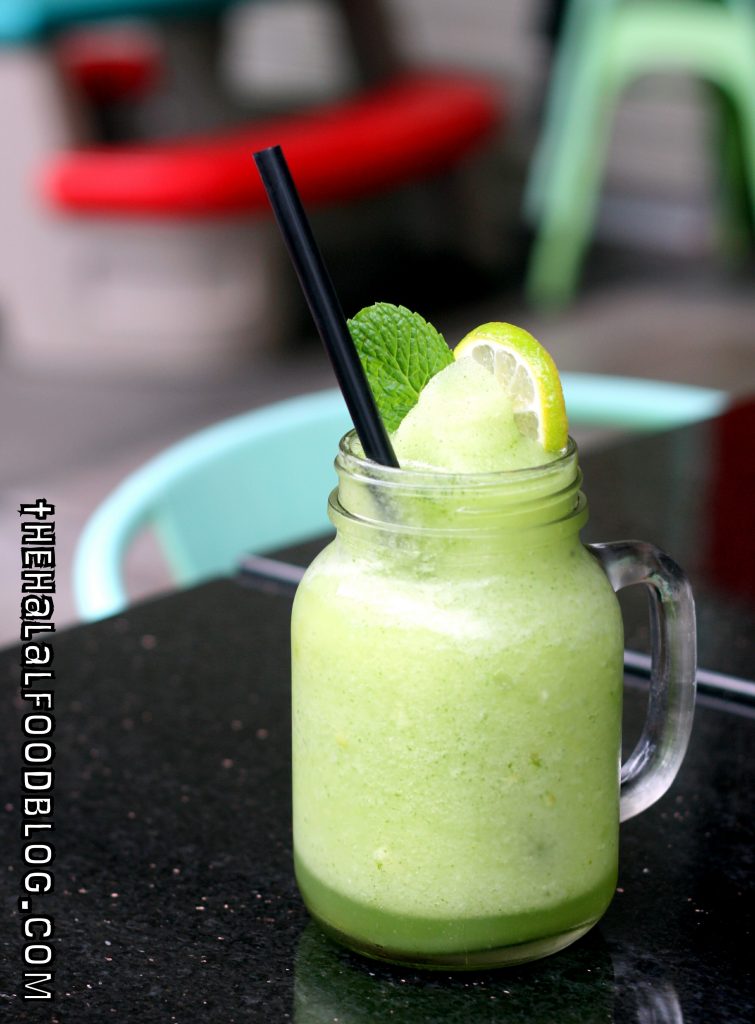 Yeah we've had these before (along with the ever-popular Iced Salted Caramel) but they are so good so it's so hard to say no to them! LOL
The Pink Frangipani has Blood Orange and Lemonade in it.
The Badoque Mojito has Lime and Mint in it.
Both are great to quench your thirst, tangy to get your appetite going and no way you'll be disappointed!
As you can see, Badoque's Meat & Greet is off to a rousing start and there's more to come throughout the months of November and December as they introduce some new dishes with some spectacular cuts of meat just for us.
Besides the Tomahawk Steak, look out for other specials such as the 'Pipi Sapi' aka Beef Cheek (next on our list!!), the Mr. T aka T-bone Steak, Sirloin Steak cuts, Lamb Shanks and Lamb Rack (aka Lamb Chops aka everyone's fave craving by the looks of it!!) and who knows what else the geniuses at Badoque will think of.
The set meal for the Badoque Tomahawk will set you back about $180.00 all in. And that's a really good deal considering the price you might pay at an actual steakhouse plus they know how to cook their meats plus where else can you find a Halal joint serving Tomahawk Steak you tell me?
If you plan on going (especially for the Tomahawk), maybe it might be good to just drop them a line to check on availability because we reckon this one is gonna sell out very often LOL be safe not sorry. Anyways they have so many other great dishes on the menu including all our old favourites so no need to worry. By the way, the Badoque Tomahawk is only available at the Simpang Bedok outlet for now.
Well, if this is an indication of the new menu that's headed to Badoque in 2016, I'd say we are in for  very exciting and fulfilling new year!
And I'm sorry but I just have to say it – we are pleased to MEAT you! *crickets*
298 Bedok Road (Simpang Bedok)

Tel: 64466928
www.facebook.com/badoquecafeSG
Instagram: @badoquecafe

Operating Hours:
12pm to 10pm Mondays to Thursdays / Saturday & Sunday
2.30pm til 10pm Fridays
All information (including prices, availability of item on menu and Halal status of establishment) are accurate at the time of posting. All photos used in this site are property of The Halal Food Blog unless stated otherwise.