We love Badoque and we know you do too.
And what does Badoque love (besides all of you of course)? It loves to serve great food with a smile. It loves to set trends and push boundaries. And that is why they're always thinking about serving the best of what people would love to enjoy at Badoque.
Case in point – Badoque's special Meat & Greet menu for the months of November and December.
We all know what Badoque serves some of the best, tastiest and biggest portions of meat dishes available to us. But they have heard your voices crying out for more! And so they came up with a whole menu of special cuts of meats to be prepared and served in special ways.
We recently featured the famous Badoque Tomahawk (it was also featured in Berita Minggu by the way woot woot!) but we simply had to go back and try out more of the special meat dishes on their Meat & Greet menu. So here we go!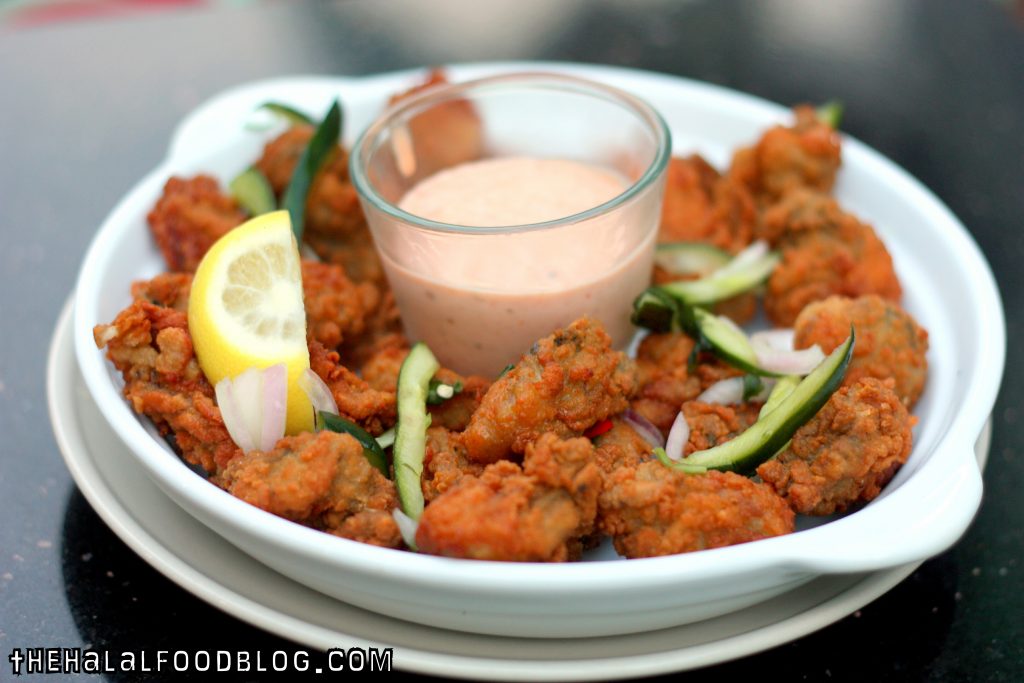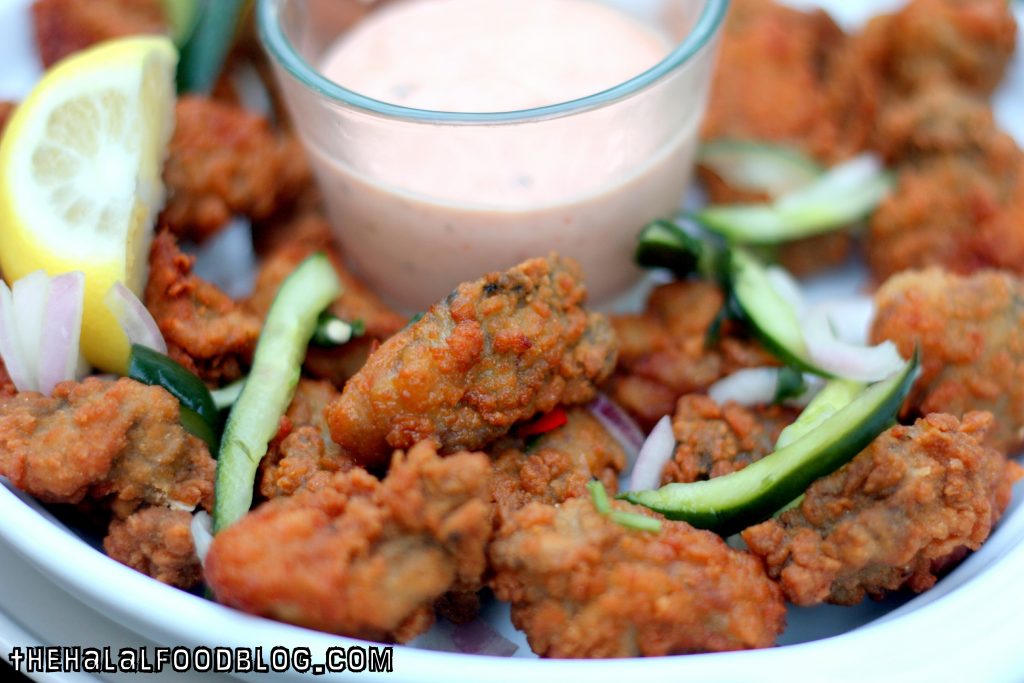 First of all, let us clarify that this is not part of the Meat & Greet menu but when at Badoque, confirm plus chop you're gonna order some chemil-chemilan right???
Well, before there was Oysters Ceviche (which IS part of the Badoque Tomahawk set), there was the Fried Breaded Oysters. These bite-sized, breaded, deep friend little morsels of delicious oysters are so addictive!
We first tried to order this when we visited their Thomson Outlet but it was sold out so we ended up having the Chili Chombi instead. Well, we've finally managed to try it and we hereby certify it power gila to the max. It comes with a special dipping sauce which is basically a tangy mayonnaise so it goes super well. Ask for some Tobasco sauce if you'd like that extra extra kick!
And for the life of me – I keep referring to it as Blue Oyster (which is what is on the menu I think) so I keep playing that song from The Blue Oyster Bar scene in Police Academy in my head LOL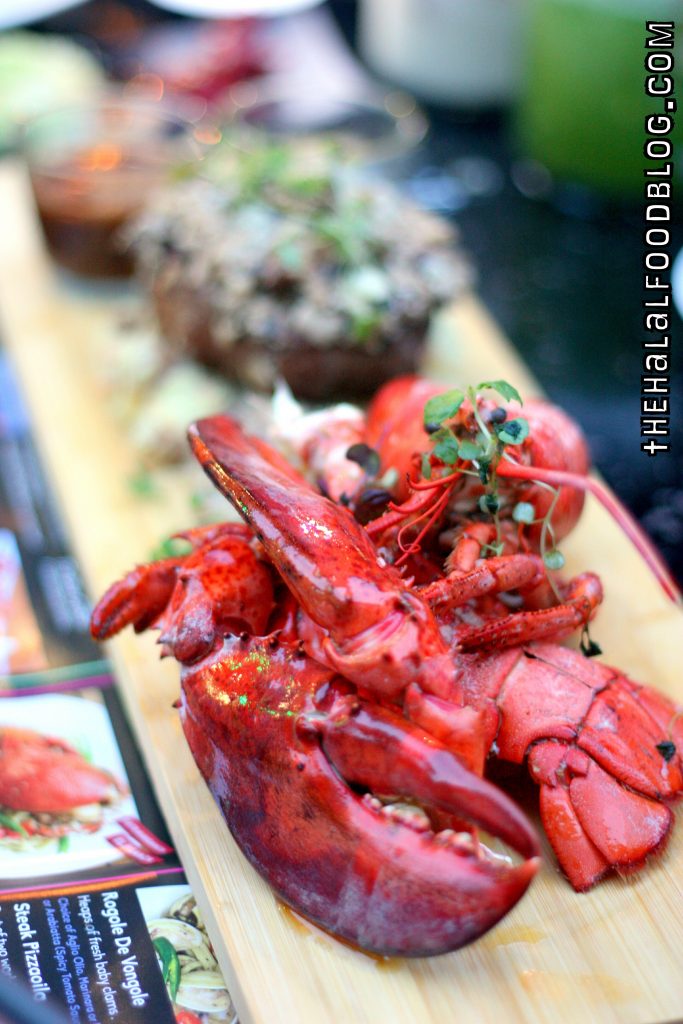 Here's one that is definitely on the Meat & Greet menu and one that is apparently super popular based on the numerous glowing reviews we've seen on our IG feed. A classic for so many reasons and it's easy to see why.
And of course – there's always that special Badoque even to a classic.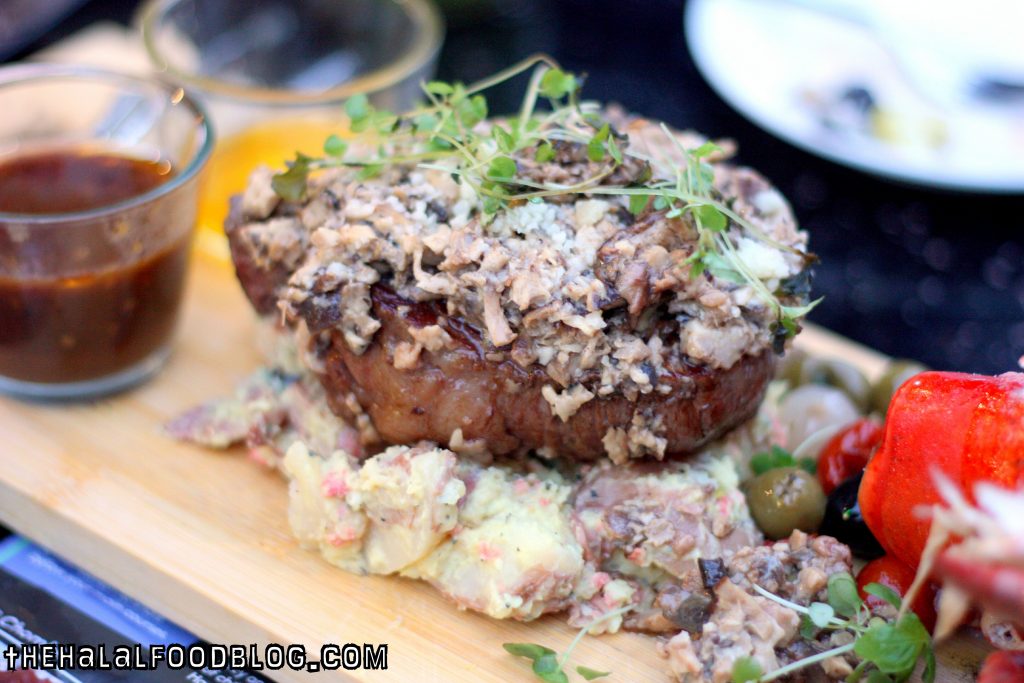 Part 1 of this monster dish is a Tenderloin steak (ZOMG) that is absolutely tender and juicy and has such a great flavour that will really please all you meat lovers out there. It rests upon a bead of 'German Potatoes' which is a rough mash with bits of goodies like beef bacon in there.
And as if that great cut of meat is not enough, they smother the steak with a whole load of Truffle-infused sauteed mushrooms. Yes, that's right. TRUFFLE-INFUSED SAUTEED MUSHROOMS. I don't know about you but my mouth is watering just typing it out. Can imagine the explosion of flavours right there. Great earthy taste from the mushrooms (plus truffles!!) along with the beefy goodness from the Tenderloin. Eeermagahd.
So you've seen the Turf so now onto the Surf!
Yeah some places served prawns or maybe even crayfish with their Surf & Turf but at Badoque, you get the Lobster! And by the way, those photos above is literally #nofilter that's the natural colours okay!
You got the head, the tail and the claws so dig in don't be shy. And yes they give you the cracking tool for so don't worry about your teeth.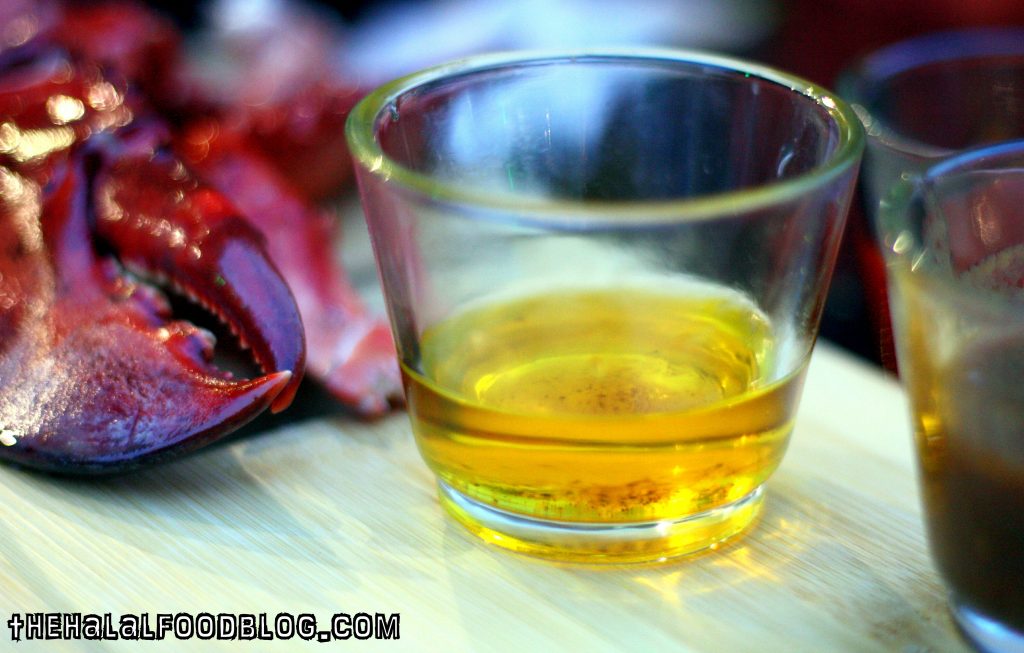 And what wraps this whole dish up for us? They serve it along with some clarified butter.
Now THAT is a great touch. If it wasn't in public, I'd probably drink that stuff right out from the glass #truestory
Get some of that succulent lobster meat and dip in some of this liquid gold and guaranteed your eyes are gonna roll (in a good way) when this hits your mouth. Or is it just me? LOL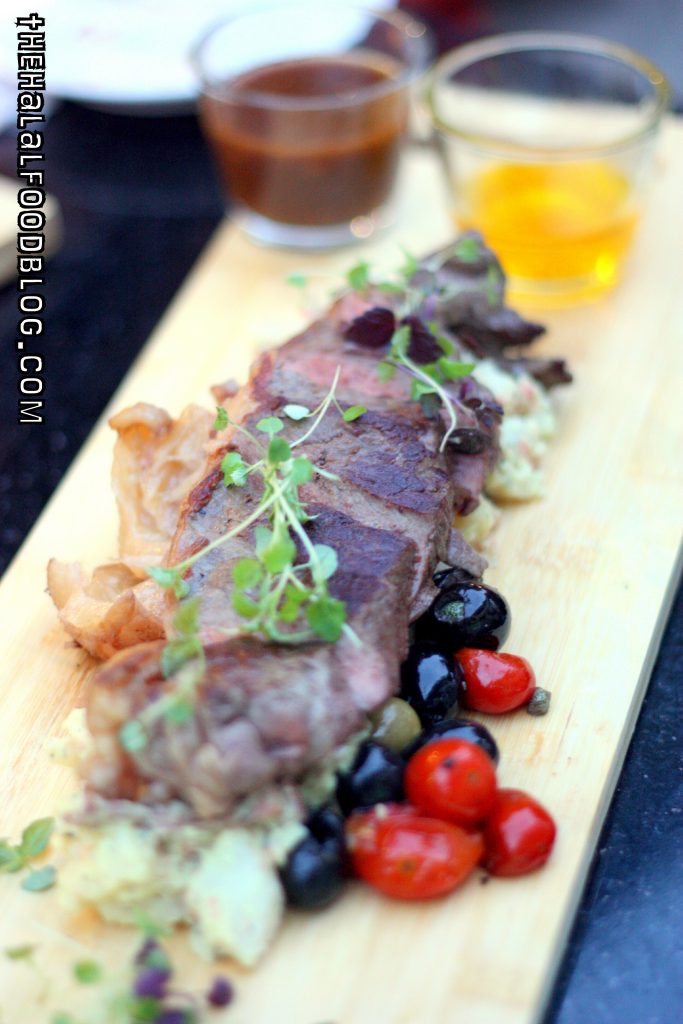 And last but definitely not the least of our meal was another fan favourite – the Sliced Sirloin Steak!
A great cut of Sirloin that's been minimally seasoned so you can enjoy the flavour of the meat that has been lovingly cooked to the doneness of your choice. It seems really simple but you'd be surprised about how difficult it can be to cut a steak. Some places claim to be experts and still get it wrong. But luckily for us, this is Badoque!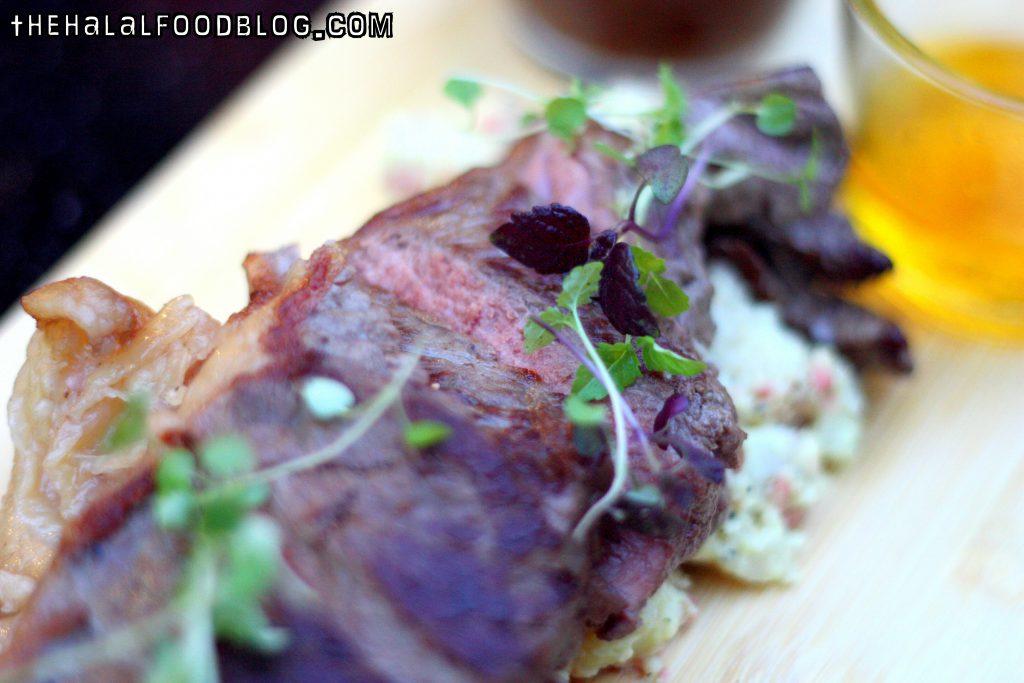 We ordered it a medium rare and the meat was really tender.
We would definitely like to point out that for a steak like this, they almost definitely let it sit to rest so you're not going to get a sizzling hot smoking steak. What you will get is a tasty cut of meat.
And yes they serve the clarified butter aka liquid gold along with the Sliced Sirloin Steak too *droolz*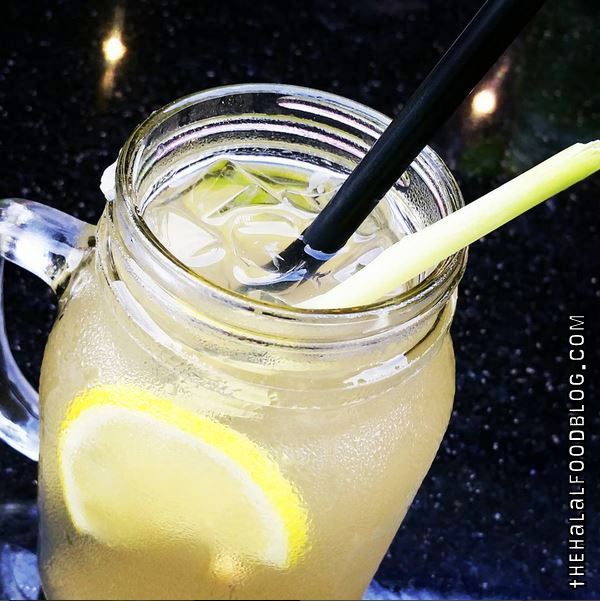 And to wash it all down, a special concoction that just hit the menu – the Lemongrass Lemonade.
Refreshing flavours that are bold but do not overkill your tastebuds. Great for a perk-me-up while enjoying your meal no matter which dish you're tucking into.
So 2 posts and would you believe there are still dishes on the Meat & Greet menu that we haven't covered? Next in our sights is the Beef Cheek and the T-Bone Steak!!
And in case you were wondering, the whole family joined us for this superb meal and we did have the Badoque Tomahawk again. You can read all about that amazing dish by clicking HERE. Better hurry because the special menu will last only til the end of December for now.
We'd really like to thank the whole team at Badoque for having us down. I think what makes Badoque special is not just that they serve good food. It's not just that they want to keep coming up with new stuff. It's not that just that.
I think – it's just that they are good people and they genuinely love what they do. That makes a world of difference.
So here's to Badoque and many more years of great food, great service and great times.
298 Bedok Road (Simpang Bedok)

Tel: 64466928
www.facebook.com/badoquecafeSG
Instagram: @badoquecafe

Operating Hours:
12pm to 10pm Mondays to Thursdays / Saturday & Sunday
2.30pm til 10pm Fridays
All information (including prices, availability of item on menu and Halal status of establishment) are accurate at the time of posting. All photos used in this site are property of The Halal Food Blog unless stated otherwise.