Quite awhile back, we saw quite a stir online about something called 'Thai Boat Noodles'. And when we asked you, our dear readers, where we should go to try these 'Thai Boat Noodles', one name kept popping up.
And that name was Amphawa Boat Noodle.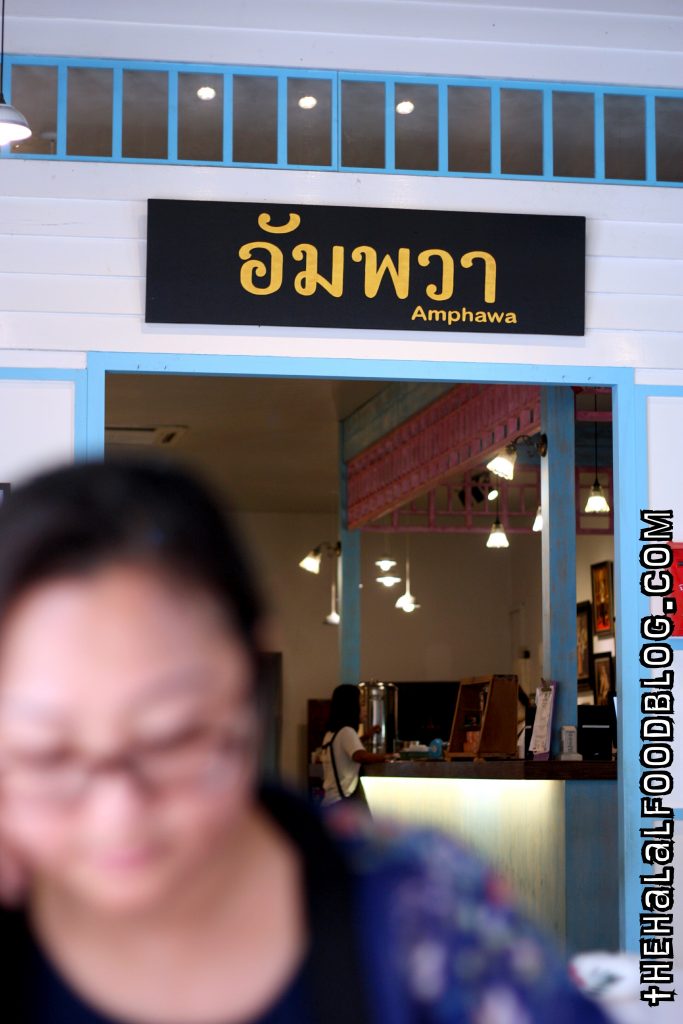 So one fine day, we had to head up to JB to run some errands and we really wanted to make it a point to head out to Amphawa since we were already in the area. Cannot pass up this chance! So we put our GPS on and eventually, we arrived at Amphawa and we were fungry to the max!
So we went through the menu and saw 5 different variations of the famous Boat Noodles which originate from Thailand and have been served there from as far back as the 1940s apparently. Traditionally served from boats along a river/canal, this dish has really become popular in recent times and we're lucky we have places like Amphawa that give us a chance to try a Halal version of this tasty dish!
Did you know that – Amphawa is the name of a famous floating market in Bangkok which is where this dish originated!! Well, at least this one is nearer plus it's Halal too! LOL
So what you do is choose your items from the menu and jot them down on the order chit and the staff will be right back with your order.
You not only have a choice of which Boat Noodles variation you'd like but also which type of noodles too (they have 2 types) but don't worry – we will go through them all one by one!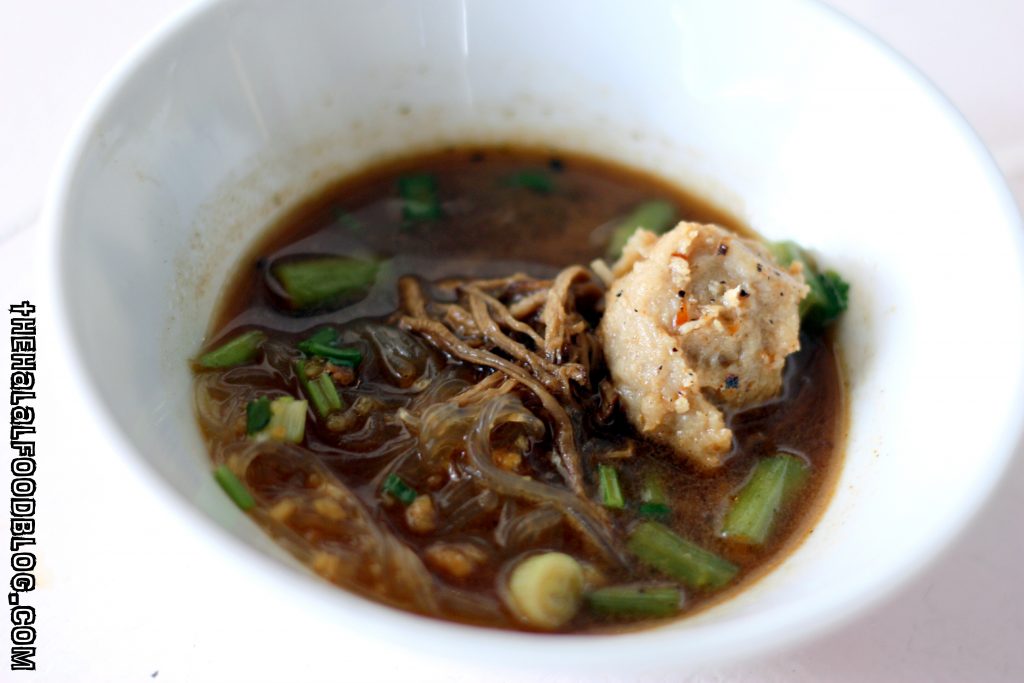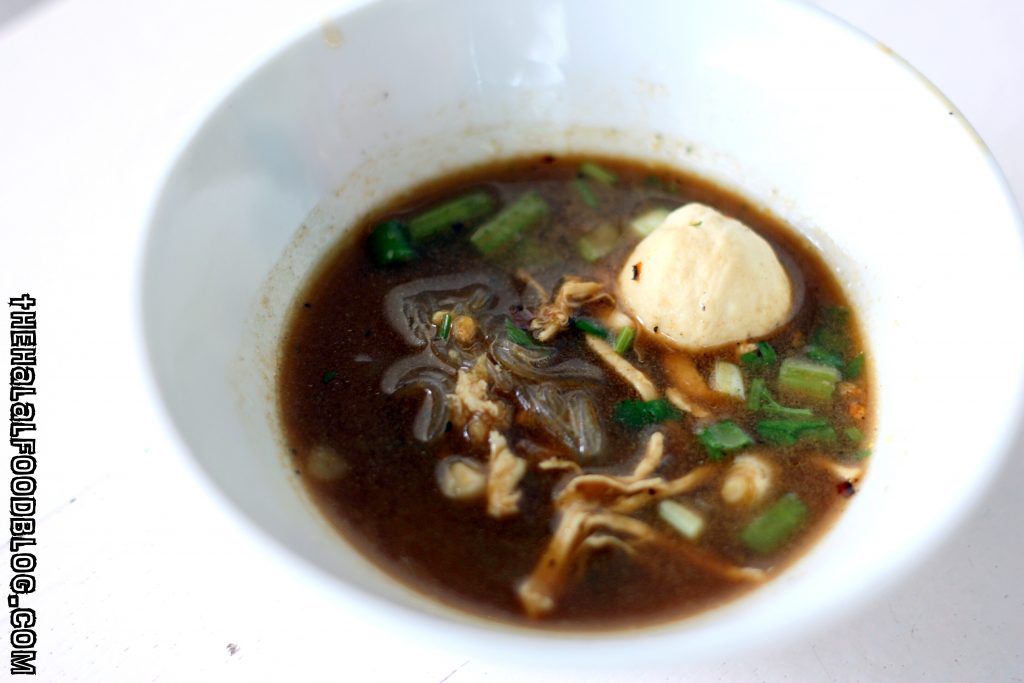 The first variation of the Boat Noodles is the Amphawa Boat Noodles and you have a choice of either Beef or Chicken. The Amphawa Boat Noodles is described on the menu as a "spicy and sour broth" which is really accurate. The broth is very rich and brimming with flavour!
So you get a handful of noodles that are swimming in this delicious broth, you get some shredded meat (either beef or chicken) and either a Beef Ball or a Chicken Ball depending on which one you ordered. They've also added some crunch in the form of Kang Kong stalks in there by the way.
Seems like a very simple dish but yet it's actually got pretty complex flavours! And you can level up with the condiments found at every table! But more on that later… for now we got back to the noodles!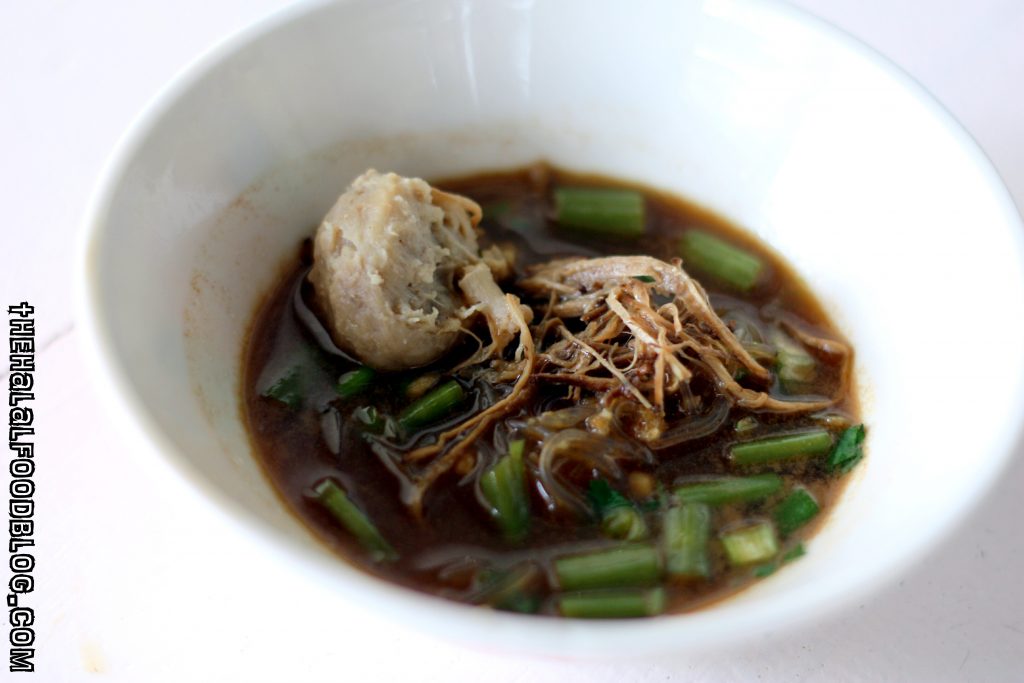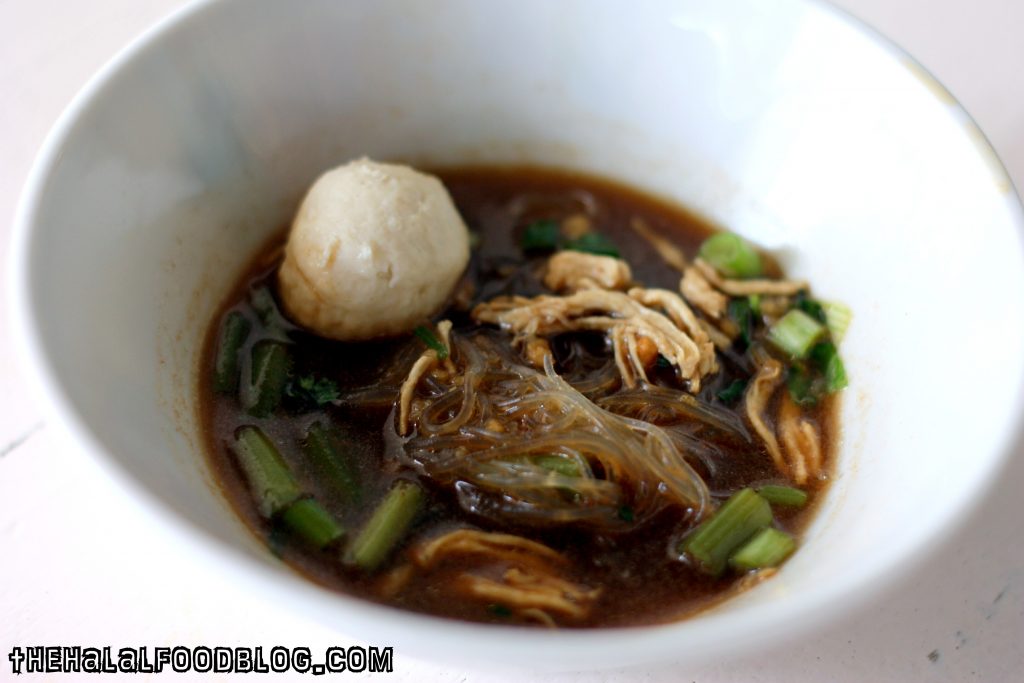 Besides the Amphawa Boat Noodles, you could also go for the Rangsit Boat Noodles. This version is very similar to the Amphawa but it's taken a notch or two lower in terms of flavour punch. Not to say it's got no flavour lah.. it does! But this is a good choice for anyone who prefers a less spicy choice.
It's actually a herb broth but you can tell they've put a lot of effort into it. Plus with the shredded beef/chicken plus the beef/chicken ball, this is still a super satisfying bowl of noodles!!
And yes – Rangsit is the name of another city in Thailand 🙂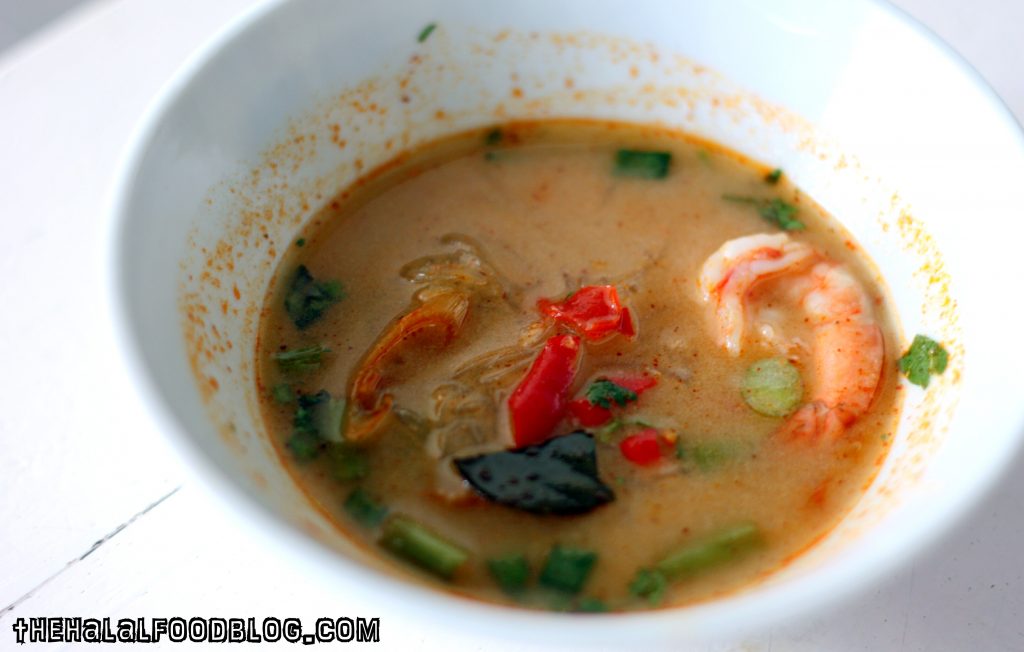 If you are not in the mood for beefy or chickeny flavours or if you're in the mood for something in the spicy department, then the Tomyum Prawn Boat Noodles is definitely the perfect choice for you!
Rich and spicy Tomyum broth that is super tasty and packs quite a spicy kick too! My Darling Wife loves her spicy food and ended up ordering 4 bowls of this Tomyum Prawn Boat Noodles alone!  I guess that means must be really really power lah LOL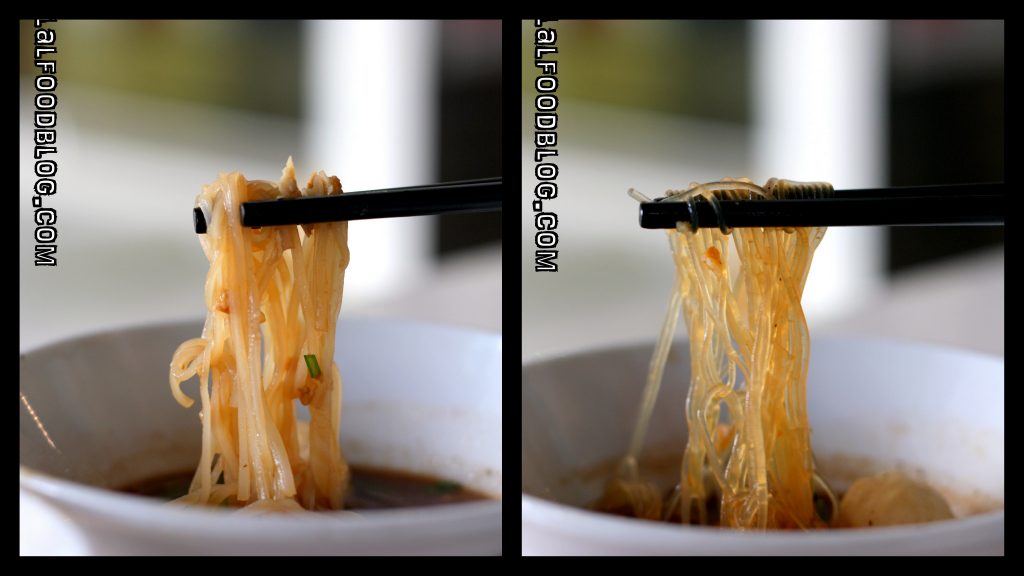 Your Boat Noodles will obviously have… Noodles. Like duh LOL
And you have a choice of either Rice Noodles (above left) or Glass Noodles (above right).
You only get a small handful of noodles in each bowl of Boat Noodles but please don't underestimate the noodles okay LOL yeah even though the soup is what will fill you up the most, the noodles will eventually fill you up too. Both of them go well with the soup/broth so it's really up to your preference.
And by the way, that Glass Noodles is not bee hoon okay. It's actually like Tang Hoon so don't get the wrong idea!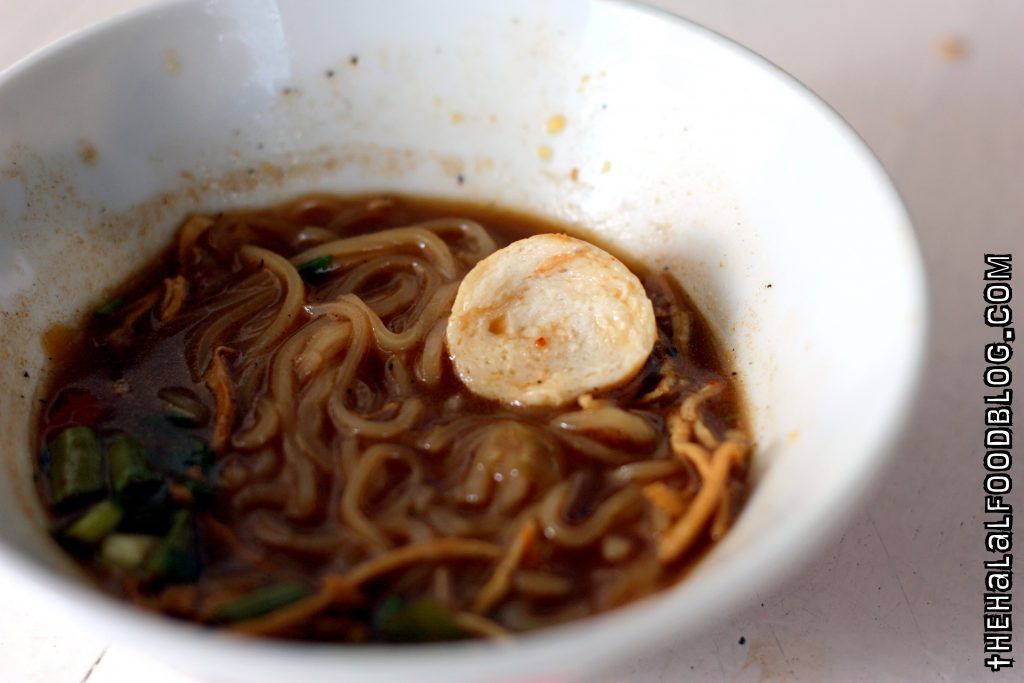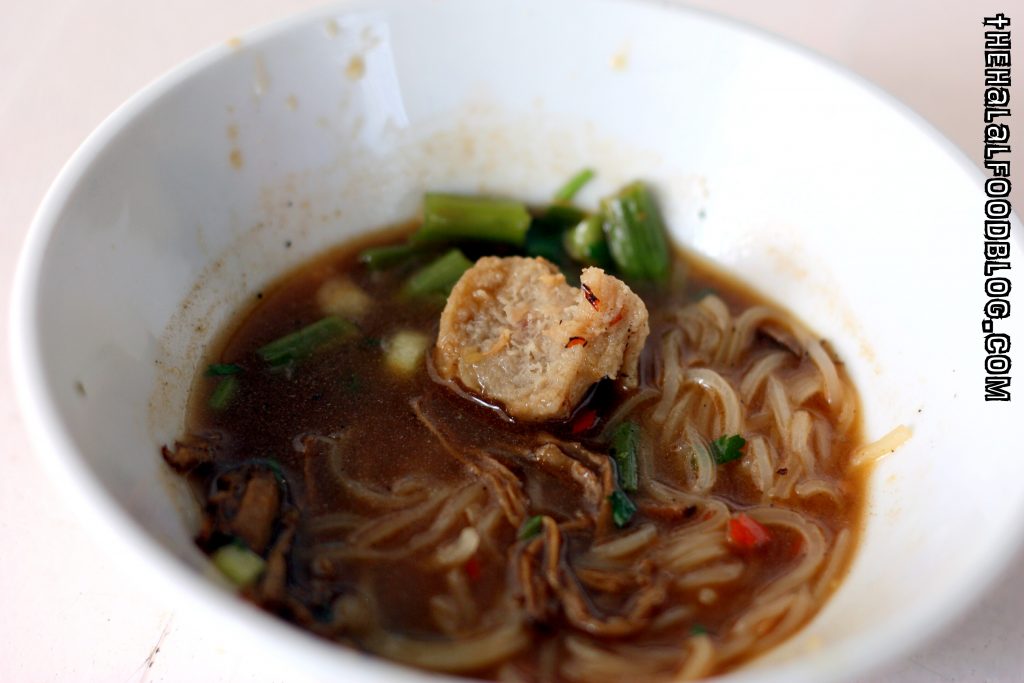 And in case any of you were wondering about the Beef and Chicken Balls – they're the real deal! So good!
We like to call foods like this 'All Killer No Filler' because it's really packo full of meat and minimal fillers like flour or whatever else what nots. The Beef Ball actually reminded us a lot of the type you'd get with Bakso to be honest but when you gobble it down while slurping some of that soup – FUYOH!
As if the Boat Noodles were not flavourful enough, they actually have a set of extra condiments for you at your table. This quartet is meant to enhance the flavour profile of your Boat Noodles and other dishes you might order.
The first is kinda like a Chili-Vinegar concoction and it has one of the best spicy-sour kicks ever! This was probably my favourite of the lot but I think I underestimated it LOL just check out 1:00 in the video where I start dishing it out into each bowl of Boat Noodles like a hero (Oops did I say video?)
They also have some Fish Sauce which is one of the best ingredients ever invented (power!!) and also some sugar. But we're guessing a lot of you will add the roasted dried chili flakes the most because we know you all love your chili flakes right LOL plus these are roasted a little for a smoky and more intense flavour. Just in case you want that burning sensation in your mouth.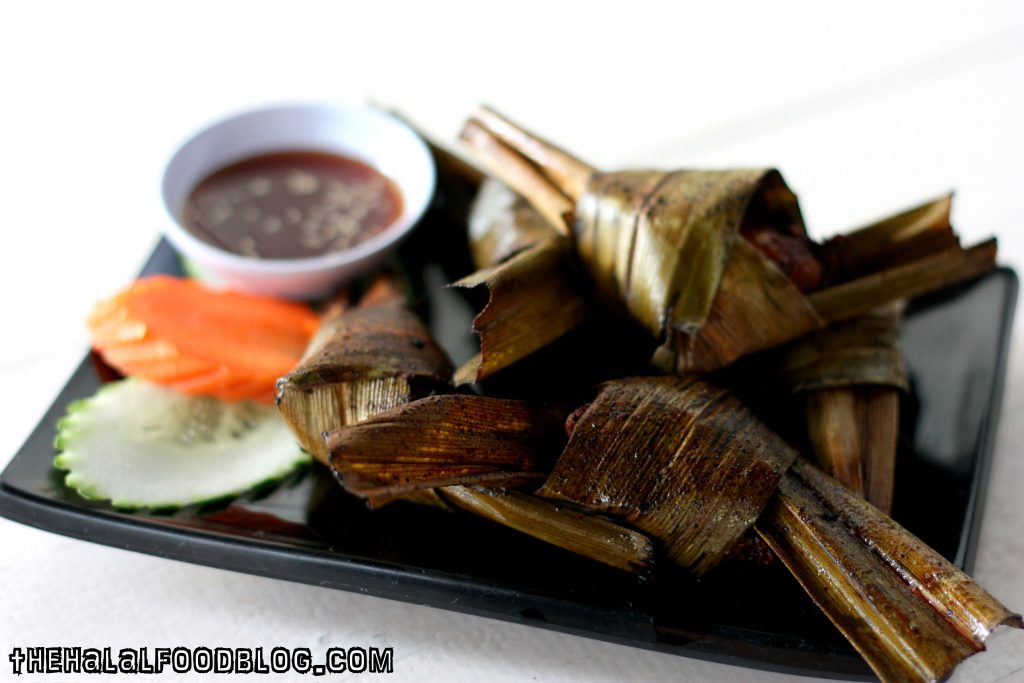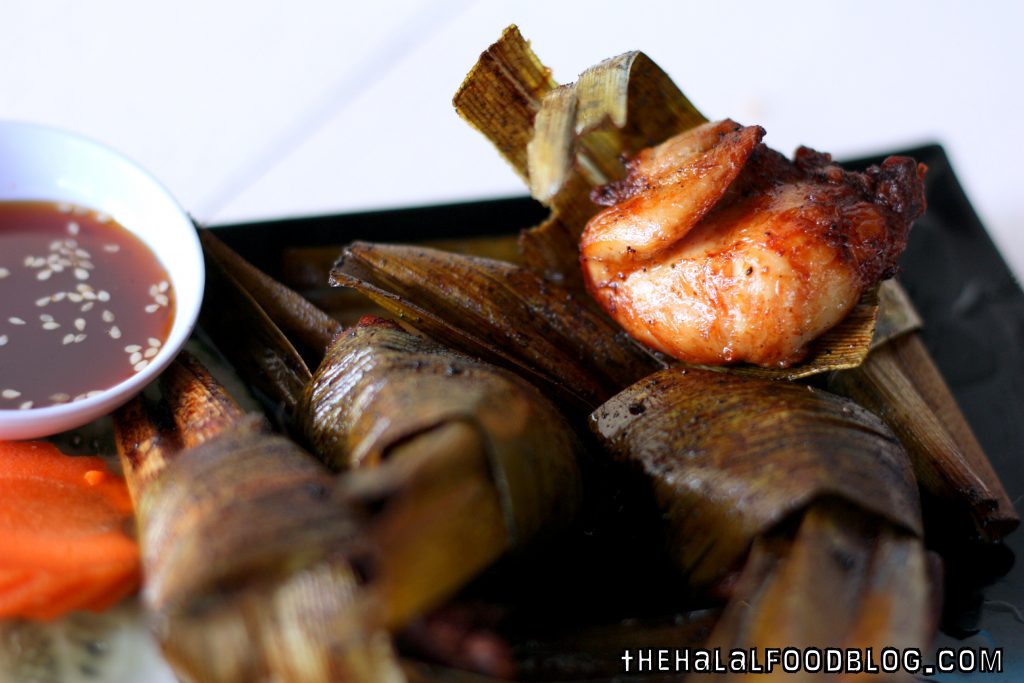 Surely gonna order some side orders right? Well they do have quite a few options for sides too.
They have a few salads like the Spicy Minced Chicken Salad, Thai Crispy Chicken Salad or the Thai Mango Salad to choose from. They've also got Thai Tempura Vegetables which we were tempted to order but worried it'd be too much.
So we wanted to choose a chicken dish. In the end, the Pandan Leaf Chicken prevailed over the Thai Style Fried Chicken Wings!
Wah! Good choice lah! The chicken was tasty and tender!
But in the end, we decided that the Pandan Leaf Chicken my Dad cooked at home recently remained #1 in our books! Because as tasty and tender the chicken may have been, the dipping sauce here kinda lacked the spicy element. It had SOME spice but I guess maybe we are used to more. But this was still a good choice!!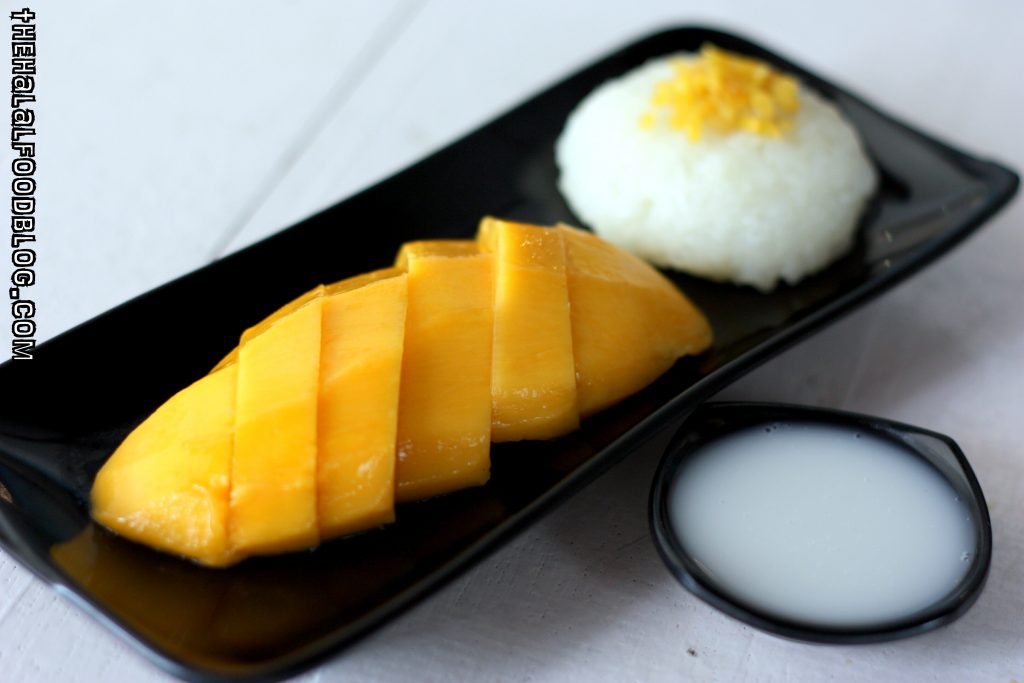 We just recently had some delicious Mango Sticky Rice and it continues here at Amphawa Boat Noodles too!
We could have gone with the Red Ruby for dessert (another Thai favourite) but there's just something about Mango Sticky Rice that is so hard to resist.
The Mango was sweet. The Sticky Rice was soft. The Coconut Cream was creamy and delicious.
All the makings of a great serving of Mango Sticky Rice!!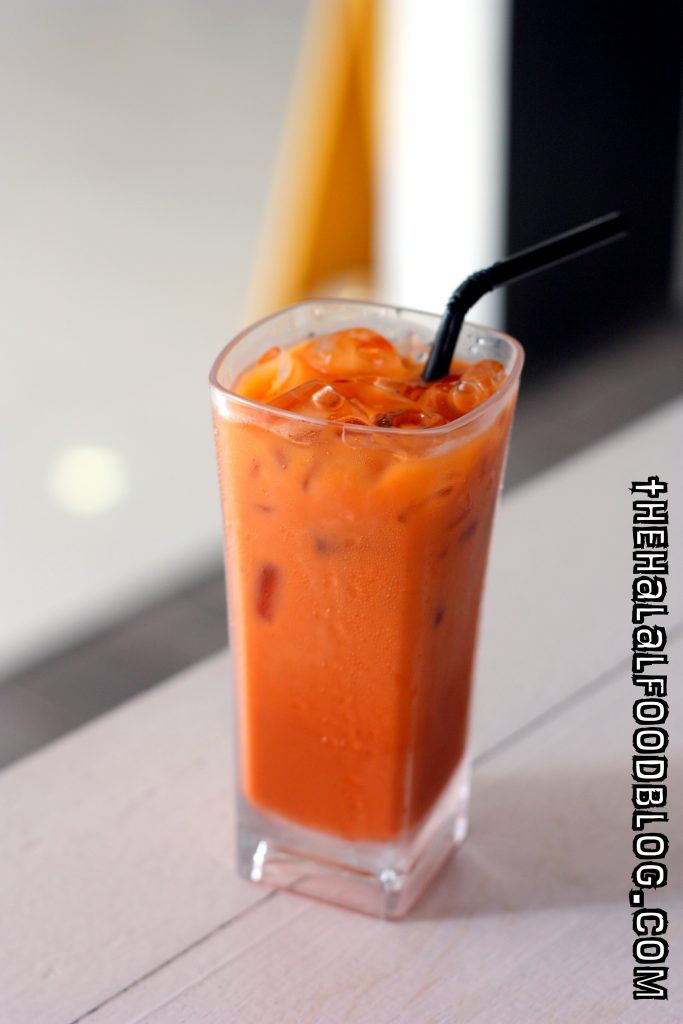 And another 'must-have' recommendation from our dear readers was the Thai Ice Milk Tea!
Here's another Thai favourite that has been taking the food scene by storm and the last couple of times we tried it at various places – meh. Not impressed to be honest.
But the Thai Ice Milk Tea at Amphawa is probably the best one we've had so far!
Well, it's the first one that really finished to the last drop which is a very good sign LOL
They also have Thai Iced Green Tea and Pandan Lemongrass (Hot) too!!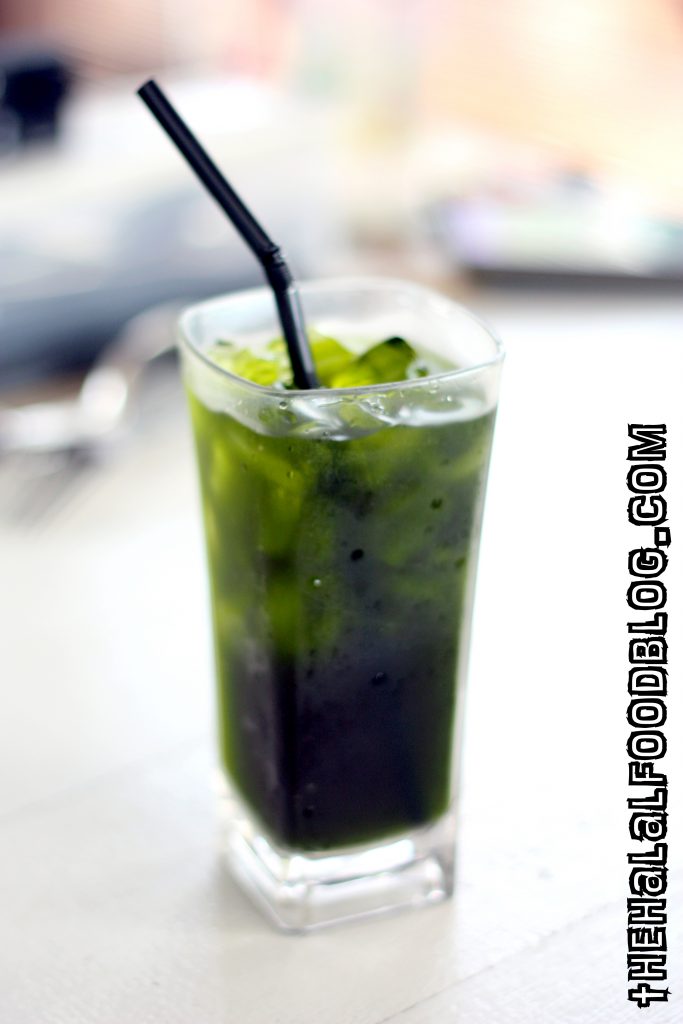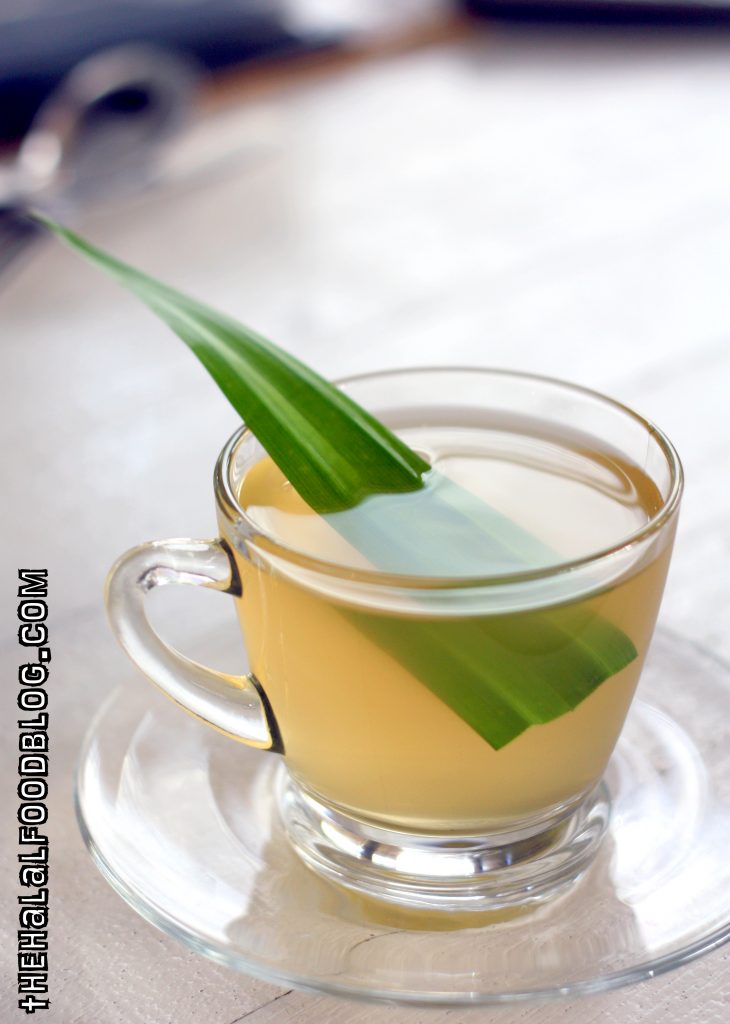 Adam's Verdict:
Amphawa Beef Boat Noodles 4.5/5 — Amphawa Chicken Boat Noodles 4/5
Tomyum Prawn Boat Noodles 3/5 — Rangsit Beef Boat Noodles 3/5
Rangsit Chicken Boat Noodles 3/5 — Pandan Leaf Chicken 3.5/5
Mango Sticky Rice 4.5/5 — Thai Ice Milk Tea 3.5/5 — Thai Ice Green Tea 2.5/5

Maryah's Verdict:
Amphawa Beef Boat Noodles 3/5 — Amphawa Chicken Boat Noodles 3.5/5
Tomyum Prawn Boat Noodles 4.5/5 — Rangsit Beef Boat Noodles 4/5
Rangsit Chicken Boat Noodles 3.5/5 — Pandan Leaf Chicken 3/5
Mango Sticky Rice 4.5/5 — Thai Ice Milk Tea 4.5/5 — Pandan Lemongrass 4/5

Besides the food being very very tasty, did anyone else notice the super reasonable prices??
Oh yeah. What's better than eating delicious food? Eating delicious food that's value for money!!
It's RM1.90 per bowl of Boat Noodles!! ZOMG ZOMG ZOMG
In the end, I had 11 bowls and my Darling Wife had 9 bowls which I guess pales in comparison to the tally that some of our readers have amassed. Guess we will just have to go back soon and eat even more next time! LOL
Oh and by the way, just wanted to point out that Amphawa Boat Noodle is NOT in Sutera Mall itself.
It's actually at the area behind it so when you pass by Sutera Mall, resist the urge to turn into Sutera Mall. Just leep going until you reach the rows of shops.
No 69 Jalan Sutera Tanjung 8/2
Taman Sutera Utama, 81300 Skudai, Johor, Malaysia
Tel: +60 7-559 6440
Facebook: facebook.com/AmphawaBoatNoodle
Instagram: @amphawaboatnoodle
Operating Hours:
11.30am til 10.30pm Daily
All information (including prices, availability of item on menu and Halal status of establishment) are accurate at the time of posting. All photos used in this site are property of The Halal Food Blog unless stated otherwise.