One of our most favourite places to go and makan is the East Coast Lagoon Food Village. You have a nice atmosphere because it's near the beach so you get some sea breeze (if you're lucky) and the place is so much cleaner since they renovated the area in late 2013.
But with so many food stalls there, with pretty much all selling the same thing, you'd be hard-pressed to make a decision on which stall would satisfy your hunger.
Well, if it helps, The Halal Food Blog has 2 stalls which are pretty much 'automatic' when we visit the East Coast Lagoon Food Village. That is to say – if we go, confirm plus chop plus guarantee we will order from these stalls.
One is the favourite satay stall – Satay Haron.
And the other is – Ahmad Spring!!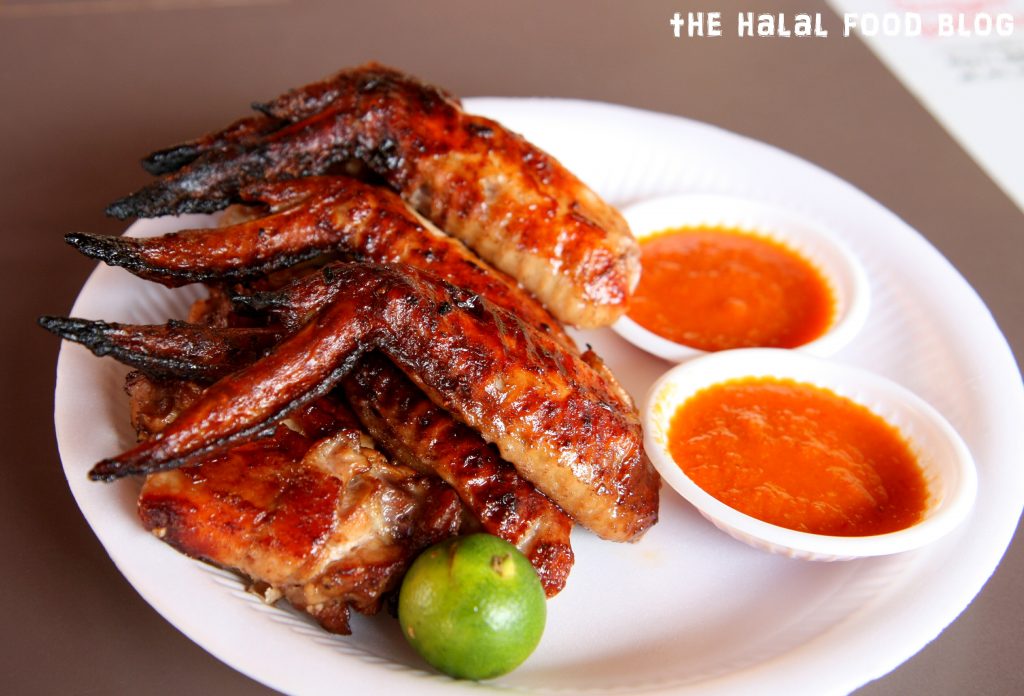 Ahmad Spring offers 2 things – Satay and BBQ Chicken Wings.
We've never had the Satay there to be honest because we're so set on Satay Haron every time we visit there but the BBQ Chicken Wings are #1 in our books for sure!
If there is one thing we can guarantee – Ahmad Spring BBQ Chicken Wings are the bomb!
And with something so exquisite, you can guess that a lot of work goes into perfecting the technique of BBQ-ing these wings… Once does not simply just anyhow BBQ chicken wings!
We were lucky enough that Ahmad Spring gave us permission to go to the back and take a few snaps of their BBQ master at work with the wings!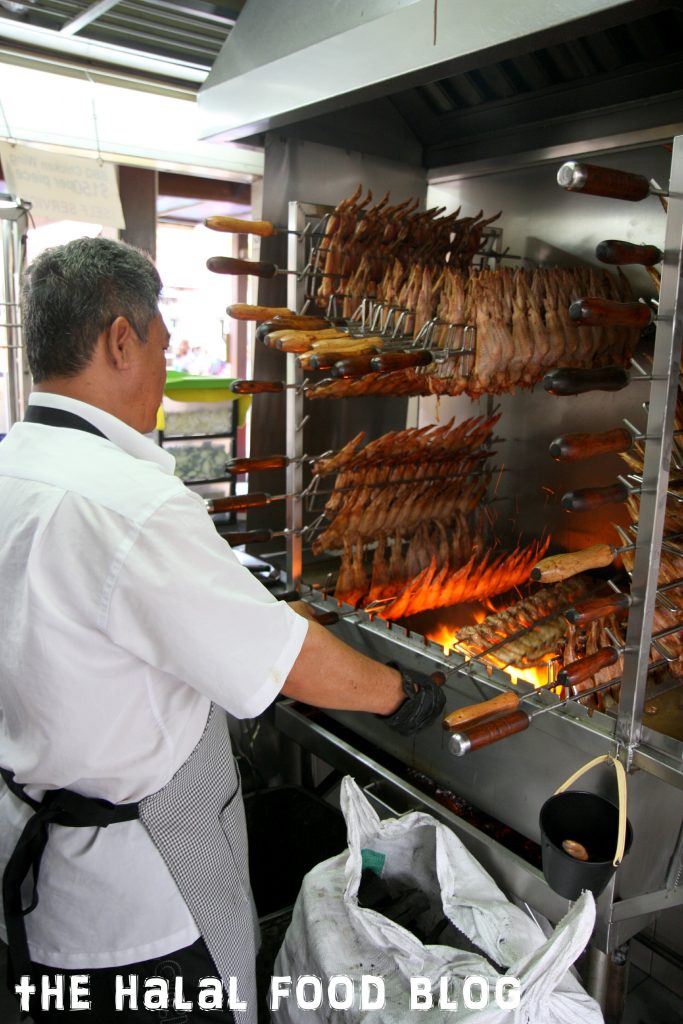 So besides their secret recipe and technique in marinating the chicken wings, a good deal of skill and experience goes into the actual BBQ-ing of the wings themselves. It probably takes quite awhile of practice before one is able to perfect the technique to achieve such a perfect chicken wing. After all, anyone can do it but the results will surely not match up with Ahmad Spring's wings.
And it's also quite (literally) a hot-seat environment too! Just a few minutes snapping pics at a distance and we were already feeling the heat!
The charcoal-fire must be controlled so that the temperature is just right so you get a nice crisp skin on the outside of the wing but you must still have juicy meat on the inside. Definitely a skill that's not easy to master that's for sure.
The finished product once the BBQ wings are ready is a plate of perfectly BBQ-ed chicken wings served with some spicy chili with a kick and the shoikness that comes with a finger-licking good meal!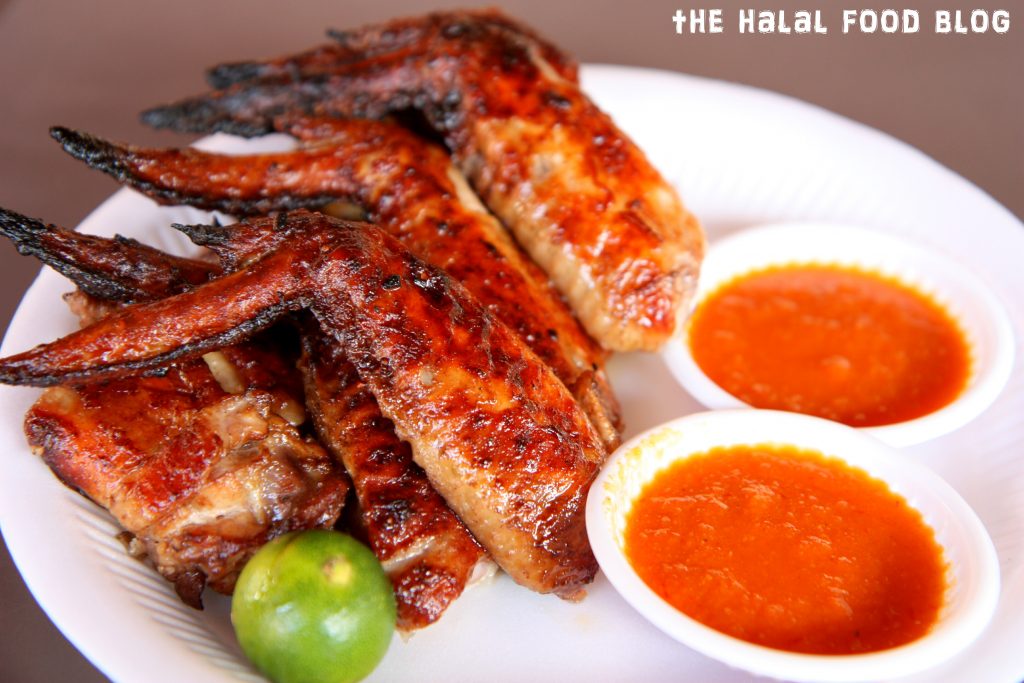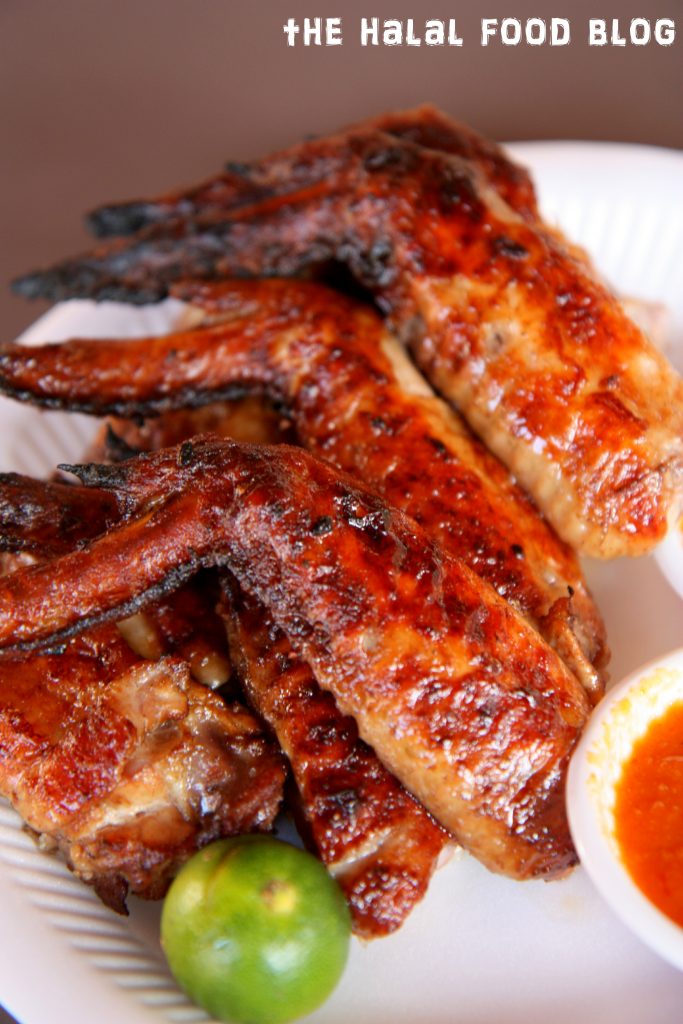 That's a plate of 5 wings by the way. And you've gotta admit – that's a pretty yummy looking plate of chicken wings!!
Squeeze the lime all over the wings (or into the chili if you prefer) for an extra tang and you're all set! If you're like us, you're probably gonna attack the winglets first! Drumlets take 2nd place in our books LOL
And yeah the price has gone up a little since the renovation (it used to be something like $1.20 per wing awhile back if we're not wrong) but hey prices are going up everywhere. At least you can be sure you're getting your money's worth here am I right?
Adam's Verdict:
BBQ Chicken Wings 5/5
Maryah's Verdict:
BBQ Chicken Wings 4.5/5
The biggest problem we have with Ahmad Spring is – we always order too much cos we're so greedy LOL
Anyways it's not so easy to find a Halal BBQ Chicken Wing place to match up to Ahmad Spring so until we find a contender, this is #1.
  Stall #01-58
  East Coast Lagoon Food Village
  Operating Hours:
  12.00pm til 11.00pm Daily (Or until they sell out)
All information (including prices, availability of item on menu and Halal status of establishment) are accurate at the time of posting. All photos used in this site are property of The Halal Food Blog unless stated otherwise.