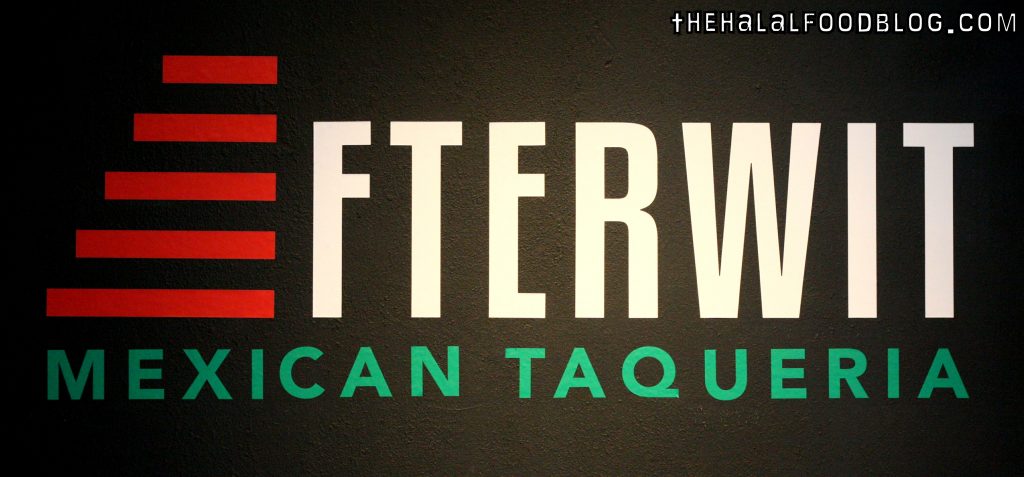 Yeah you guys and girls have probably heard the buzz about a place serving Halal Mexican food in the Arab Street area right? Well, mi amigos – here it is!!
El nombre se Afterwit y es bueno!!
(Don't you just love Google Translate LOL)
So co-owner Mr Mustaffa and his partners actually have another cafe in the area but he wanted to give everyone a Halal option when it came to some laid-back chillax cafe. Well, they like Mexican food a lot and since there's a sever lack of Halal Mexican options on our little island, Afterwit – Mexican Taqueria was born!
Great effort and pains to ensure that the ingredients and preparation/cooking methods are all Halal and the result is some pretty awesome Mexican fare!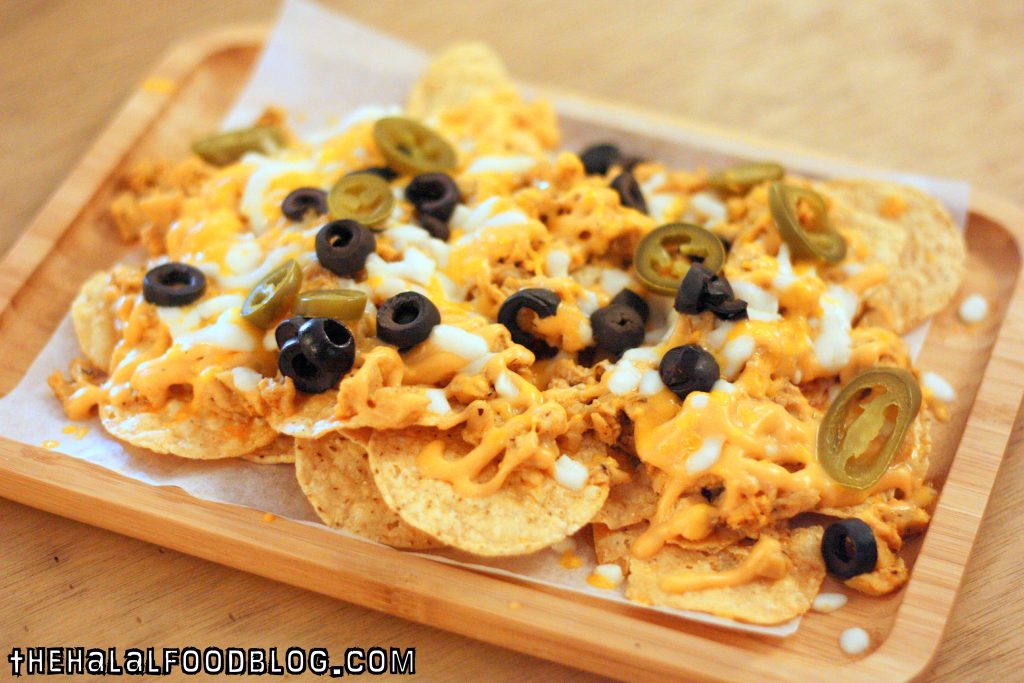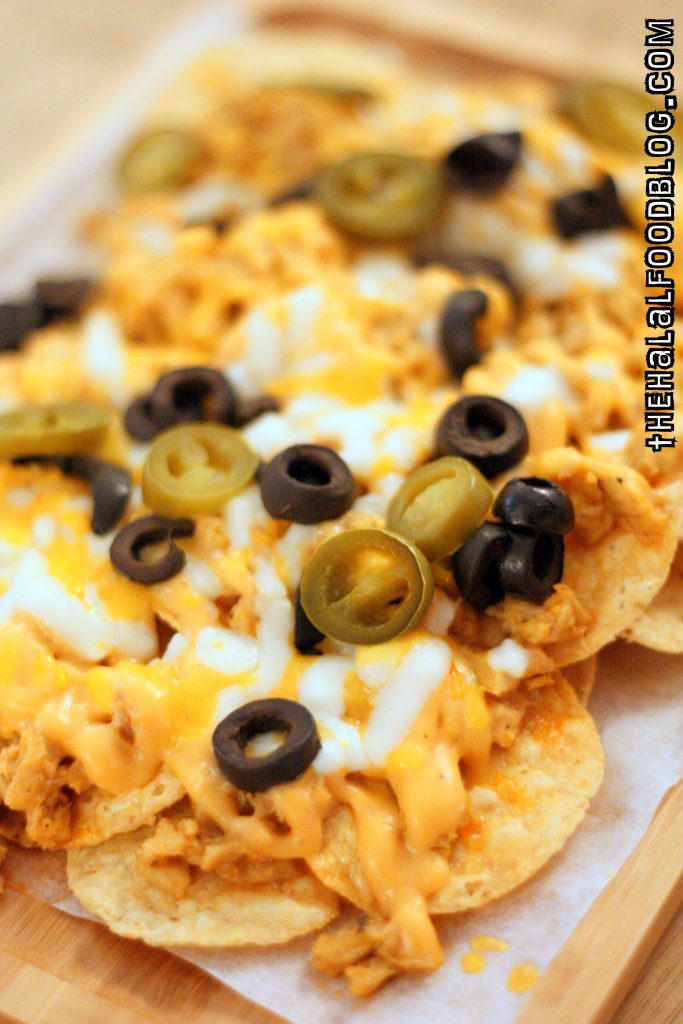 The Nachos Pancho de Pollo Cajun (Nachos with Cajun Chicken) is technically something we would group as a starter/appetizer dish but this serving is HUGE which explains why it's parked under the 'For Sharing' section of the menu at Afterwit.
Definitely a generous serving of tortilla chips topped with grilled Cajun chicken bits, guacamole, jalapenos and lots of Nacho cheese among other things.
Definitely for sharing! You're gonna wanna save some space for the other goodies on the way right?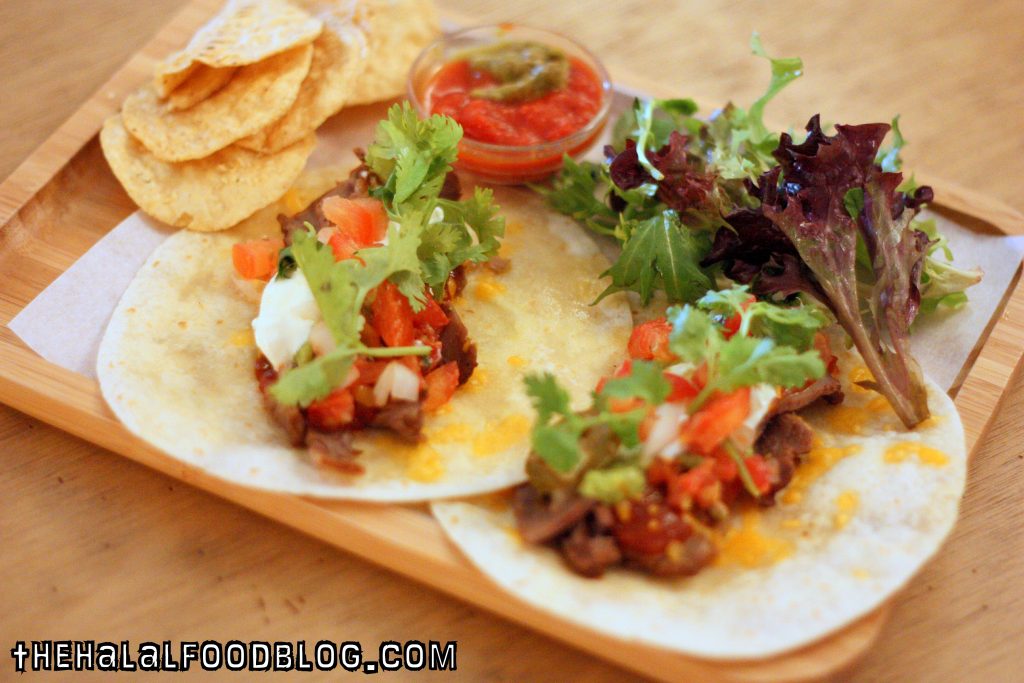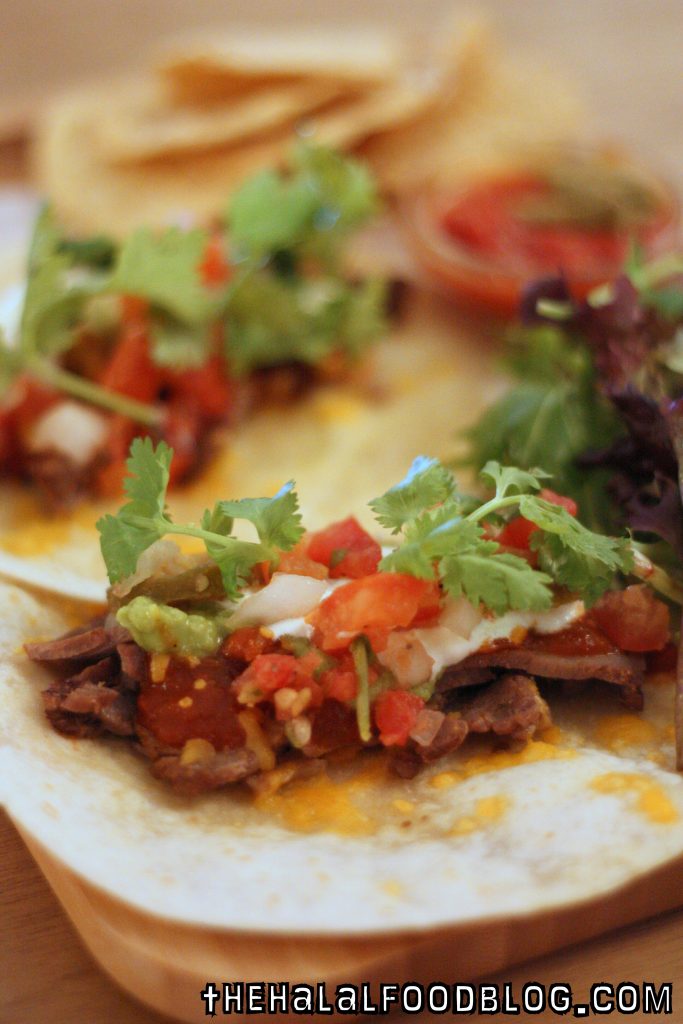 When people think of Tacos, I think most think it's automatically the hard taco shell version they'll be getting. Many forget that there's actually a version that uses soft tortilla instead.
So the Tacos Carne Asada (Beef and Salsa Tacos) at Afterwit pretty much get straight to the point.
You've got a couple of slices of roast beef that are super tender and also some Salsa Picante, sour cream and they've got some more salsa and guac on the side for you. Oh plus some nacho chips too. So roll it all up and take a nice big chomp!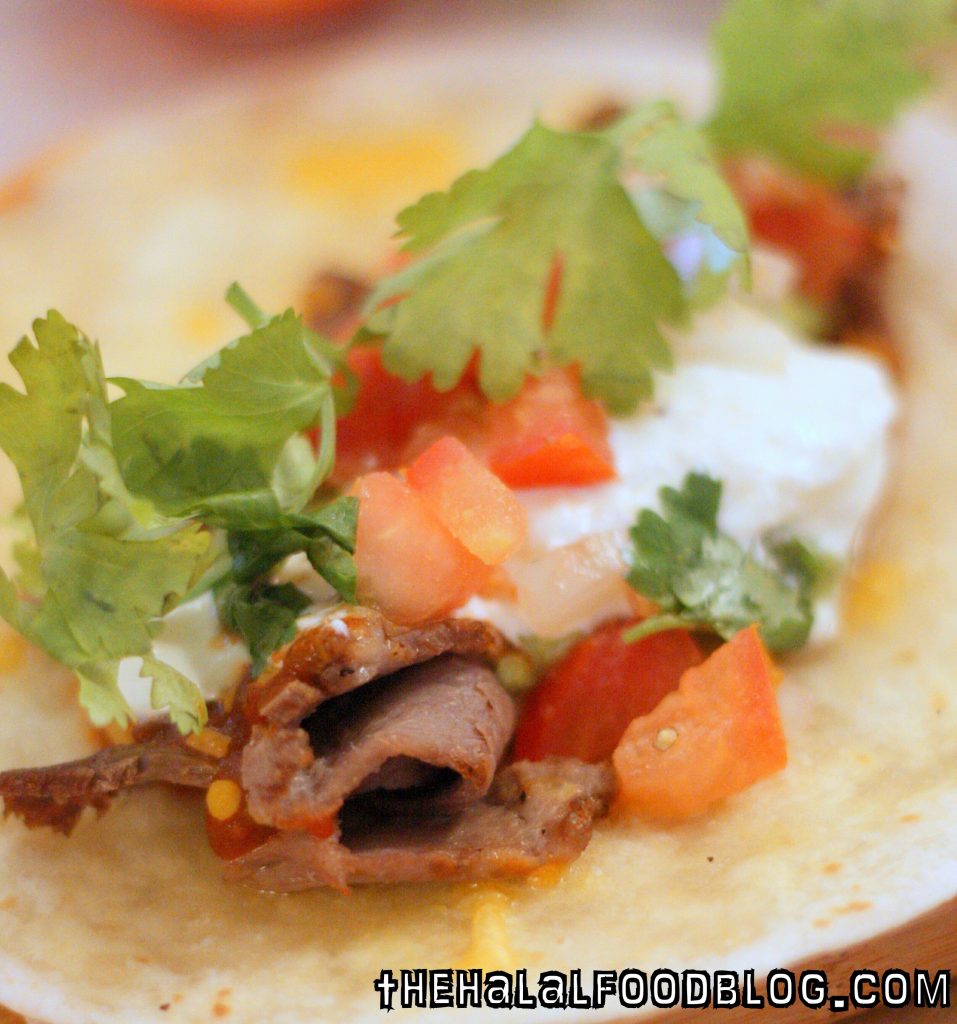 This was actually pretty tasty but I reckon this is good for a one person serving so fon't plan on sharing unless you're ordering something else to go along. Yeah I guess it's considered pretty pricy at $12.00.
They've also got Cangrejo en Mantequilla (Crab with melted Butter Tacos), Hongos (Mushrooms and Salsa Picante Tacos), Pato Pekines (pretty much a Peking Duck taco with duck and hoisin sauce) and Salmon Ahumado (Smoked Salmon and Jalapenos Tacos) too.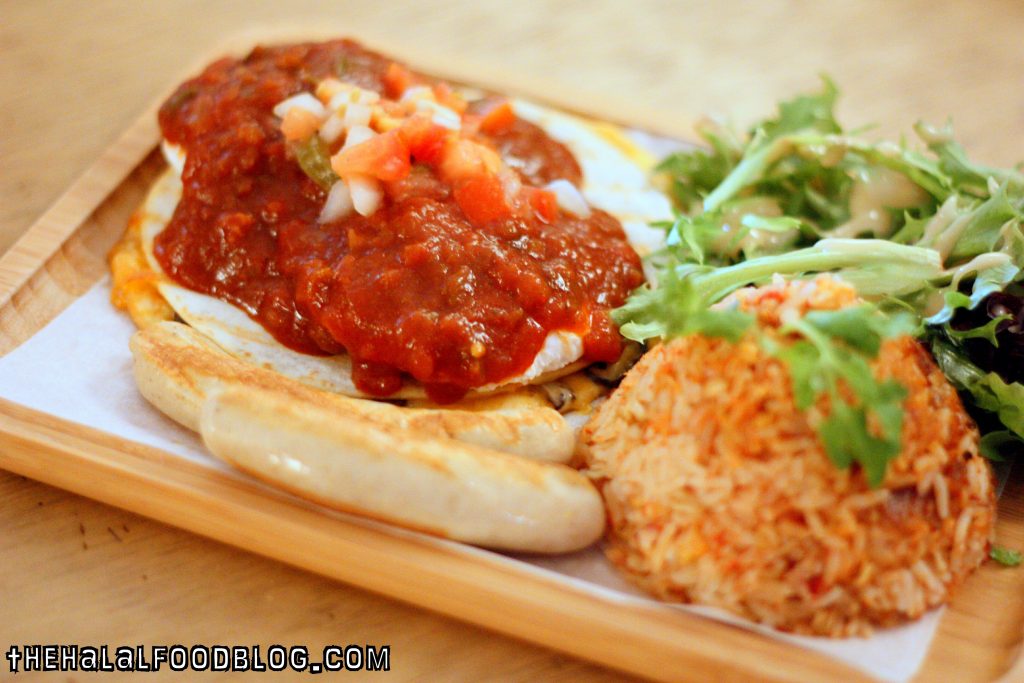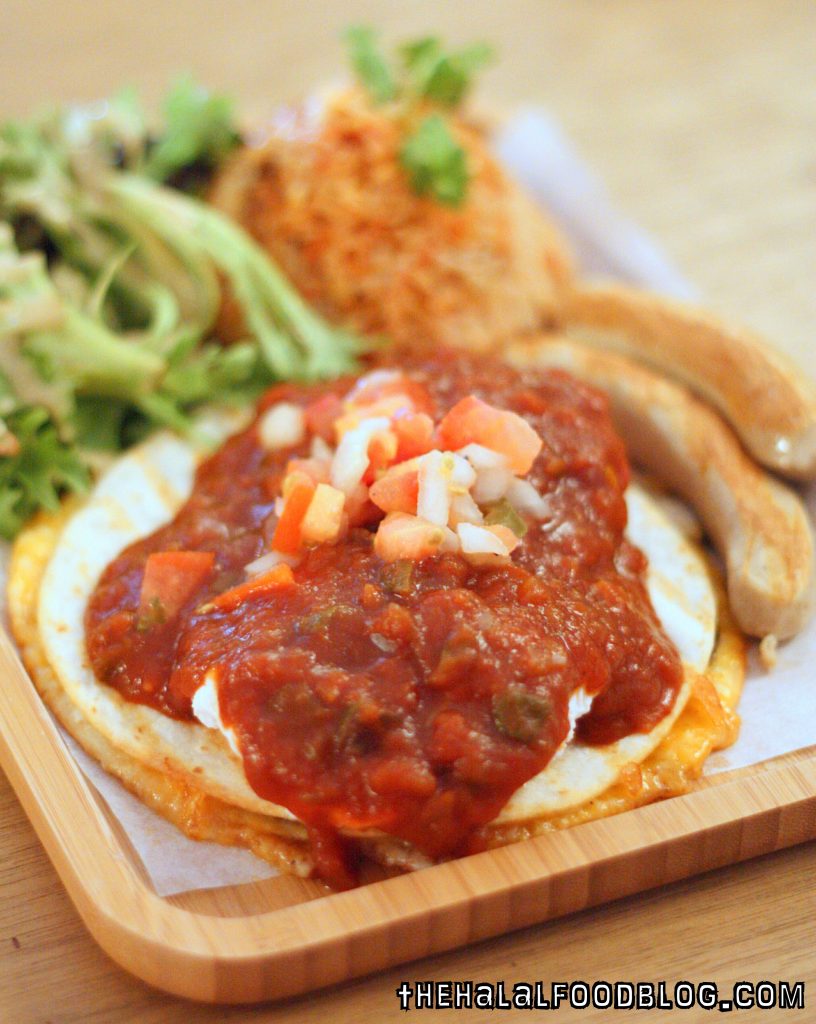 Here's where I let television influence my decisions when it comes to the food I order LOL
Saw this epidose of 'Best Thing I Ever Ate' on Food Network Asia where Duff Goldman goes to this place and has a dish called Heuvos Rancheros so when I saw it on the menu here, I thought "Meh. What the hell."
Boy oh boy.
So the version here uses a more traditional Salsa Picante sauce here (the one on TV was a green chili version of the sauce) served atop some poached eggs and soft corn tortillas. For good measure, they also include some Chicken Chipolata sausages (from the #1 Halal meats supplier in SG so you KNOW it's gonna be good), mushrooms, mixed greens and some Mexican Rice too.
Yup. Like I said – boy oh boy.
This one DEFINITELY a big platter. Probably meant for one but definitely okay to share LOL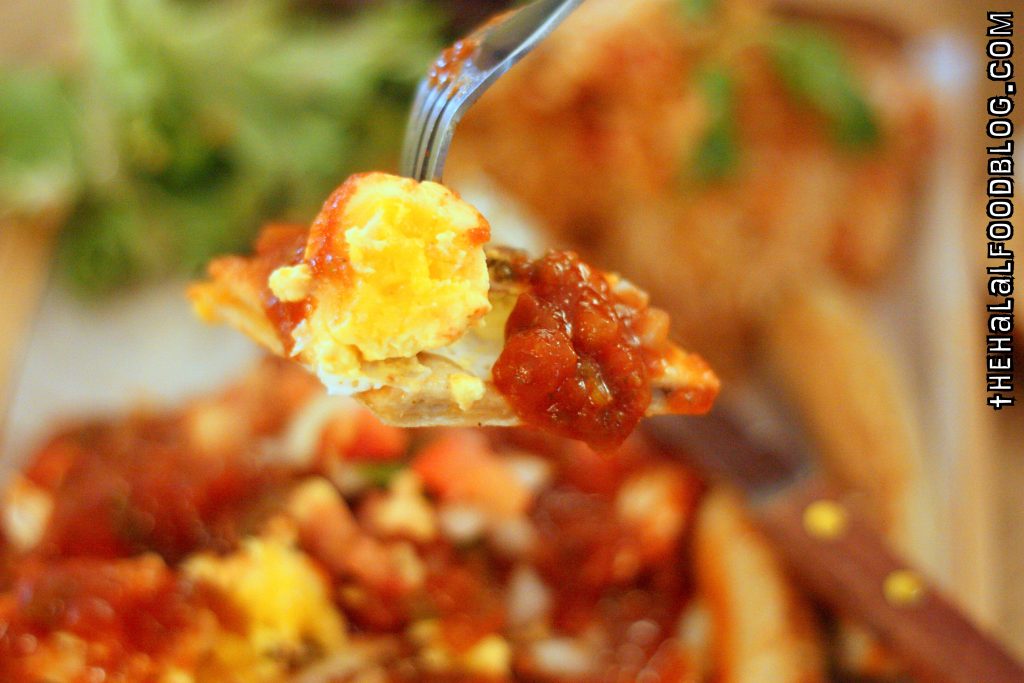 The Chipolata Sausages (from Zac's Butchery) were power so let us confirm that for you LOL
This is a type of dish where you've gotta get nice and messy. It's really a big platter of comfort food if you've got a big appetite then go for it!
Technically this is considered as a breakfast dish (yeah that's right – breakfast!) in Mexico so it's good for brunch too. Other dishes on the Brunch section include Eggs Benedictinos (Mexican Eggs Benedict), Cangrejo Ensalada de Pasta al Pesto (Crab and Beans in Pesto), Deslizadores de Carne Asada (Beef Sliders), Huevos Ahogados (a soupy version of the Huevos Rancheros) and Sopa de Tomate con Pasta (Penne and Beans Tomato Soup).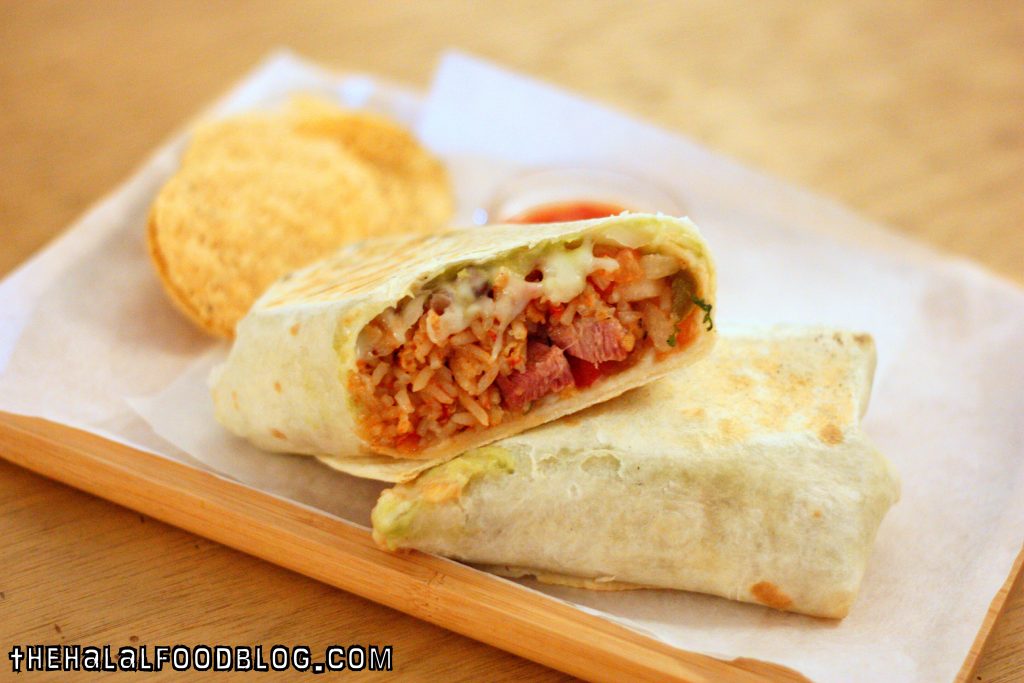 This might just have been one of my personal favourites when we visited Afterwit.
I'm actually a big wrap guy and well, a Burrito is a wrap. So that counts. LOL
So in the Pato Jarabe De Arce (Duck Burrito with Syrup), you've for some roasted duck chunks with some maple syrup, guacamole, onions, scrambled eggs, tomatoes and Mexican Rice.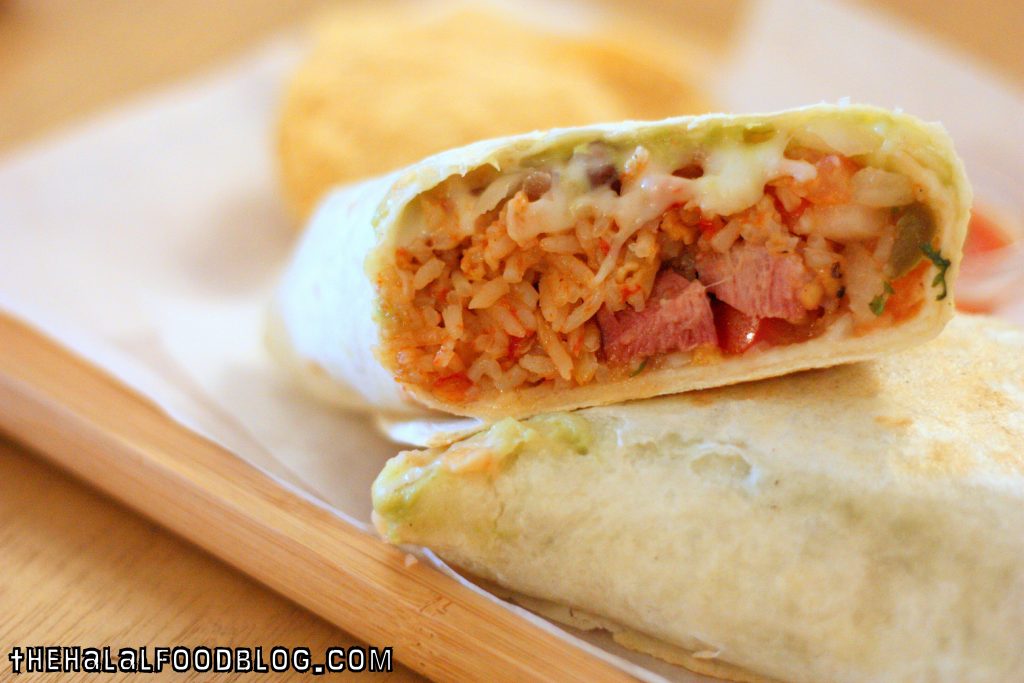 A lot of you are probably thinking that the rice is misplaced here but we actually think it really works. I mean, take for example one of the best wraps that was ever created – the OLD Long John Silver's Wrap. That had rice too and it was the bomb!
And the sweet maple syrup actually goes really well here. Who knows why sweet and salty go together so well huh 🙂
And by the way – this is a really big serving and it's SUPER filling!!!
Looking for other Burrito choices? Try the Burrito Almuerzo, Burrito Carne Picamte and Salmon Salsa Crema Agria.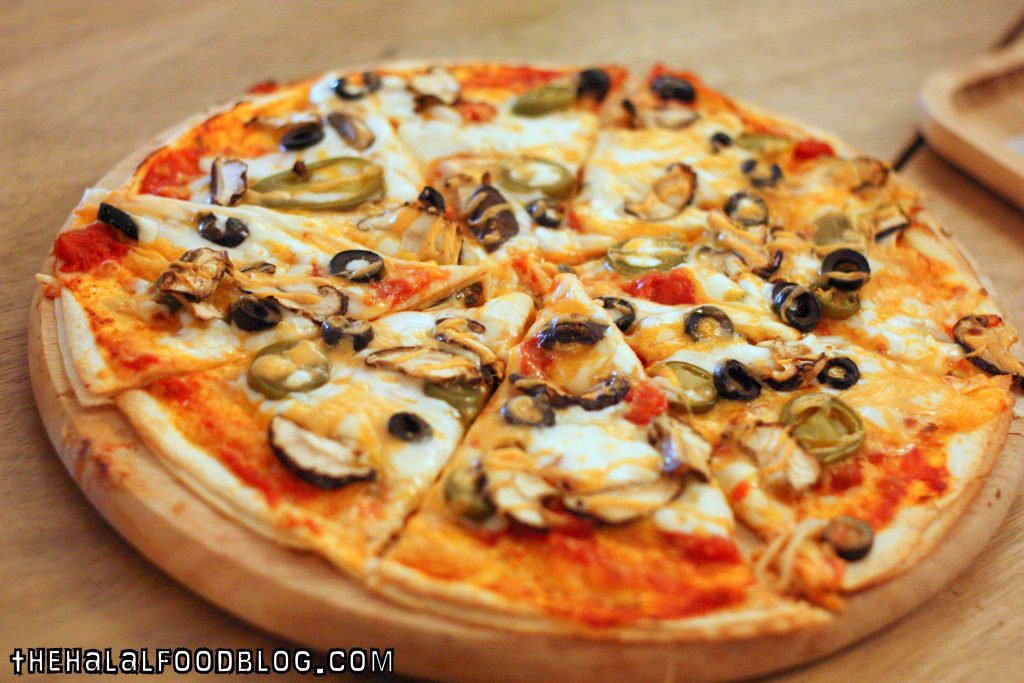 Maybe if you're really super hungry or really super loco you might be able to whack this by yourself LOL else please share lah it's a really big pizza!!
The Pizza de Champinones (Mushroom Pizza) is also a great vegetarian choice by the way. It's got mushrooms, cilantro, jalapenos, olives, onions, peppers, refried beans, tomatoes and Mozarella Cheese (they even drizzle some Nacho Cheese on there just in case LOL).
And because they use flour tortillas for the 'pizza dough', the result is an ultra thin crust which means more space in your tummy for the toppings! And it's really a lot of toppings.
Oh yeaaaahhhhhh go for that cheesy stretch!
Like I said – we weren't kidding when we said generous serving LOL
Well, how about some dessert eh?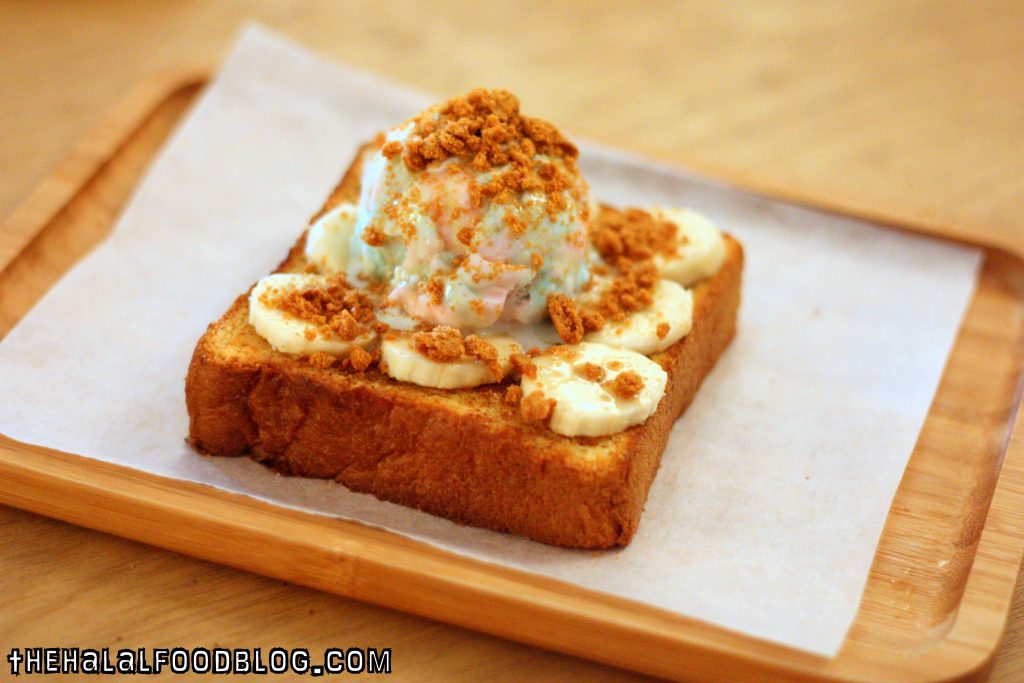 It's pronounced as "chee-chern eat-za" okay so don't go around saying "chicken eetzer" 😛
A toasted slice of butter Brioche with banana slices and maple syrup topped off with a scoop of Paddle Pop Rainbow Ice-Cream as if we weren't already drooling LOL and yeah Paddle Pop isn't really very Mexican but hey who's complaining because Paddle Pop is the bomb!
Here's another dessert you can get and stuck in and messy with!
By the way, that's crushed caramel biscuit bits sprinkled on top!
Other desserts you ask? Well, they have Churros (served with a drak chocolate dip) and also Quesadillas con Banana which is banana and nutella and peanut butter creation (comes with ice-cream too!). Plus we saw a whole range of ice-cream sandwiches which might be worth checking out.
But hey. What? No drinks? Confirm lah got drinks.
But we wanted to show you this cool way they organized the drinks menu…
That, my dear readers, is the Afterwit Periodic Table of Beverages!!
Each 'element' is actually a drink and the 'atomic number' is actually the price of the beverage!
SUPER COOL IDEA OR WHAT!!!!
Everything is colour-coded and grouped into the different categories. Simply genius lah!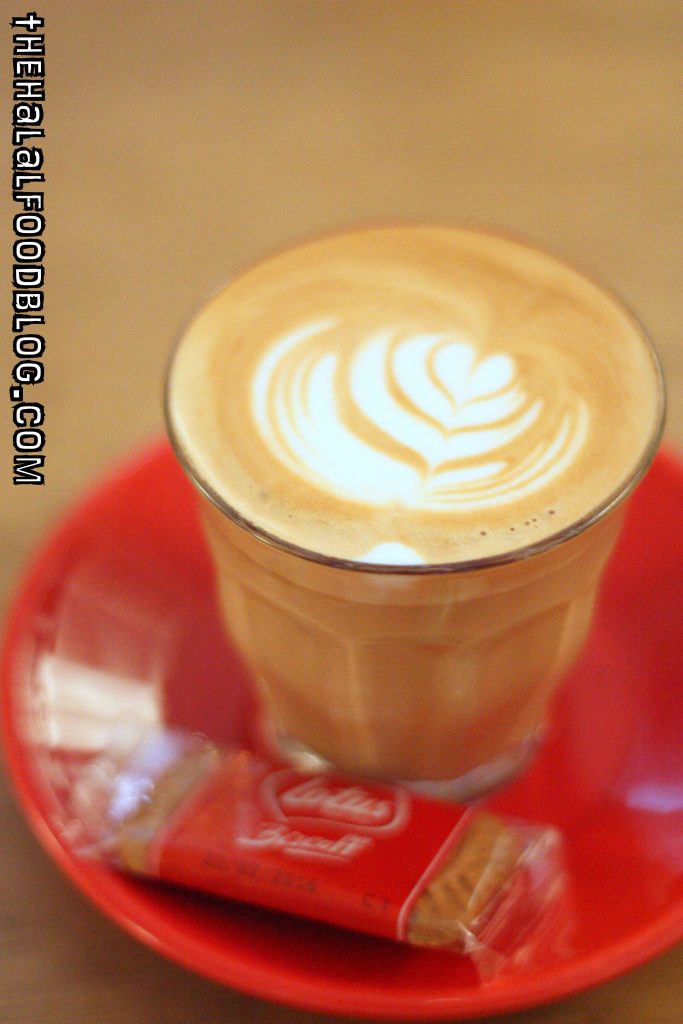 So first up was 'Cl' aka Caffe Latte. Great for sitting back and sipping while you're chilling with your hombres.
They've got a whole line up of coffees and the likes so go through the table and find your fave!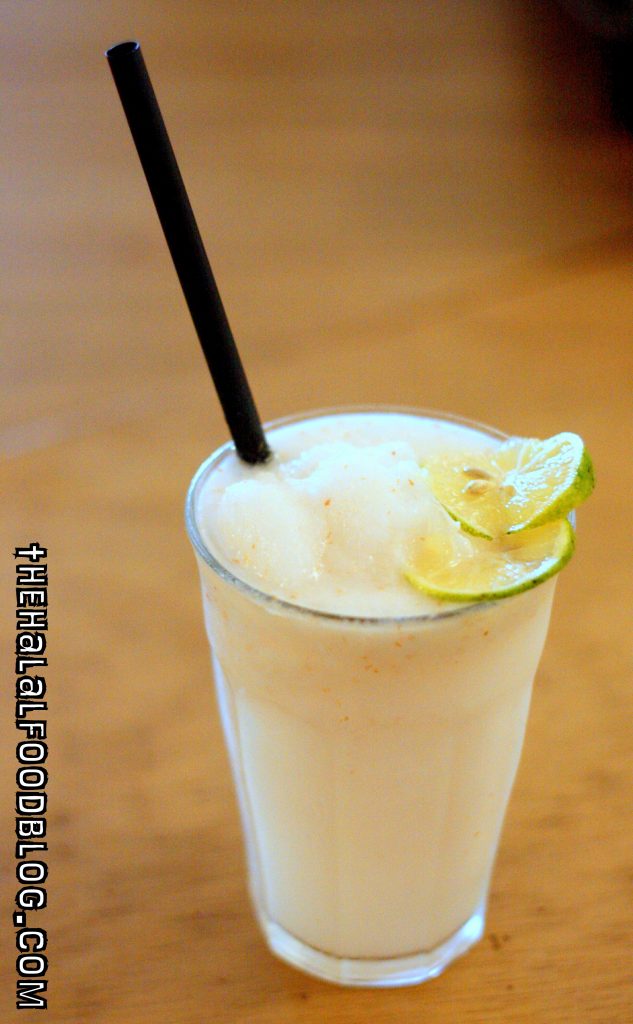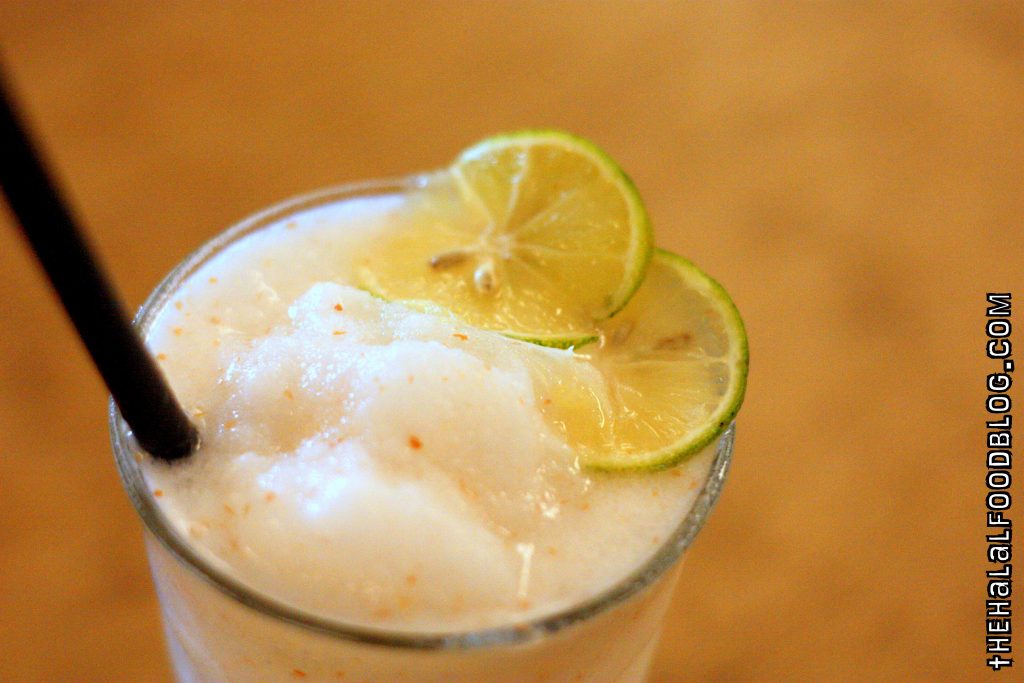 I'm more of a cold beverage guy myself so I tried the Lychee Mojito (that doesn't seem to be in the Periodic Table there so does this count as a hidden drink??)
Very refreshing and made with real lychees. It's got a bit of a welcome tang to it thanks to the lime. Perfect for a hot day and perfect with all the food we were having.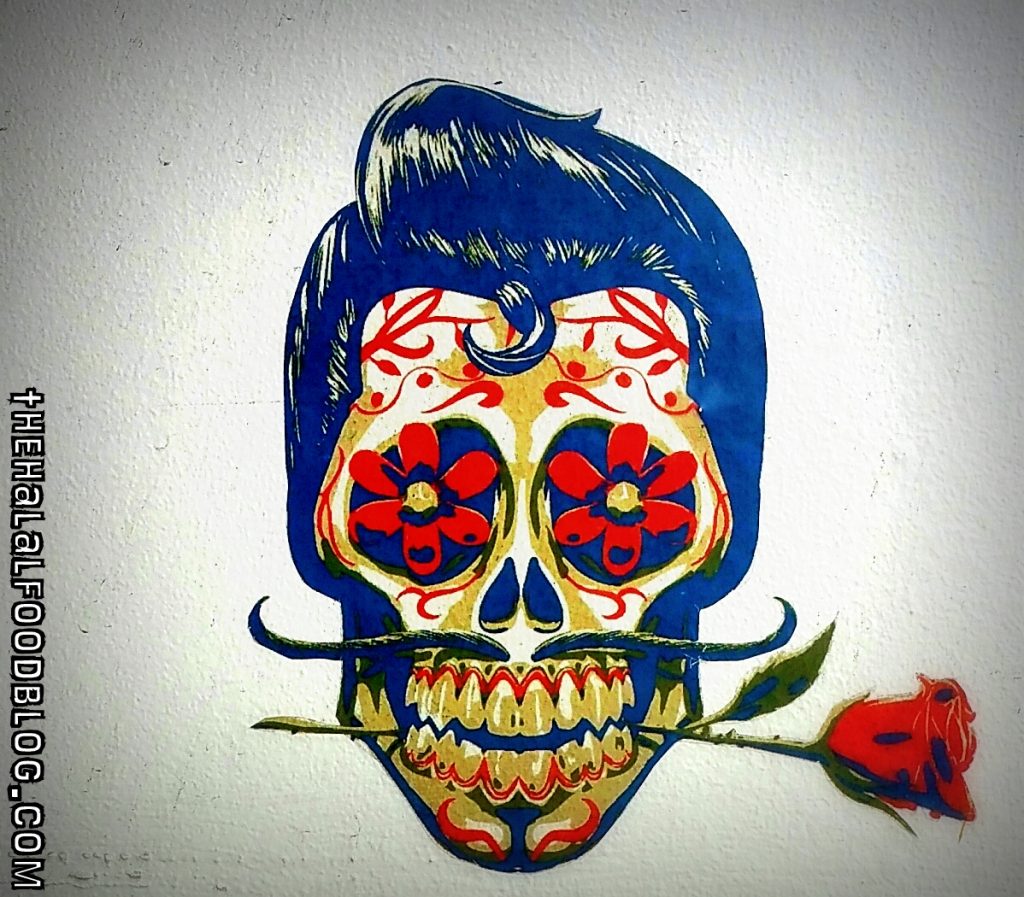 The ambiance of Afterwit is also very fitting. Full of Mexican-themed decor and also some artsy murals on the wall give it a very modern but still laid-back feel. In the back, there's even an area that turns into a space where music and/or performances can be held. Should be pretty awesome lah.
Look out for the theme decor like cacti all over the place and posters of Mexican movies and Luchadores (Mexican wrestlers – y'know with the masks and stuff) which definitely add to the charm of the whole place.
So there you have it. A place where we can go to get some Mexican food thanks to Mr Mustaffa and friends! Will definitely visit again when we are in the area!


You can make reservations for Afterwit via Chope!
Just click on the BOOK NOW button and  you're one step closer to enjoying all the yummy food at Afterwit!
PS look out for the special deals they have like Lunchtime deals and also the Daily Deals (e.g. 20% off certain dishes from certain sections in the menu on certain days of the week or 15% discount if you work in the area) that sorta thing.
778 North Bridge Road
Tel: 6299 3508
www.afterwit.sg
Facebook: https://www.facebook.com/afterwitsg?ref=ts&fref=ts
Operating Hours:
10.00am til 9.00pm Daily
All information (including prices, availability of item on menu and Halal status of establishment) are accurate at the time of posting. All photos used in this site are property of The Halal Food Blog unless stated otherwise.
---
Afterwit offers 15% off for all FRIENDS Card holders. Not valid with any other promotion.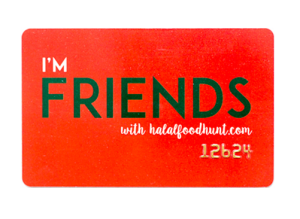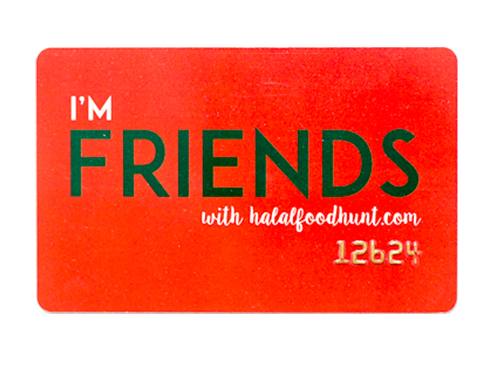 Get your FRIENDS with halalfoodhunt.com Rewards Card now at only $18/year and unlock discounts at over 60 halal restaurants, cafes, bakeries including online e-commerce businesses in Singapore. For a full list of where you can enjoy your card, click here.