So we know that probably like 2 millions hearts went aflutter online when a picture started circulating online which showed the Halal certificate being pasted up on the wall at a 4Fingers outlet. Oh yeah that's right. We were finally gonna get the chance to visit 4Fingers!
I remember the first time we saw 4Fingers was while we were walking around Plaza Singapura a few years ago but of course we couldn't have it because it wasn't certified Halal at the time but hey the time is now and boy were we excited to finally get to try their famous chicken. So let's get straight to it!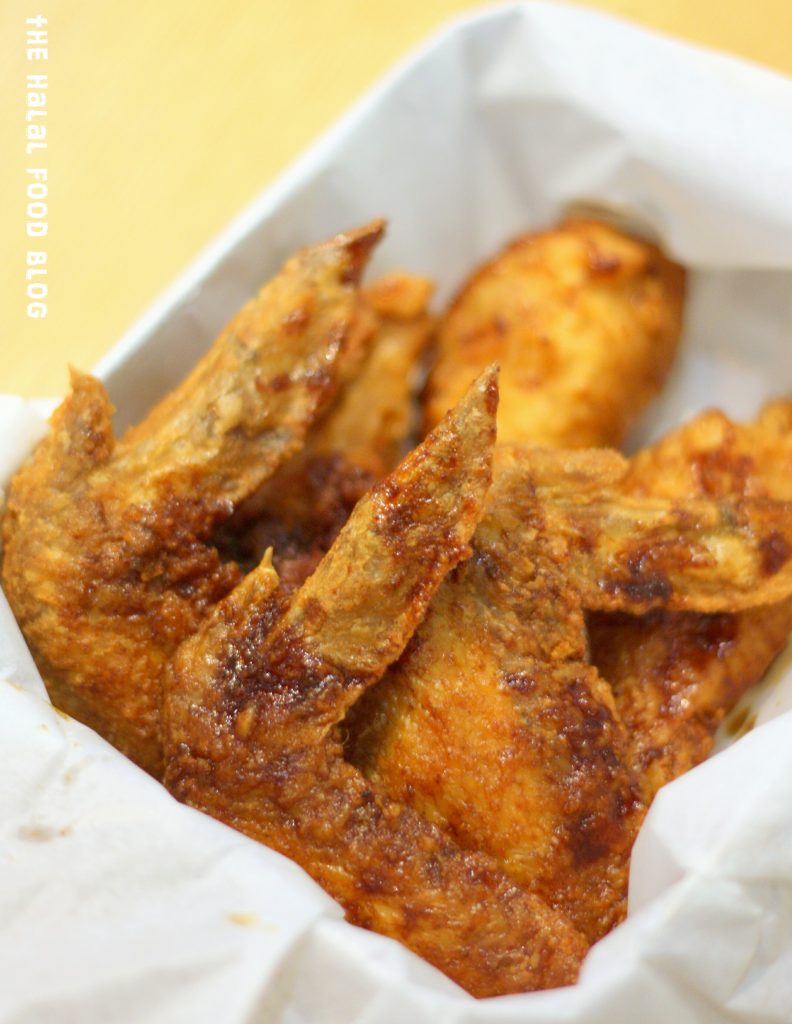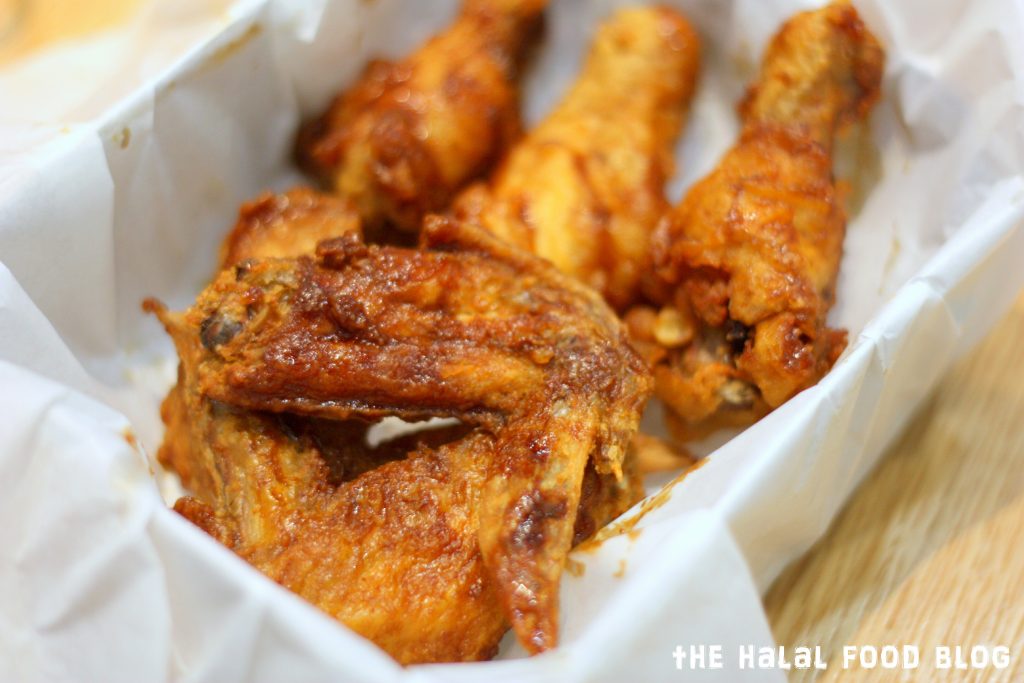 So the first thing in our sights was the famous 4Fingers Chicken Wings.
You can have them in either Soy Garlic, Hot (aka Spicy) or have a mix of both.
The chicken wings were exceptional lah we tell you! Especially when you're whacking them nice and fresh and hot and crispy! There are few things better than power chicken wings!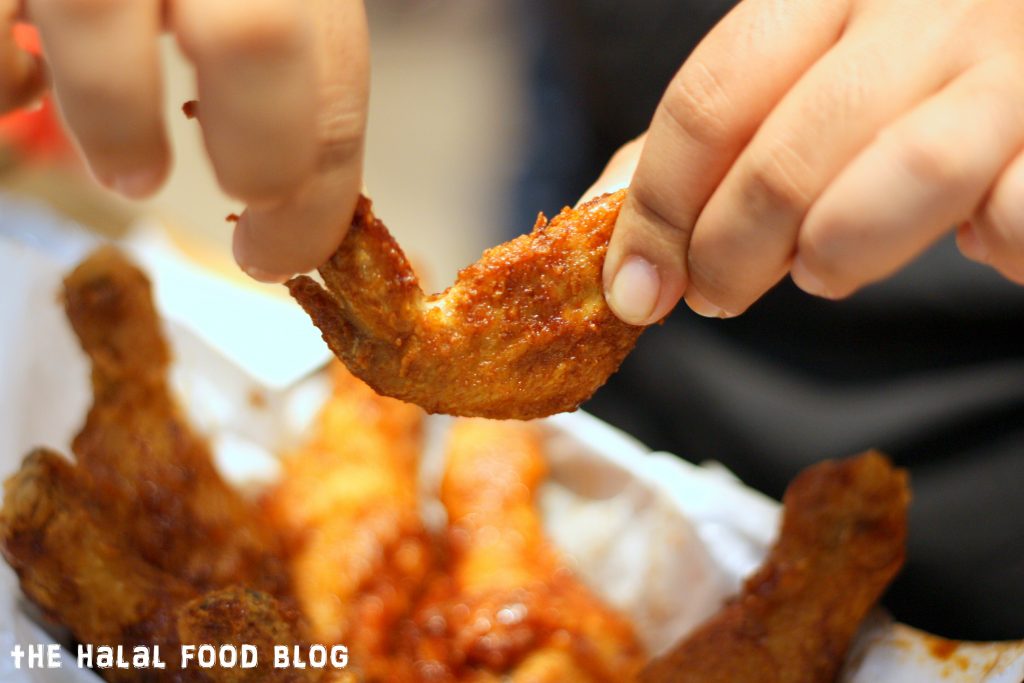 The chicken wing is nice and crispy but you don't have that thick kind of batter that tends to be a bit overwhelming. Here, the chicken wing is perfect as-is and is perfectly prepared and cooked too. Just how do they do it? Well, a little bit more on that a little later…
The 2 different flavours were great too. The Hot wasn't 'burn-your-mouth-off' spicy but you can still taste the kick of the spice. The Garlic Soy on the other hand was right up my alley. It had just the right amount of salty + garlic  that makes it absolutely sedap!
But if you're looking for a bigger bite of chicken…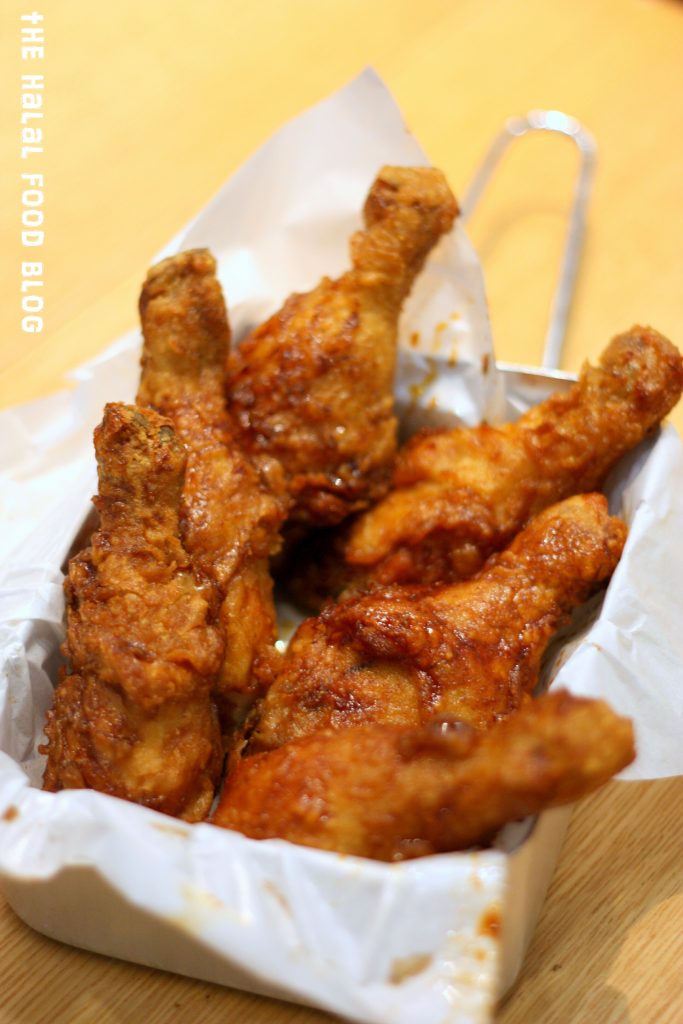 Check out those drumsticks! Fuyoh!!
You can get them in either the Garlic Soy and/or Hot and/or both if you'd like. But of course you're in for a bigger mouthful here! To be honest, it's really difficult to choose between the two now. On one hand, chicken wings are always the bomb but when they're fried, chicken drumsticks also power… Guess we'll have to get a mix of both whenever we visit 4Fingers! LOL
And why exactly is 4Fingers chicken so power?
For starters, they have their chicken delivered fresh everyday. That means we get only fresh chickens which results in a delicious product being served to us. And we all know how big a difference it is between fresh and frozen products right?
Next, they take their preparation very seriously. This means that each piece of chicken is individually hand-coated and individually dropped into the fryer for cooking. And because of that, each piece of chicken is power!! Compare this to places where they batter/season their chicken in batches and sometimes even drop them into the fryer in batches? 4Fingers is definitely on to something really good here.
And last but not least – each piece of chicken is individually brushed with the Garlic Soy or Hot sauce before it's served fresh and piping hot for your order!
The Chicken Wings come in orders of 6pc ($9.95), 12pc ($16.95) or 18pc ($21.95) for combos while you can get the Chicken Drumsticks at 3pc ($10.95), 6pc ($18.95) and 9pcs ($26.95) combos which are great for sharing but yiu'll probably be tempted to keep it all to yourself LOL! You can even order  mix of wings and drumsticks if you'd like.
And a great party idea – 50pc ($52.50), 100pc ($99.95) or 150pc ($139.50) wings are a great thing to have at parties, picnics or even for watching the match with the boys!! Order one shot and all you need to do is makan and enjoy!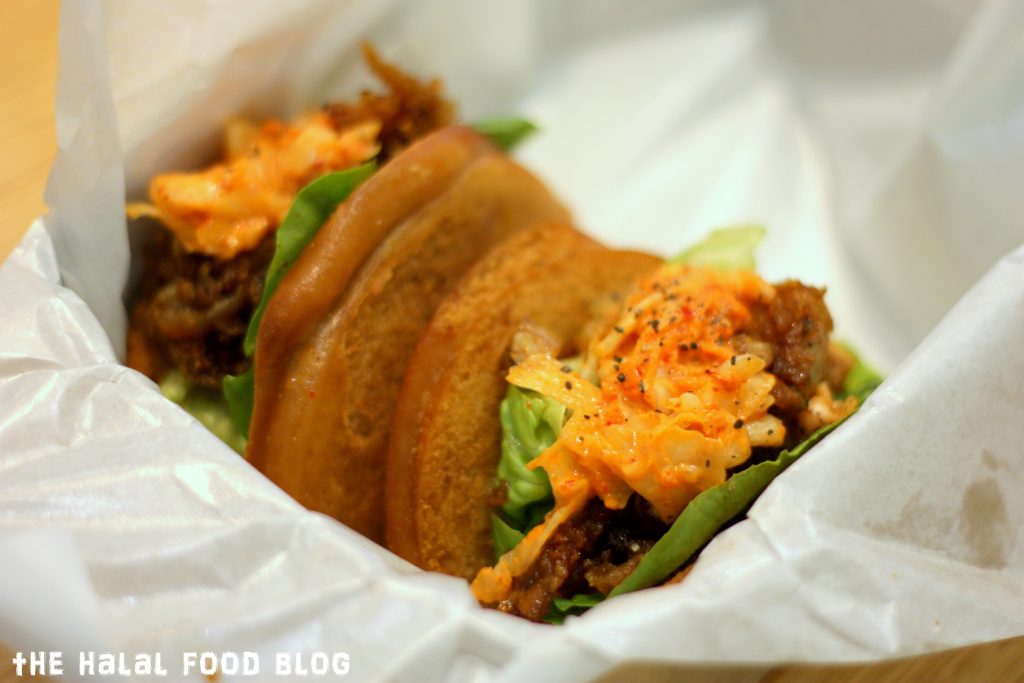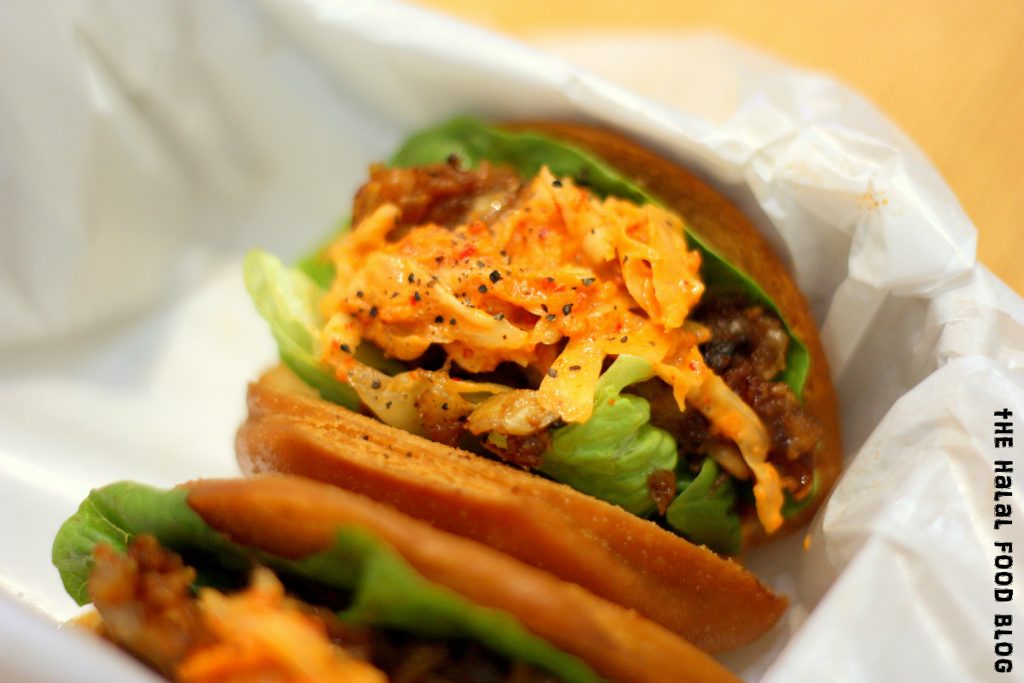 Some of you will probably be glad to know that they do have other items on the menu besides just fried chicken y'know. And some of them are pretty good too!
Check out the Katsu Chicken Sandwich which is served in a nice warm bun and has some Kimchi Coleslaw. The chicken katsu was delightfully tender and the Kimchi Coleslaw does really have a great Kimchi flavour too! A great bite to it when you take a nice big chomp.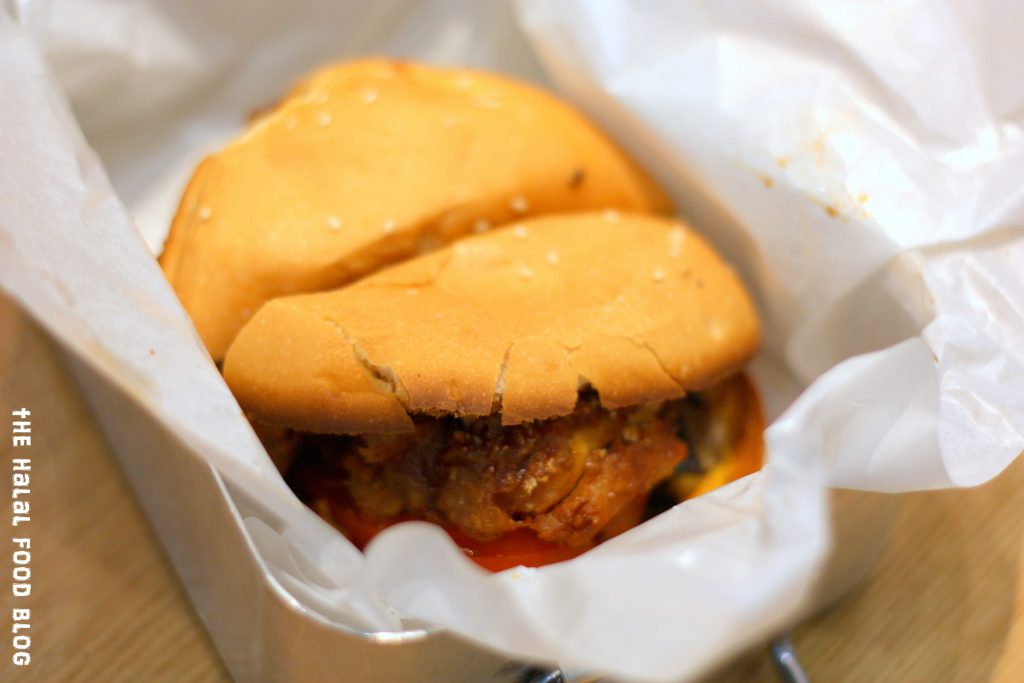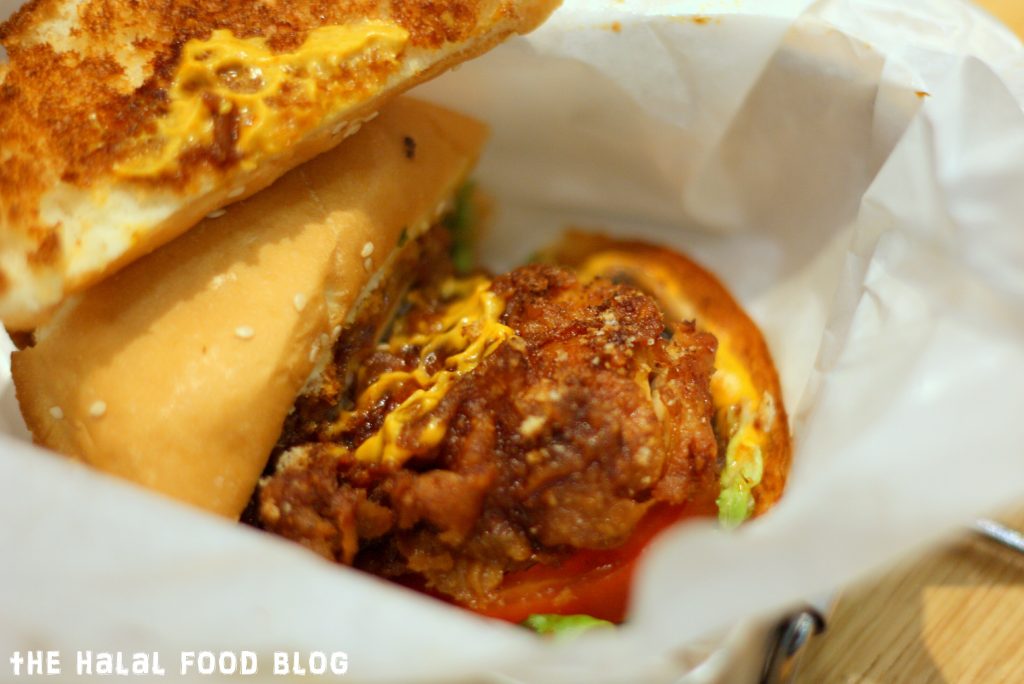 If you want to enjoy that nice crispy chicken in a fillet form and in between some buns then you should definitely go for the Chicken Burger. The fillet is also individually coated and then deep fried. And yes – you can choose either Soy Garlic or Hot for this too!
Eh wait wait wait… what about SIDES???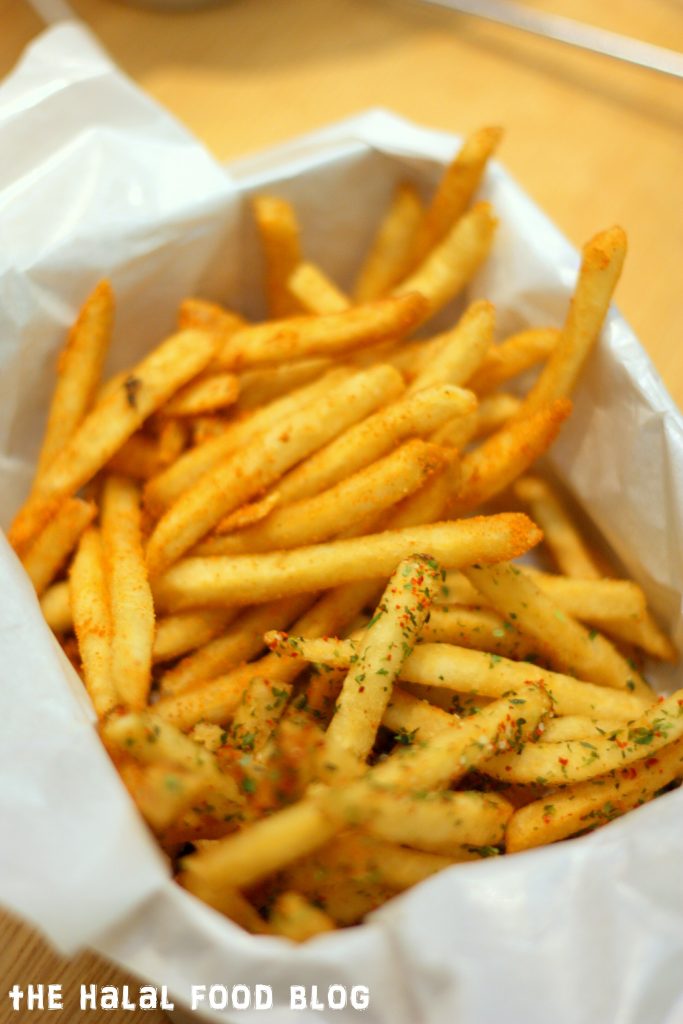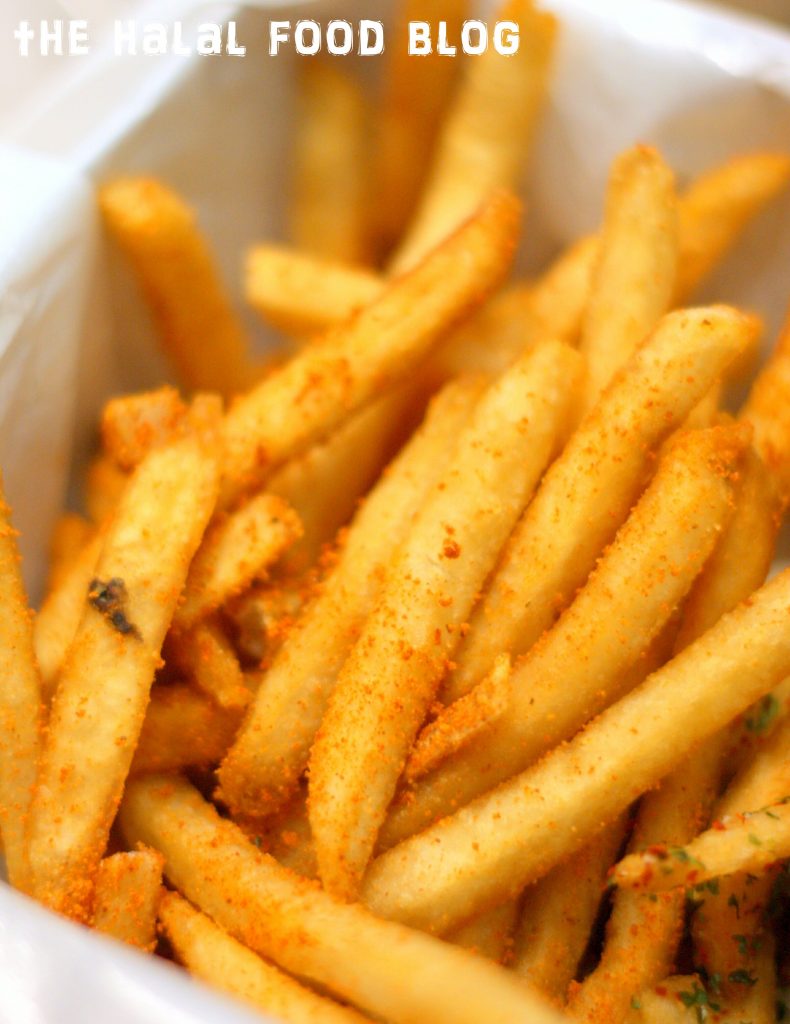 They've got 2 types of fries for you to choose from and you can have them either ala carte or they might come with a combo you're having.
The Kimchi Fries has a nice kick to them so if you're into the spicy then this is the one for you.
On the other hand, the Seaweed Fries are actually pretty good too but I'm not sure how many of you out there like Seaweed but you should definitely give this a try.
They've also got some seafood on the menu (coated and deep fried of course!) in the form of Calamari & Shrimps. Same delicious choices of Soy Garlic or Hot and same delicious deep fried goodness.
These are delicious as a snack but if you don't mind out advice, order some chicken AND the Calamari & Shrimps because order only one and you're surely gonna be tempted to order more to fill you up.
Speaking of fill you up – they also have some Rice Boxes available which include either Wings, Drumsticks or Tofu with some rice for a quick and filling meal (because confirm some of you MUST have rice right LOL)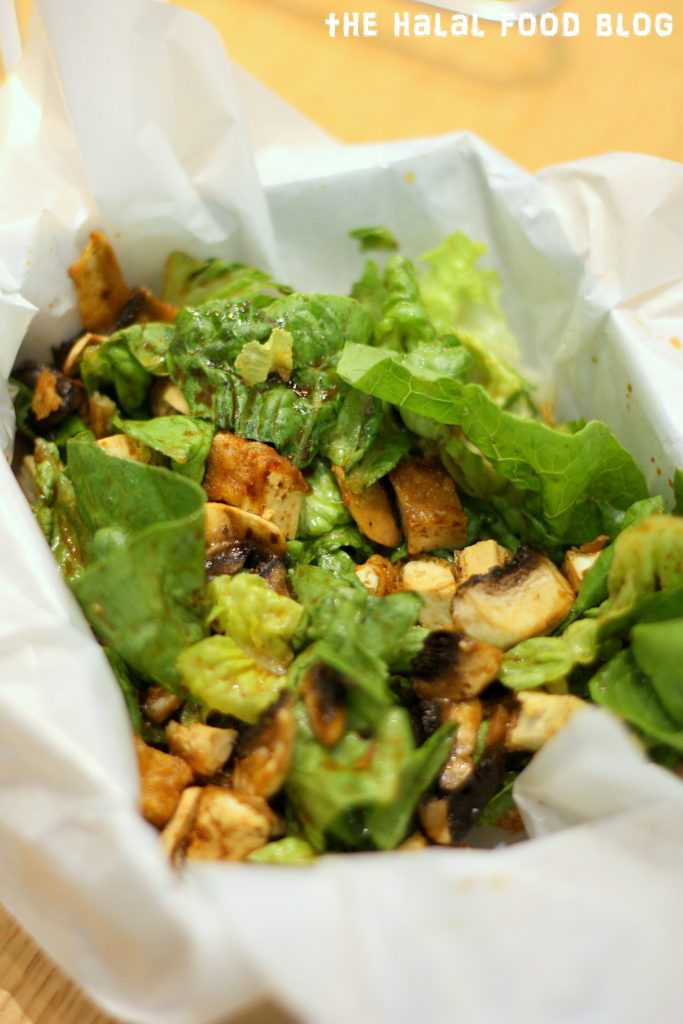 Okay okay we know it doesn't seem like we eat a lot of salads on this blog but hey believe it or not we actually LOVE salads and I guess we should feature more here whenever we visit a makan place which has a good salad.
So let's start with the Mushroom & Tofu Salad at 4Fingers!
This was absolutely delicious lah! You've got some tofu and mushrooms all chopped up with your greens (this is a warm salad by the way) and they've added some of the Soy Garlic sauce as a dressing. Sedap giler!
That's a great vegetarian choice right there. They've also got a Seafood Salad and a Chicken Katsu Salad if you'd like, Definitely a healthier choice to have a salad and you can tell them to hold the dressing too if you'd like.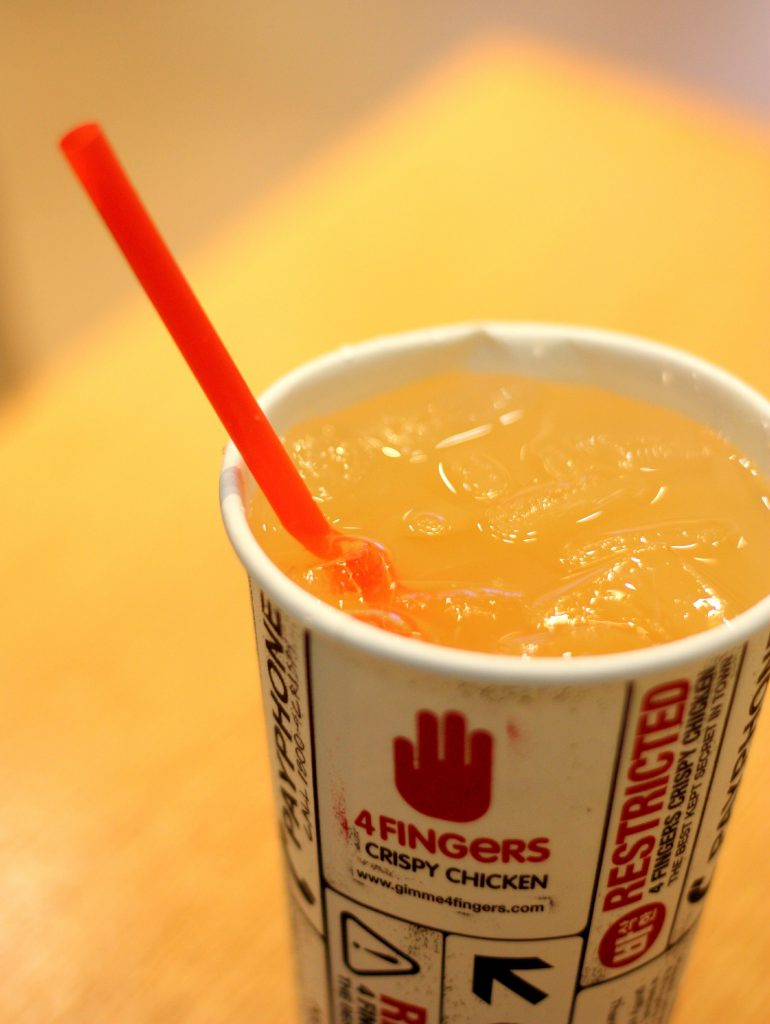 We had this Honey Yuzu Tea when we visited and it was a great accompaniment to our food. Nice, tangy and refreshing too. Nice alternative to soft drinks plus apparently they don't add any artificial flavour so it's all Yuzu you're getting. You can top-up 50 cents to your combo to upgrade your drink to this great choice.
Not sure if this was just a promo item or something but we sure do hope they keep it as a permanent menu item!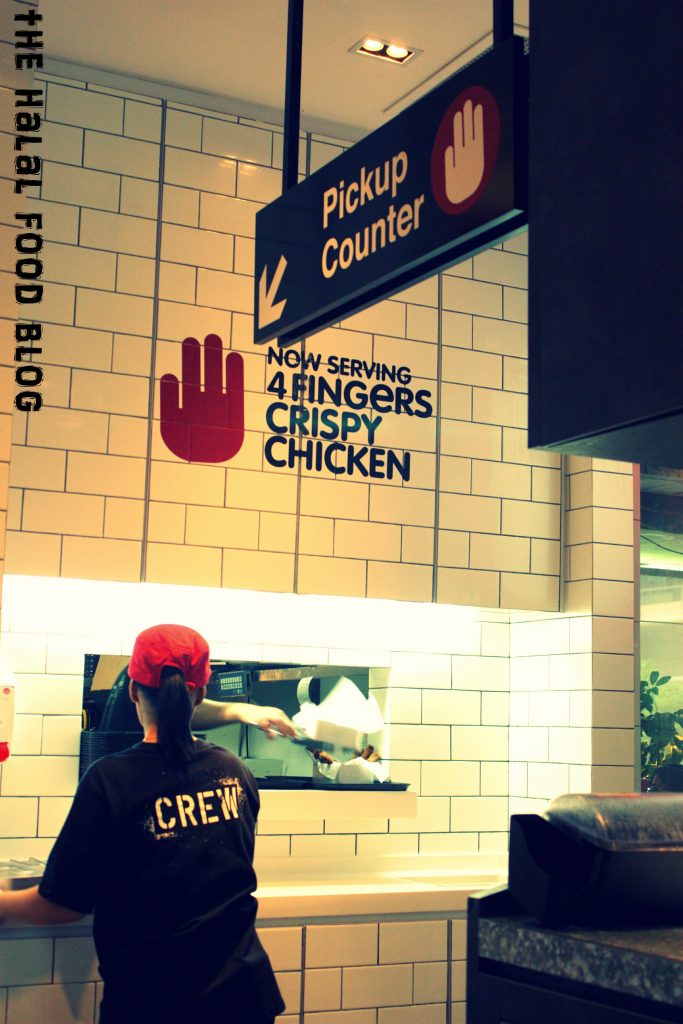 So was it worth the wait for 4Fingers Crispy Chicken after all these years?
Oh hells yeah! It was definitely worth it!
They've got a great idea here and it seems a really good culture too.
Any time you combine really good food with passion, the results are always good and we'd love to see more from 4Fingers soon!
With more and more outlets opening, looks like we can get the delicious 4Fingers Chicken around the corner!
In fact, by the time you read this, their Tampines 1 outlet is all ready and should be opened within a week.
Seriously!
**WE WILL LITERALLY INSERT A PHOTO OF THE NEW STORE HERE**
**SERIOUSLY**
So they're called 4Fingers?
I guess that means it's only natural that we give the THUMBS UP!
Westgate Mall
#02-05/05A 3 Gateway Drive
www.gimme4fingers.com (Under Construction)
Facebook: https://www.facebook.com/gimme4fingers
Operating Hours:
11.00am til 10.00pm Sundays to Thursdays and Public Holidays
11.00am til 11.00pm Fridays, Saturdays and Eve of PH

All information (including prices, availability of item on menu and Halal status of establishment) are accurate at the time of posting. All photos used in this site are property of The Halal Food Blog unless stated otherwise.