One of our most favouritest makan places ever – 21 on Rajah – now offers special themed buffets for dinner! At first we were thinking that we were more than happy with the spread we get whenever we visit their famed buffet spread but after we checked out what was on offer, it's too tempting to resist lah!
So they are offering Italian Fiesta on Mondays, Viva Espana on Wednesdays and Moroccan Feasts on Fridays! We happened to drop by on a lovely Friday evening for a taste of their very enticing Moroccan Feasts fare and this is what they have in store!!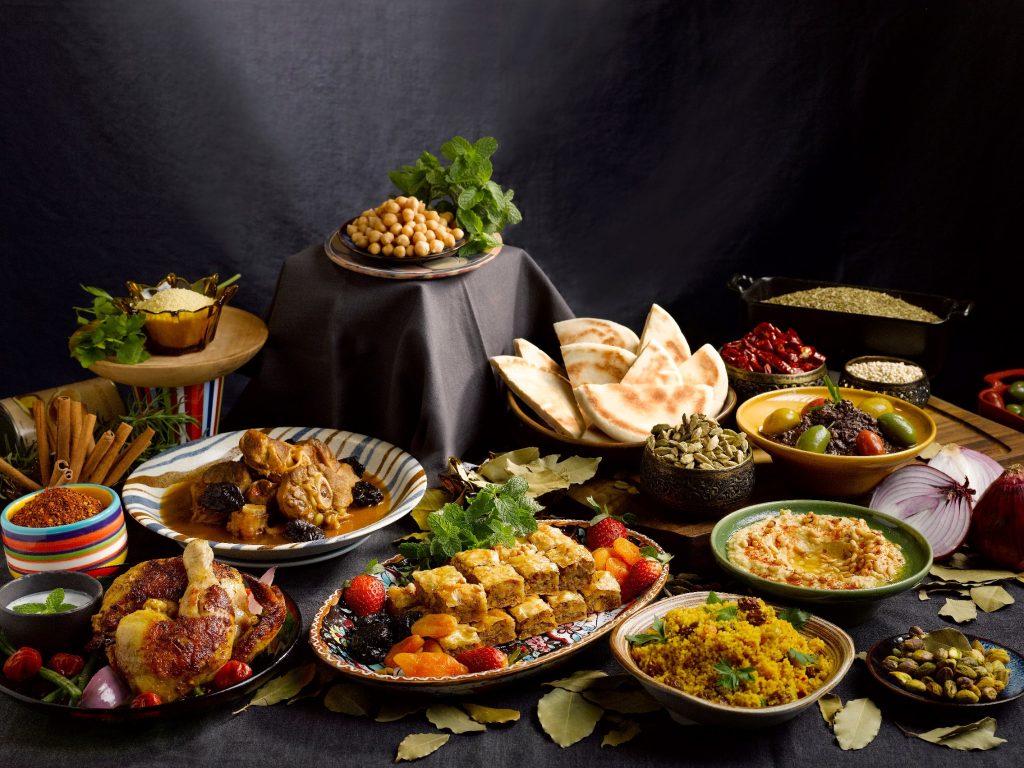 Well they have quite an extensive range of dishes on offer and as usual, The Halal Food Blog Team will always strive to cover pretty much all of the dishes (BURP!) so that YOU have a good idea of what you're gonna be enjoying when you drop by 21 on Rajah!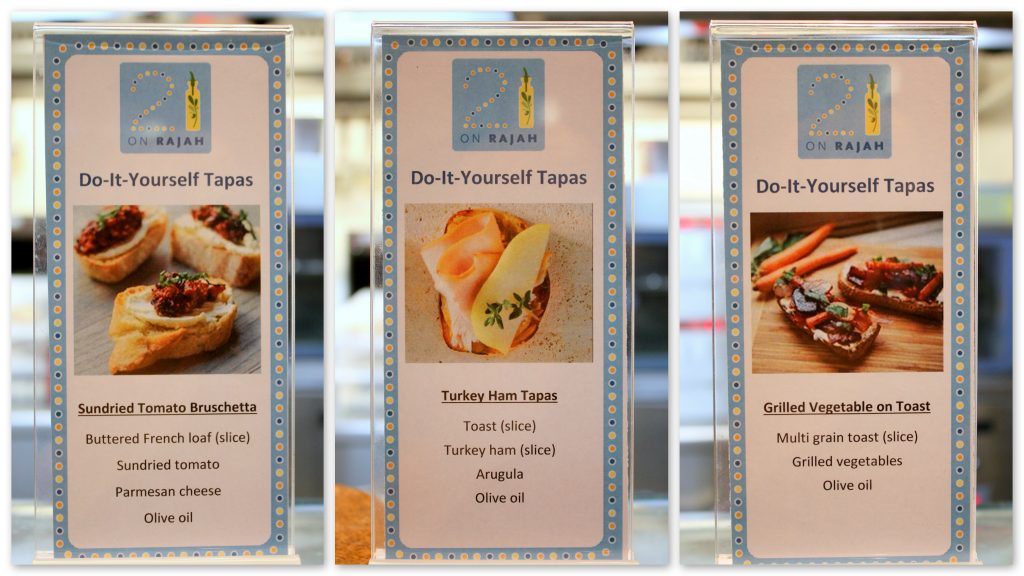 Something they have included for all the themed buffets is the introduction of a Do-It-Yourself Tapas station!
Now you have the chance to create and enjoy your own Tapas (appetizers)! They give you some ideas on how to proceed and some simple combinations but they possibilities are endless!
They really do have a lot to choose from starting from just the appetizers station including some of our all-time favourites…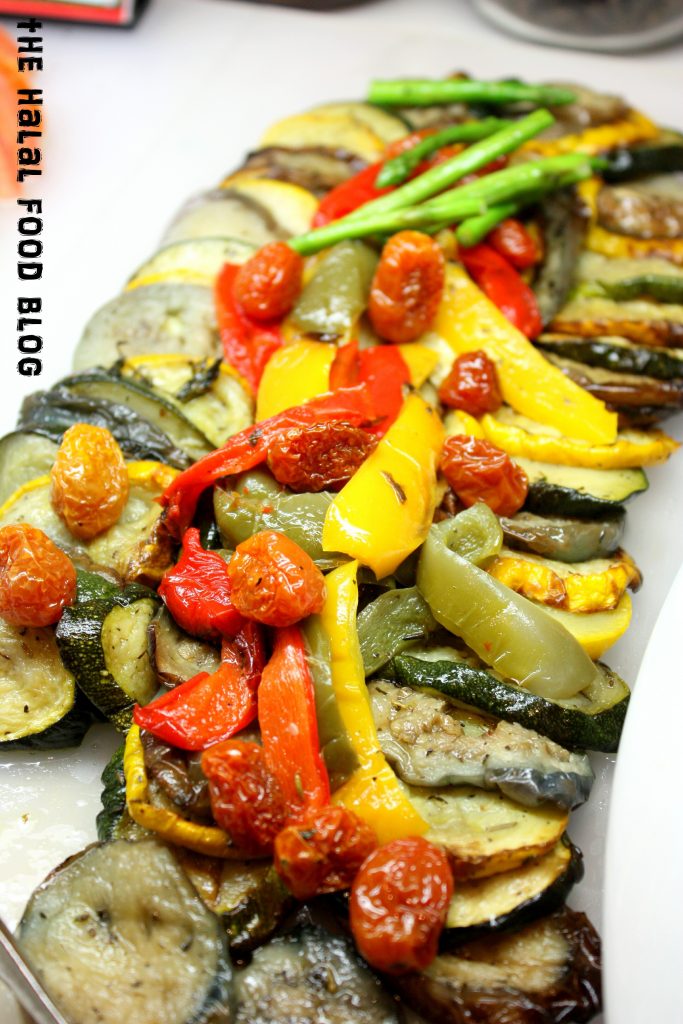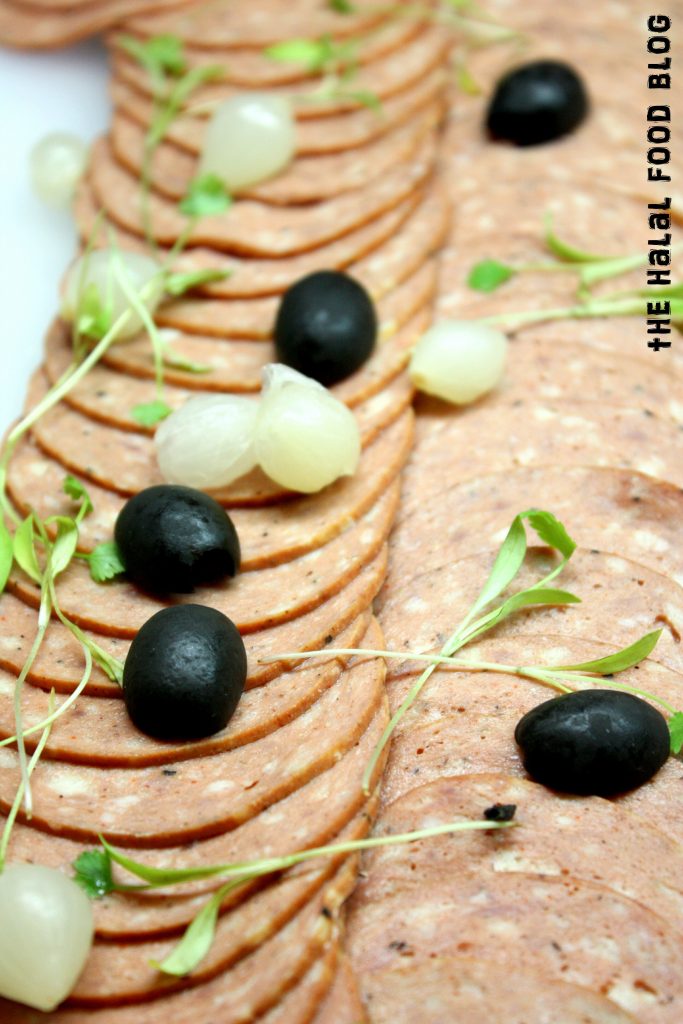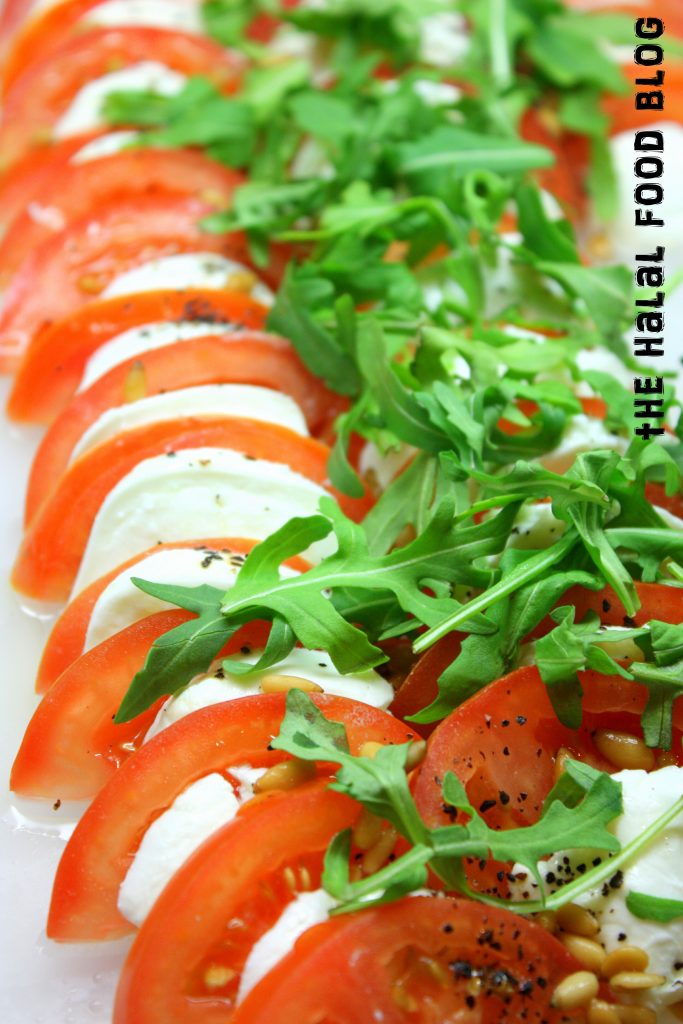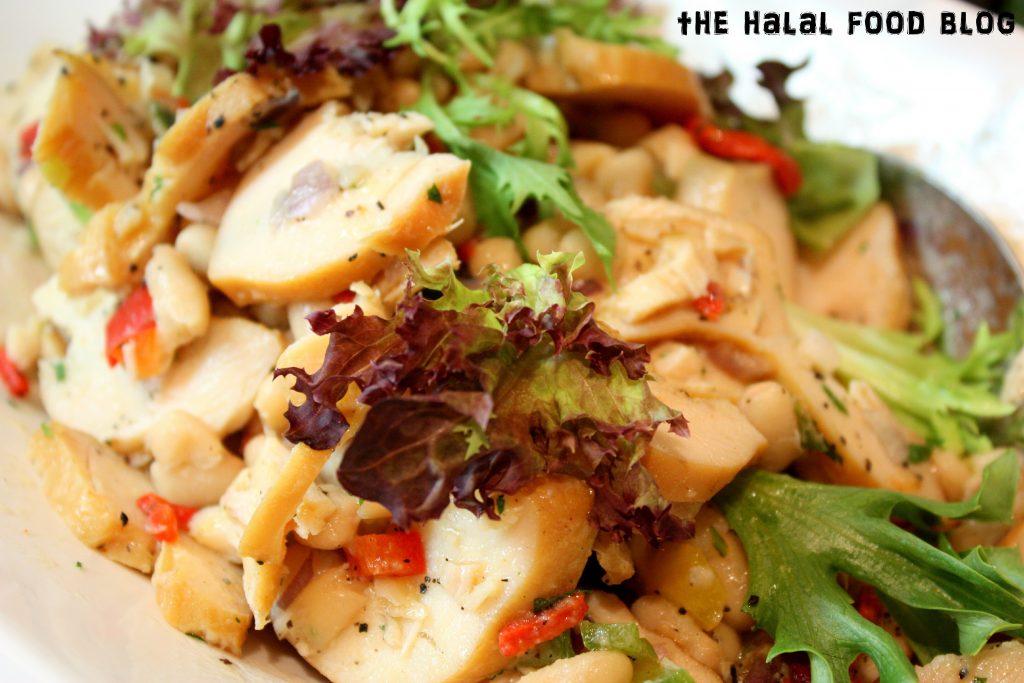 One of the popular new dishes we saw was the Smoked Chicken with White Beans an Red Onions. It's more like in a salad style but it was really delicious! I'm so happy we managed to snap that picture and have a serving because this was gone in a flash!!! But don't worry of course got top-up LOL
Another dish you simply MUST try is the Couscous!!
Enjoy with ALL of the dishes shown above for maximum effect! (But leave some space for the rest of the food!)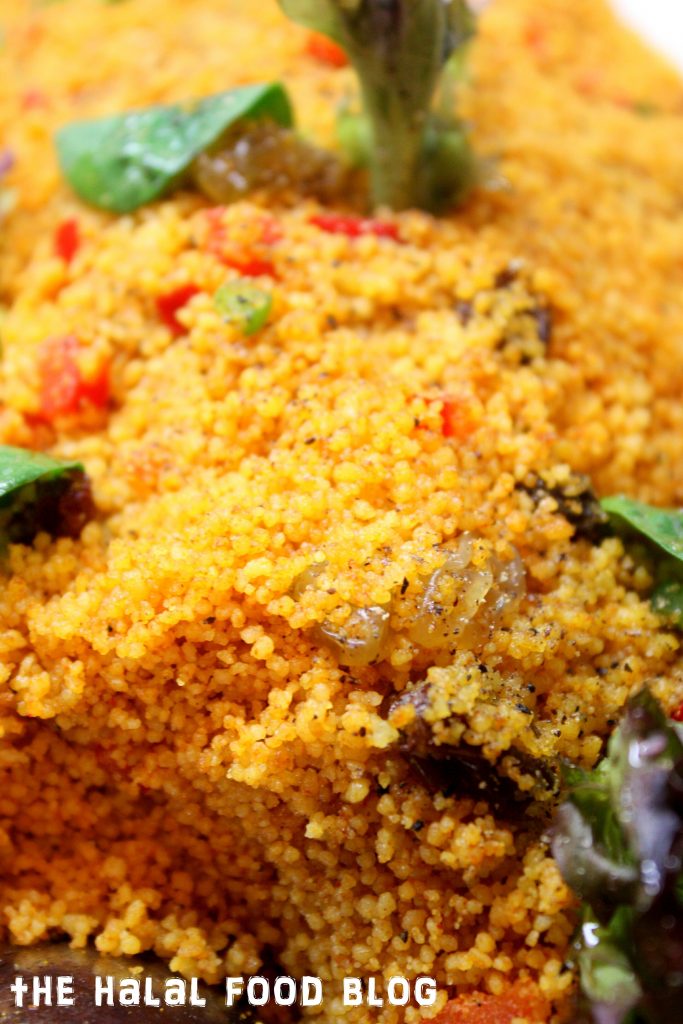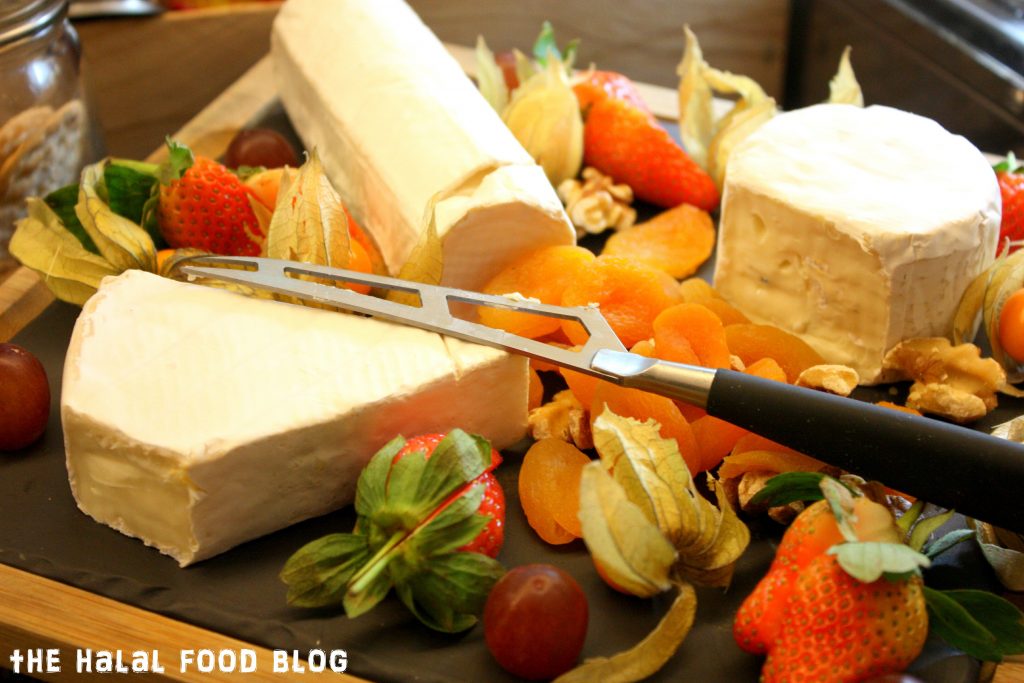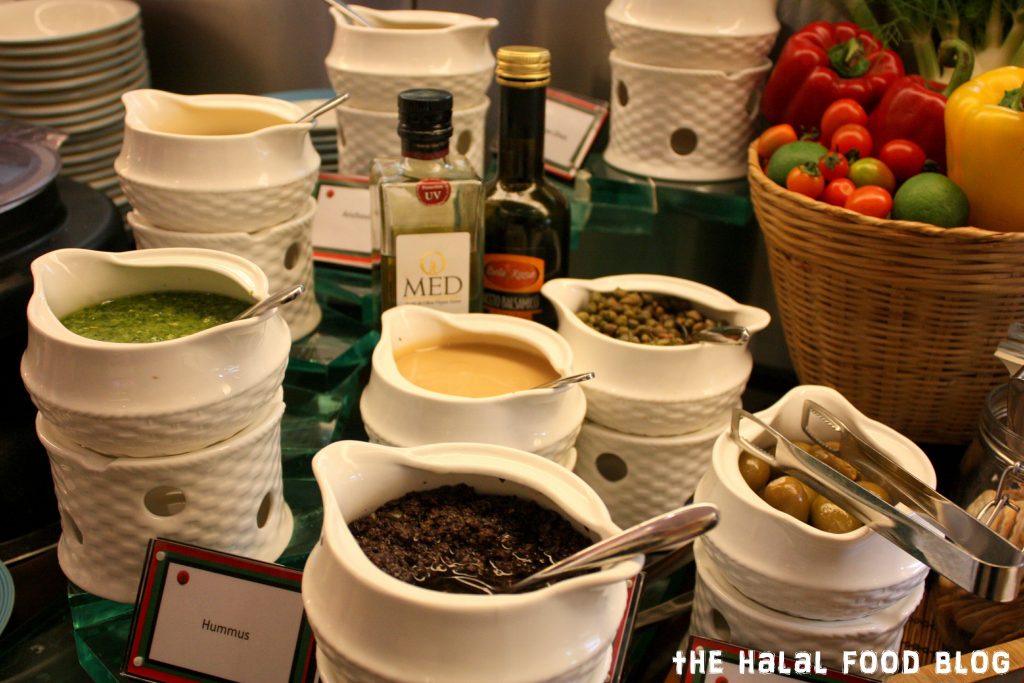 And of course, even though it's a themed buffet, 21 on Rajah still has the usual crowd favourites like the Cold Seafood on Ice and also the Japanese sushi/sashimi spread!!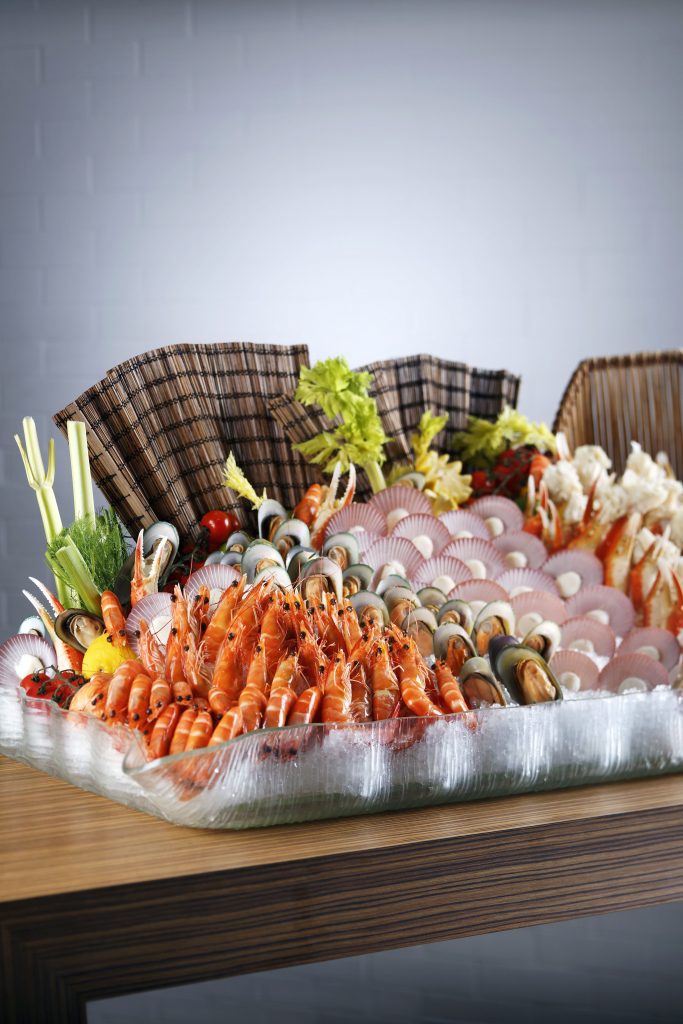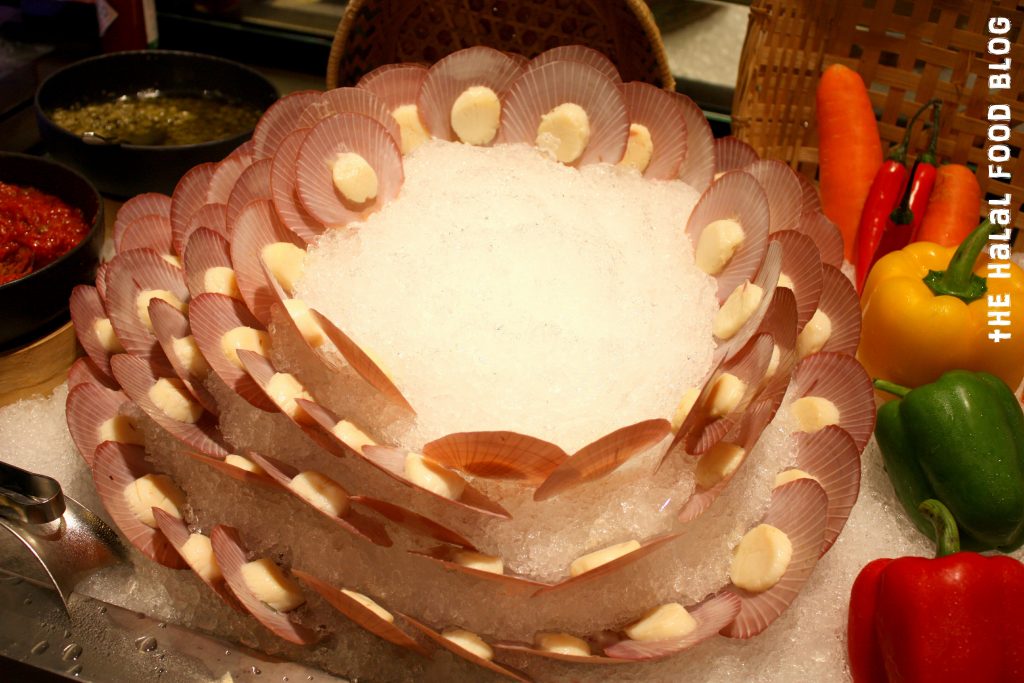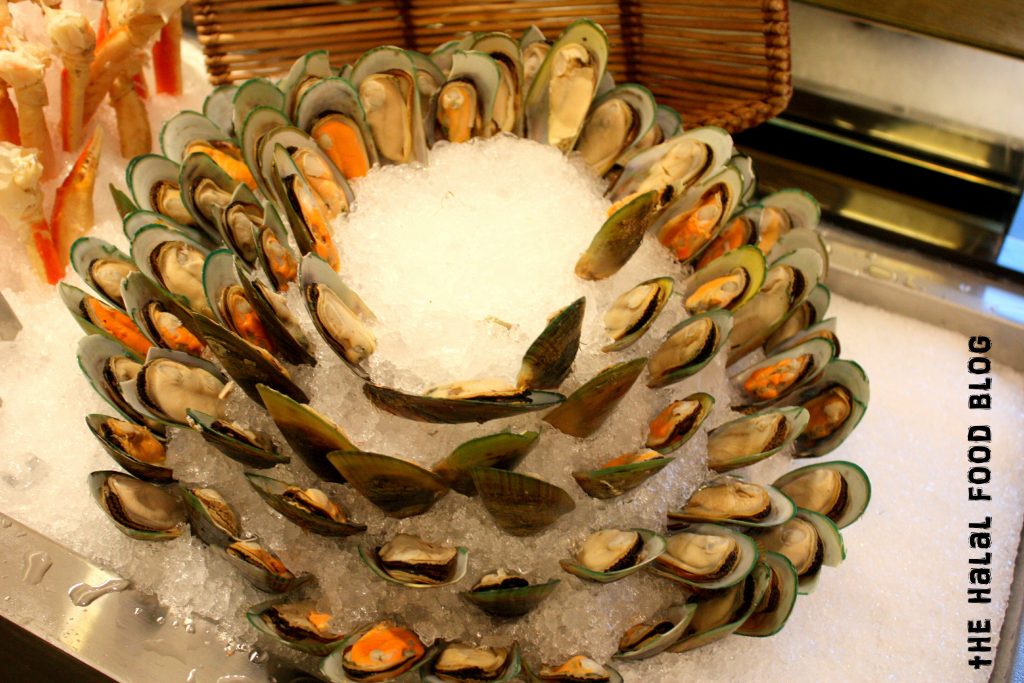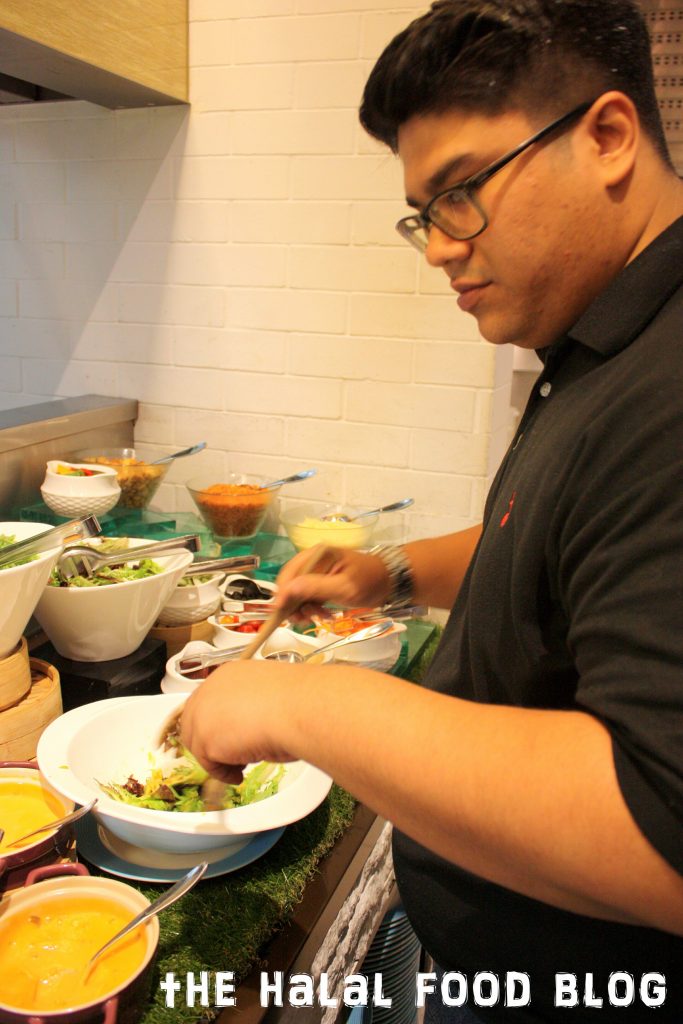 And let's not forget the D.I.Y Salad Station which is a MUST as demonstrated by Mein Bruder above.
EAT YOUR VEGGIES!!! (This message was brought to you by The Halal Food Blog)
For the mains, you'll see some familiar faves too but being a themed buffet, we're looking for something to suit the theme so in this case, bring on the flavours of Morocco!!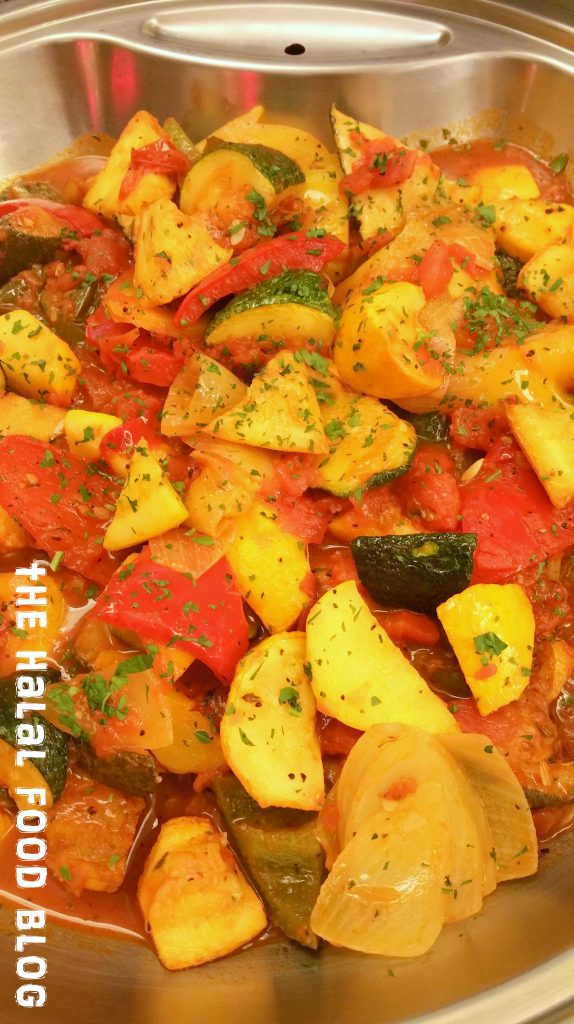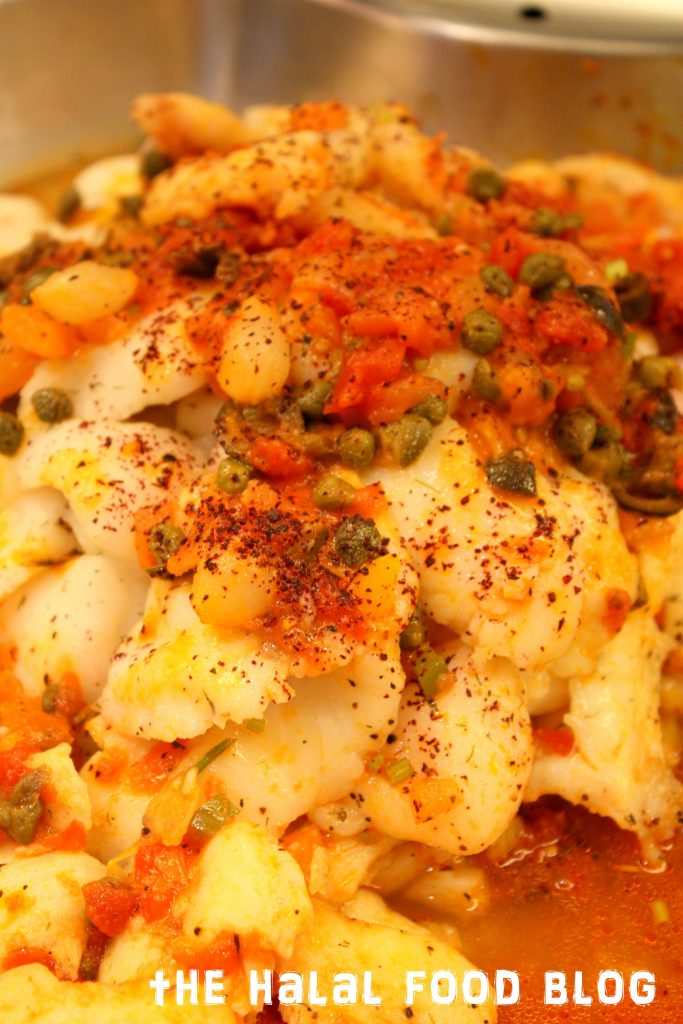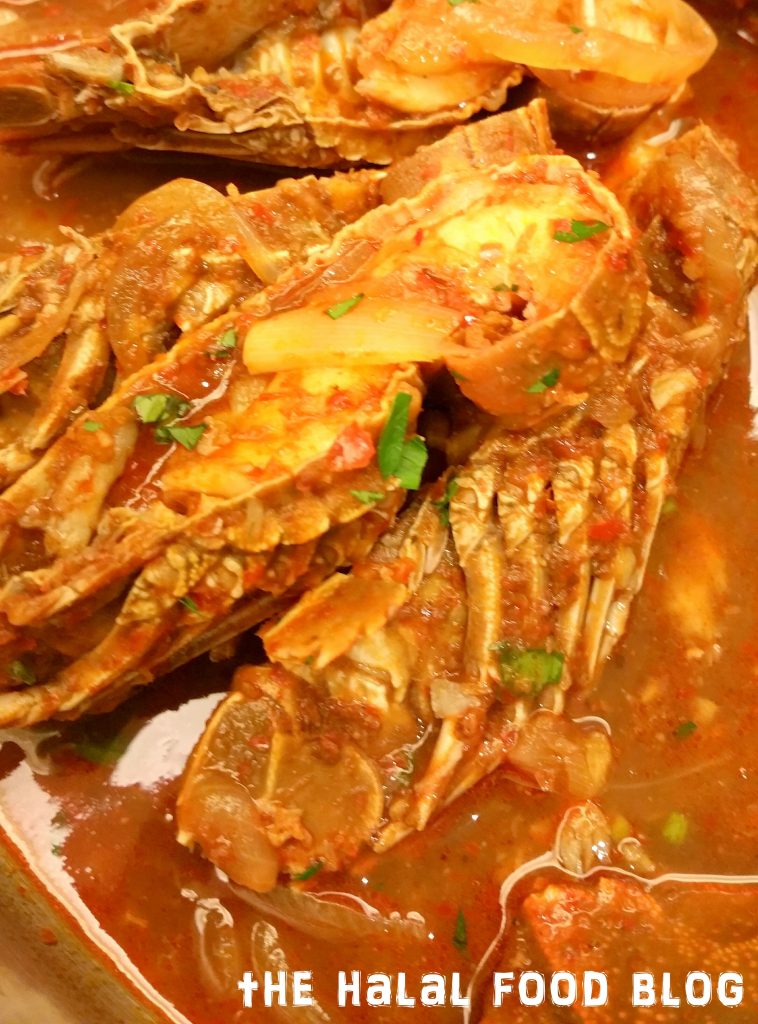 It was really nice to see some authentic Moroccan cooking methods and ingredients used. It's obvious that 21 on Rajah means business when they promised to deliver a Moroccan Feast to its diners.
Cooking methods like a tagine and using spices like Harissa and Sumac are prevalent in Moroccan cuisine and you can enjoy all of these right here!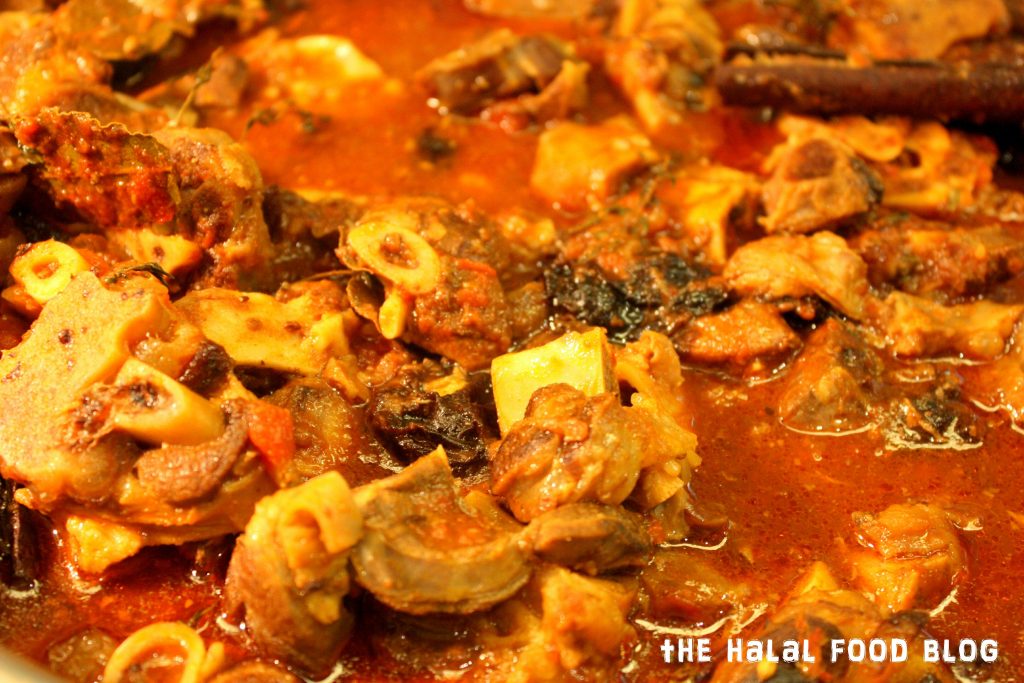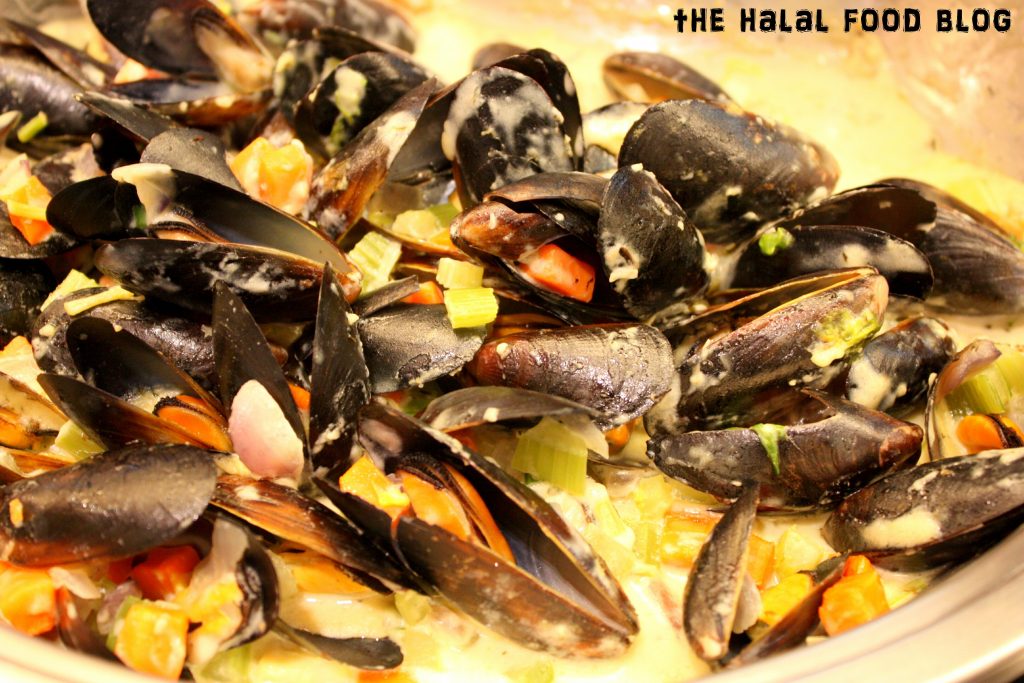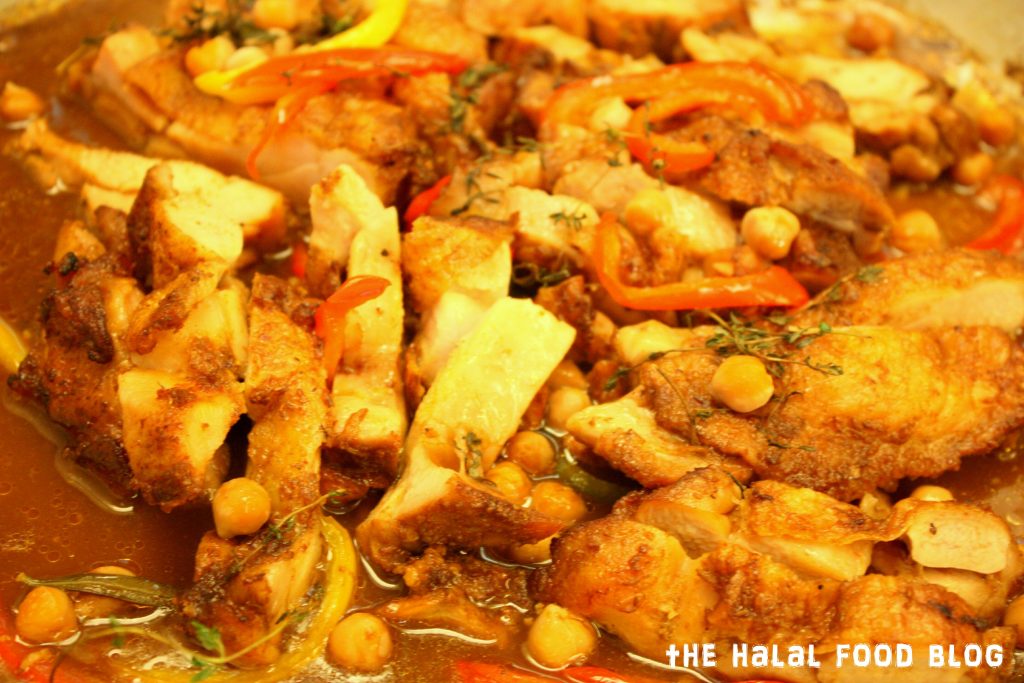 Be sure to also try the Moroccan Braised Lamb Shanks with Prunes. Definitely a new take on the beloved lamb shank but the meat was super tender. And the best part is that even though they slow-cook it to perfection til the meat is super tender, it still manages to maintain its integrity and doesn't just fall apart during the cooking process! Now that is the mark of a good cook!
And speaking of lamb….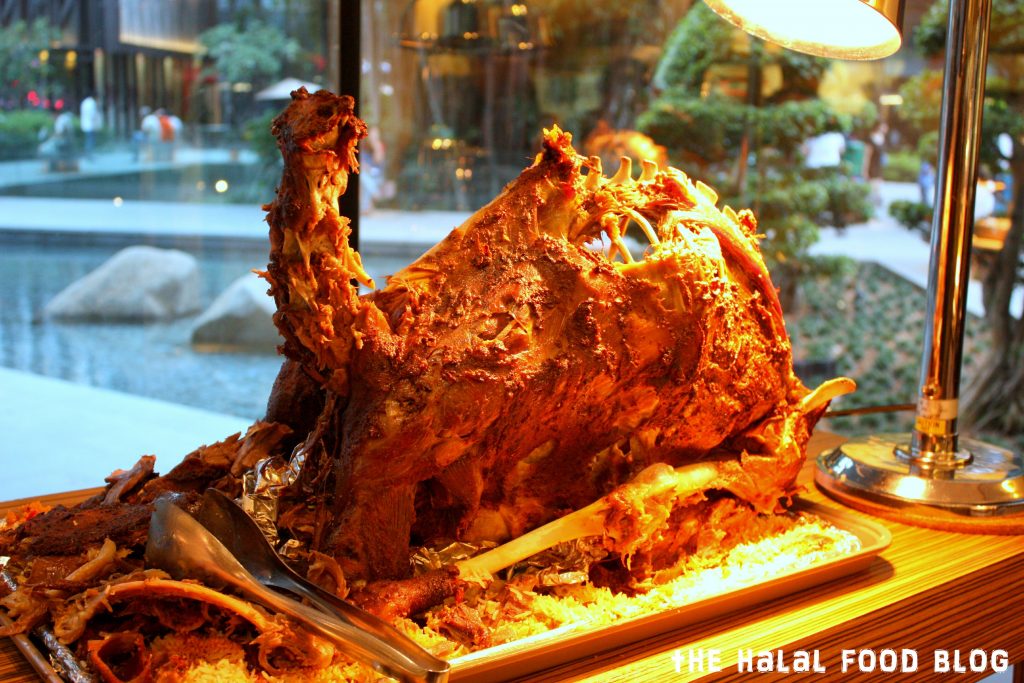 A Whole Roasted Lamb is ALWAYS a good thing!
Check out the beautifully roasted lamb at 21 on Rajah and dig into the flavourful and tender meat! They've all kinds of accompanying sauces and side dishes but just the lamb alone is enough to keep going back to carve out more meat. You've got the tender meat, still juicy and full of flavour and don't forget the charred outer parts which give you a nice contrast of texture! POWER TO THE MAX!!!
Now I regret not having more…. Hmmm…. We've gotta go back! LOL
Lamb not your thing? Then go for the Moroccan Baked Fish!
In fact, even if you did have the lamb, you should STILL have the fish because it is fantastic.
I'm super super duper particular about my fish and I totally enjoyed this one. The Seabass was super fresh which meant very firm flesh and a very fresh taste. The flavour of the spices really shone through because of the quality of the fish and the cooking method too!
The outer skin was all charred but the flesh was perfectly baked and was superb.
The photo above is actually the 2nd fish they put out that evening!! I was so lucky to be there when they brought it out LOL so I got a great picture PLUS the first dibs on the fish too!
Now besides that, of course you've gotta have your fill of desserts are we right?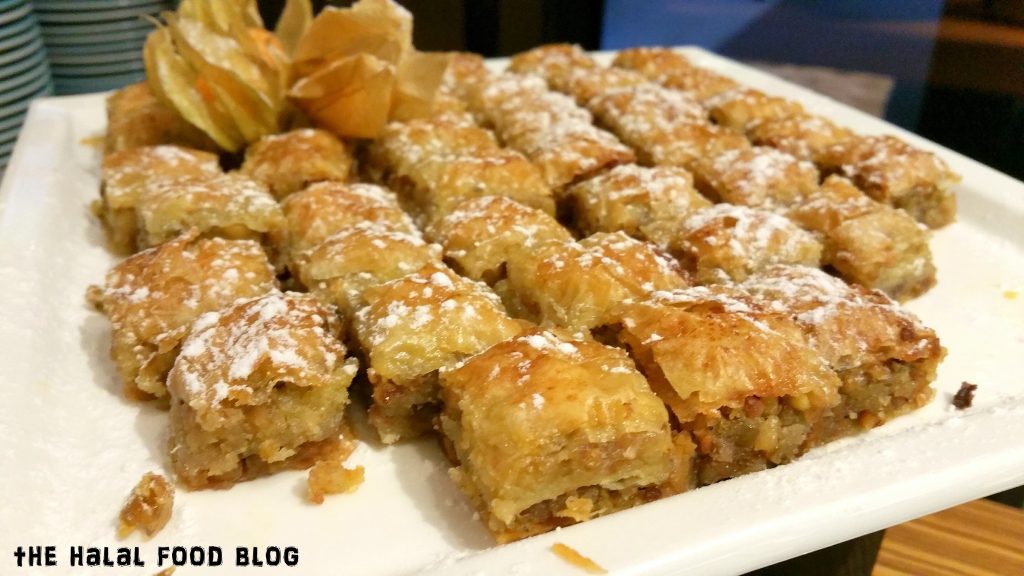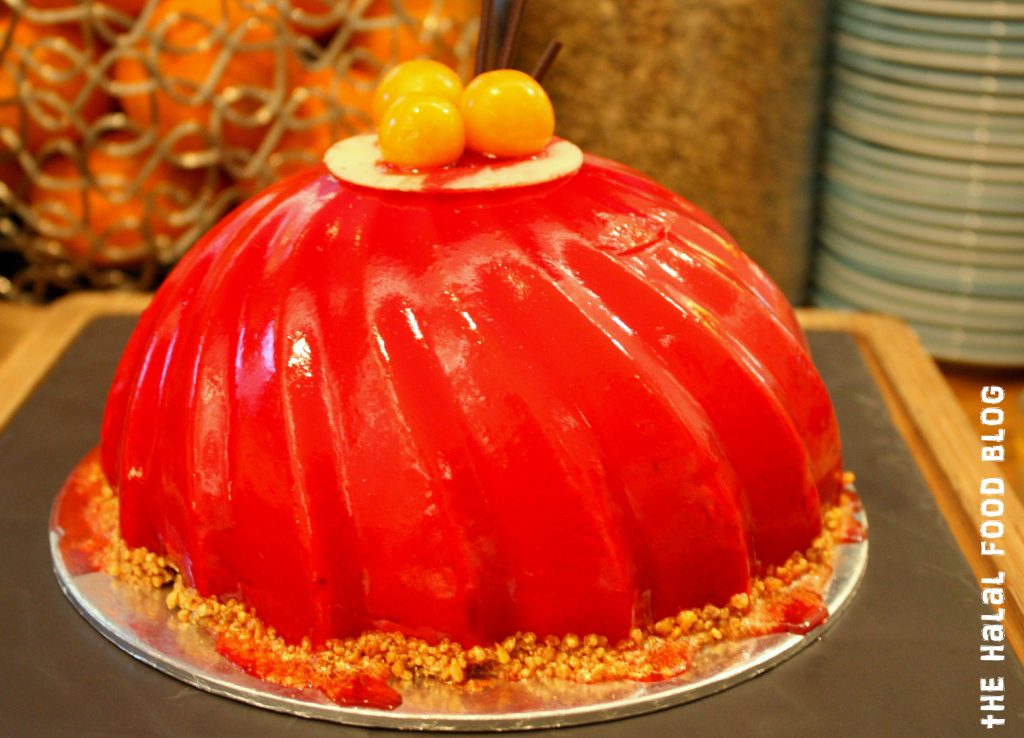 Behold the Baklava!! Sweet and nutty goodness there to enjoy for all!
I actually have quite a thing for Baklava but I always end up disappointed but the Baklava here is not bad lah!
All you people with a sweet tooth (like me!) will be so happy! LOL
And that beauty of a cake there is the special Framboise Moussecake that 21 on Rajah has specially brought in!
What's a 'Framboise' you ask? LOL don't fret it's just the French word for Raspberry!! (Thank God for Google LOL) and you'll definitely get a very delicious and tart Raspberry flavour here.
It may seem like a bit of a challenge to cut but trust me – it's worth it.
Just slice and scoop and then enjoy!!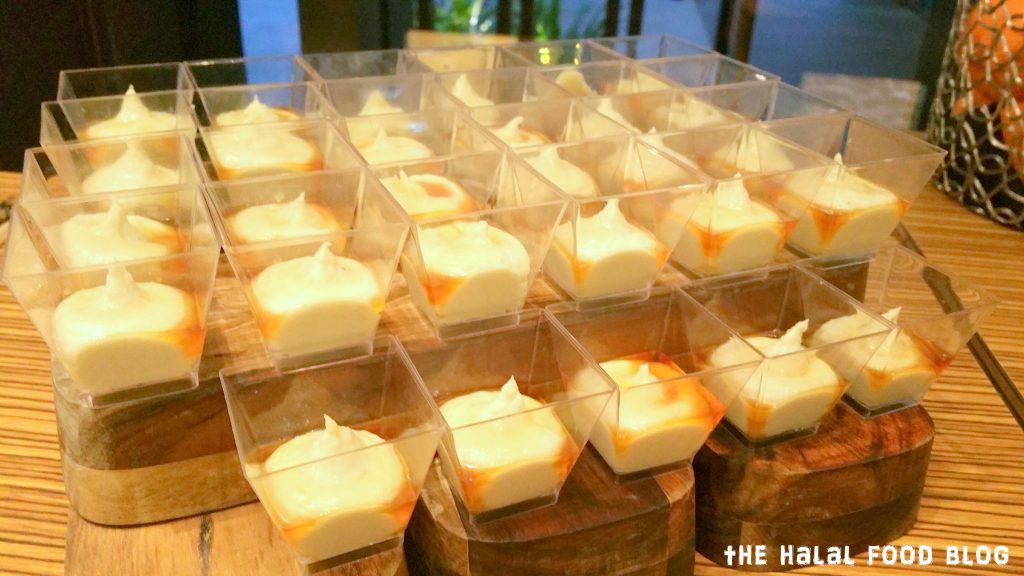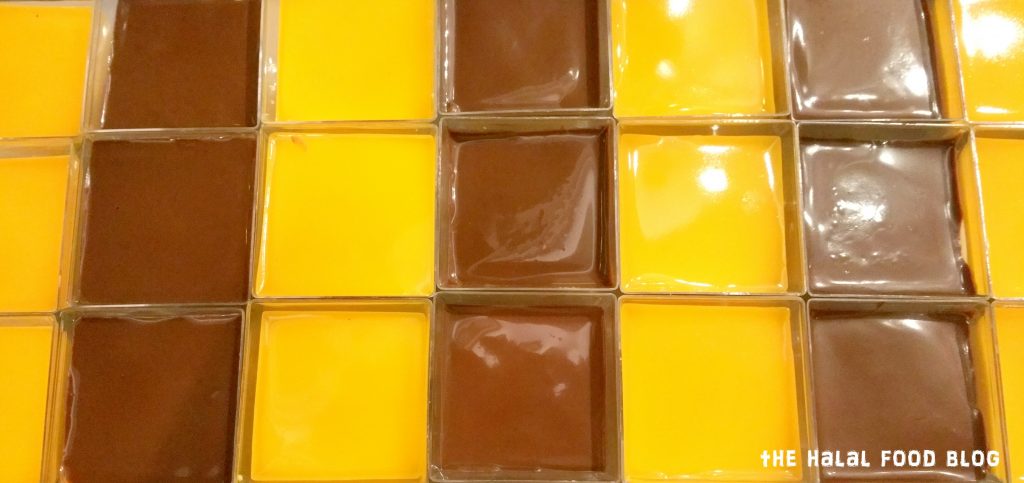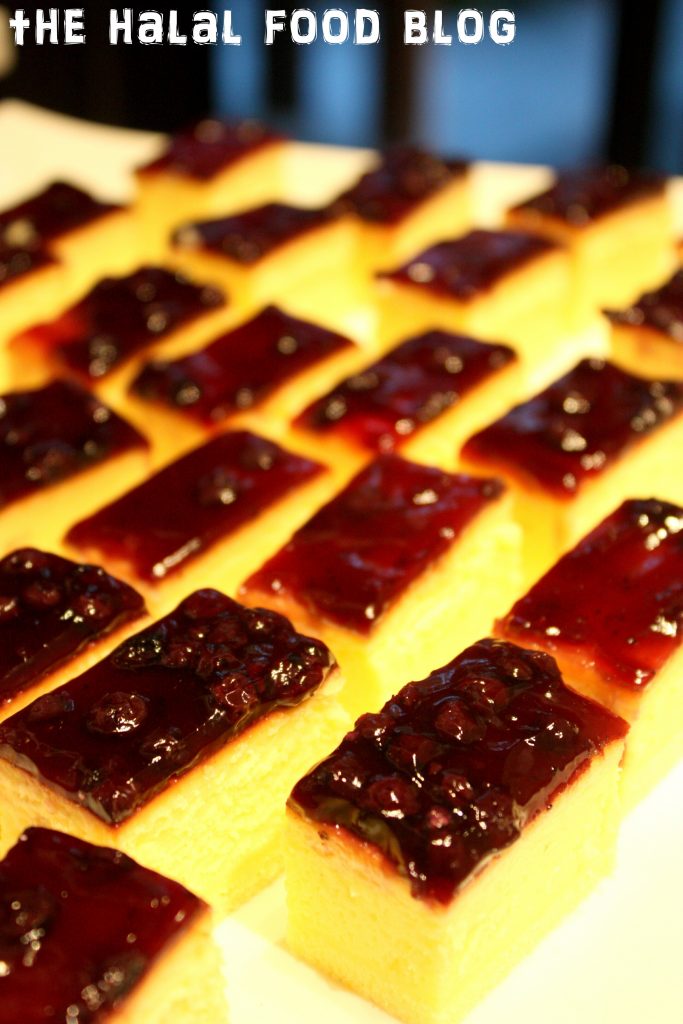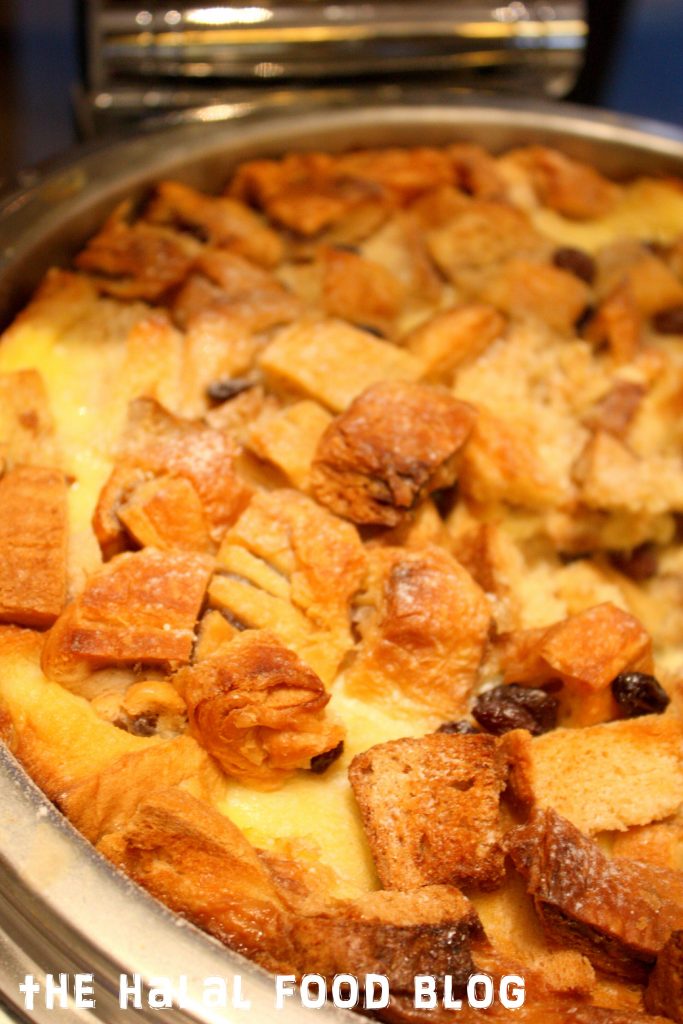 They also have all our usual faves like Nyonya Kueh, Bread & Butter Pudding, assorted cakes, Chocolate Fondue Fountain with all the goodies like biscuits and fruits and of course – the ever popular Durian Mousse! That one goes fast so grab it if you see! But please be considerate and leave some for others to have a taste too okay! LOL
The last time we visited, we saw an ice box where diners could grab some ice-cream which we thought was a super idea! But we noticed it was missing this time…. Hmmmm… And then we realized why… It had been replaced by…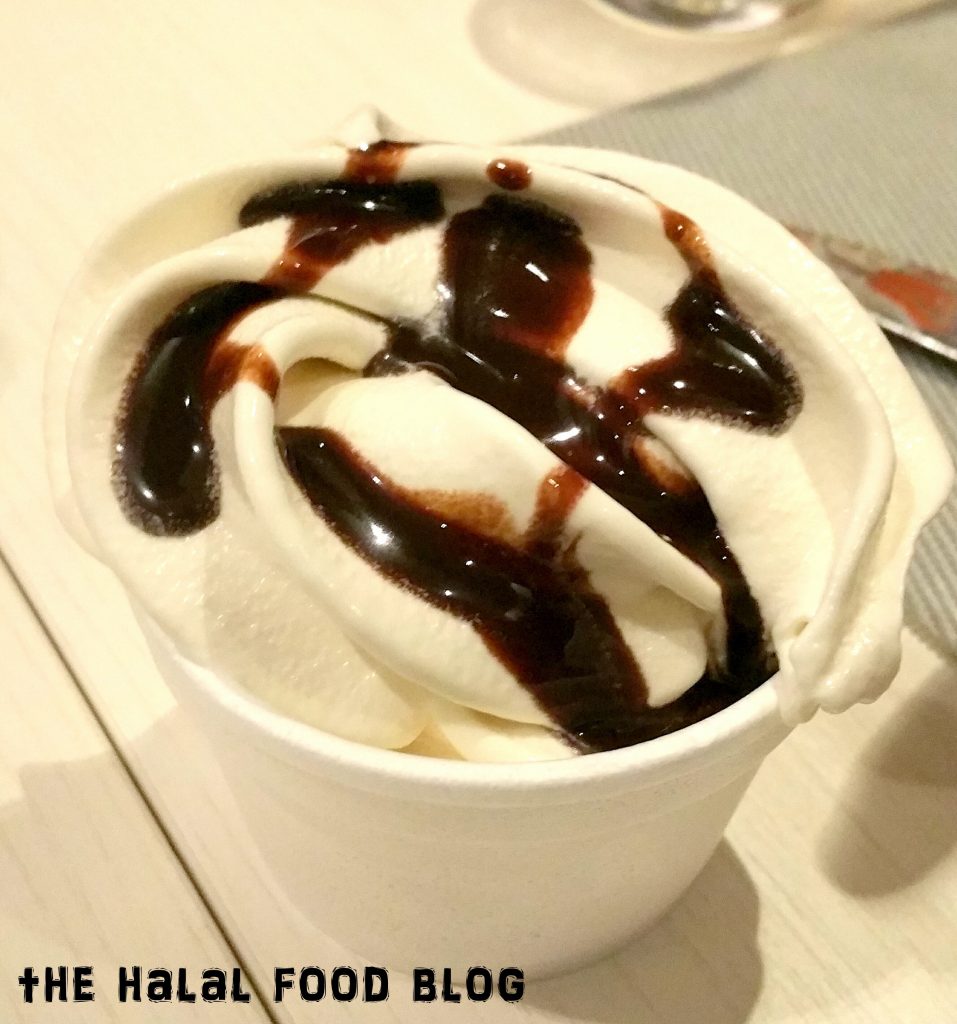 21 on Rajah has its own Soft Serve Ice Cream machine!! POWER OR WHAT!!
And it's the D.I.Y type so you grab a cup, slush in some ice cream and then add your toppings!
Yeah we only have some chocolate sauce on there but there are so many others to choose from!
But be careful when operating the machine okay… It's very easy to get carried away! LOL
Check out this video to see what we mean!
LOL a bit harrowing as you can see but a whole lot of fun and some great dessert waiting for you at the end.
Now like we mentioned, besides the Moroccan Feast, they also have the Italian Fiesta spread on Mondays and also the Viva Espana spread on Wednesdays.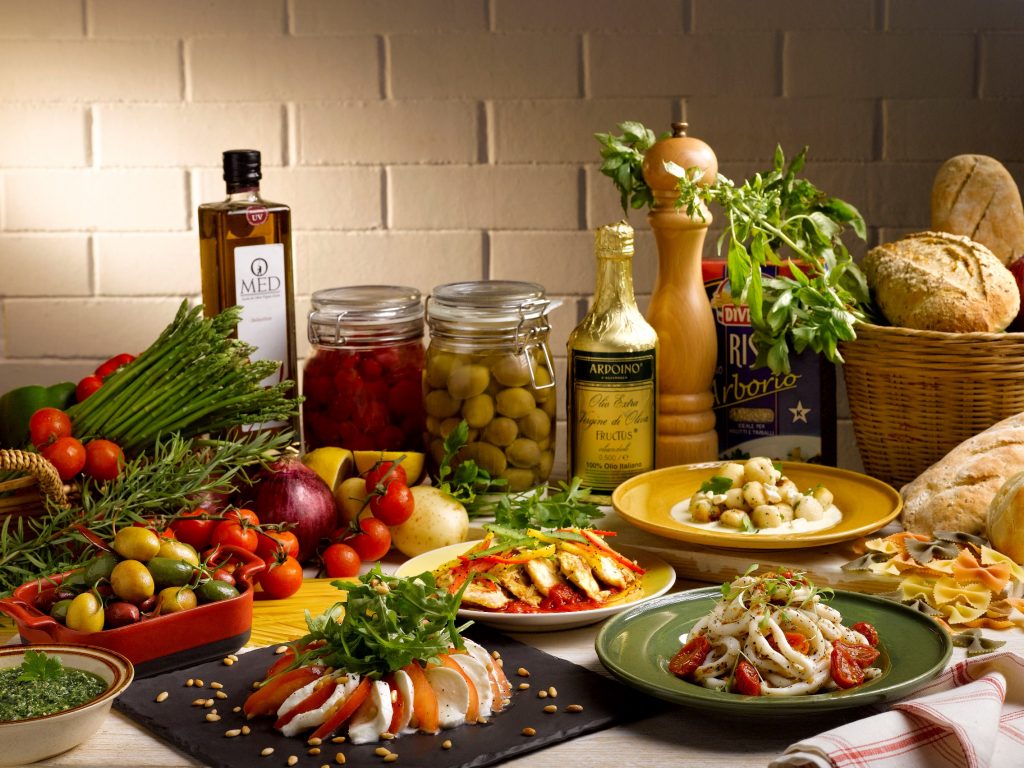 At the Italian Fiesta, prepare to sink your teeth into dishes like Potato Gnocchi in Gorgonzola Cream Sauce (which sounds absolutely like it's gonna be the bomb!), Braised Lamb Shank in Mint sauce and Calamari in Spicy Aglio Olio.
On top of that, they also have a live Pasta station where you can take your pick of 4 sauces namely Pesto, Tomato Bolognaise (very naise!), Mushroom Cream and Chilli Aglio Olio to go with your pasta.
And to top it all off, check out the special signature Slow Braised Osso Buco!
We believe that in Italy, they call all of this – Magnifico!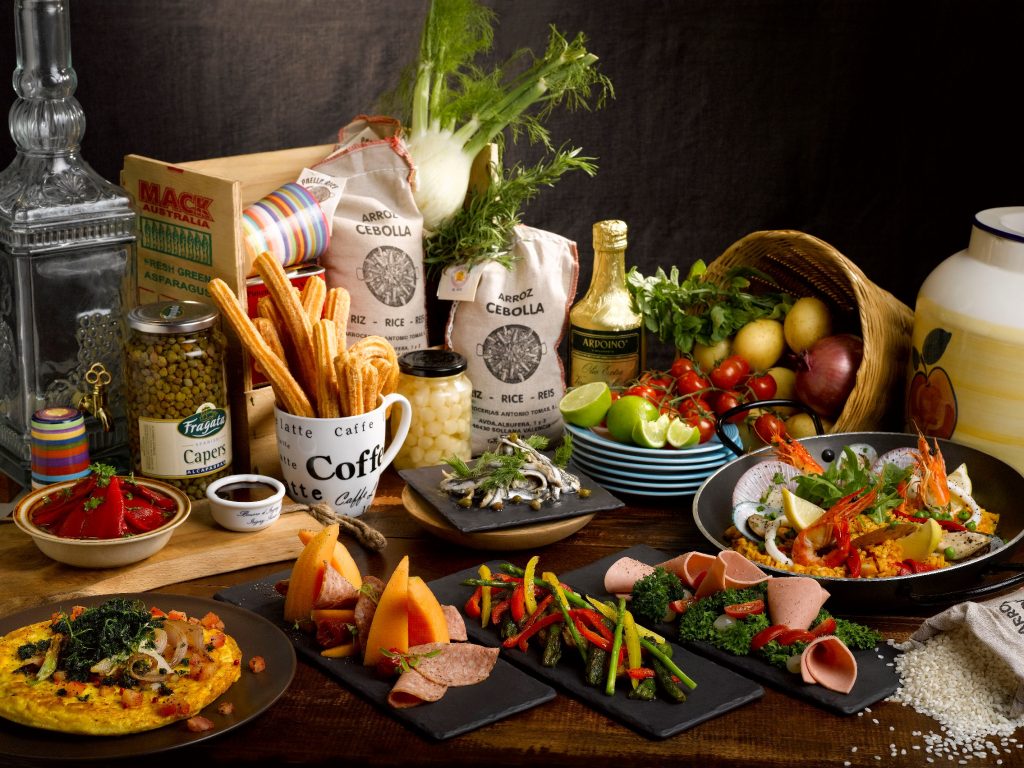 The Viva Espana spread on Wednesdays promises to be a scintillating set of dishes too.
Feast upon Beef Albondigas with Smoked Paprika, Spanish Lamb Stew with White Beans, Fish Fillet Escabeche and Crema de la Madrid just to name a few.
They've also got Seafood and Chicken Paella plus a special Tortilla Patatas Ala Espanyol (Spanish Omelette with Potatoes) which is served to you right out of the pan! Ole!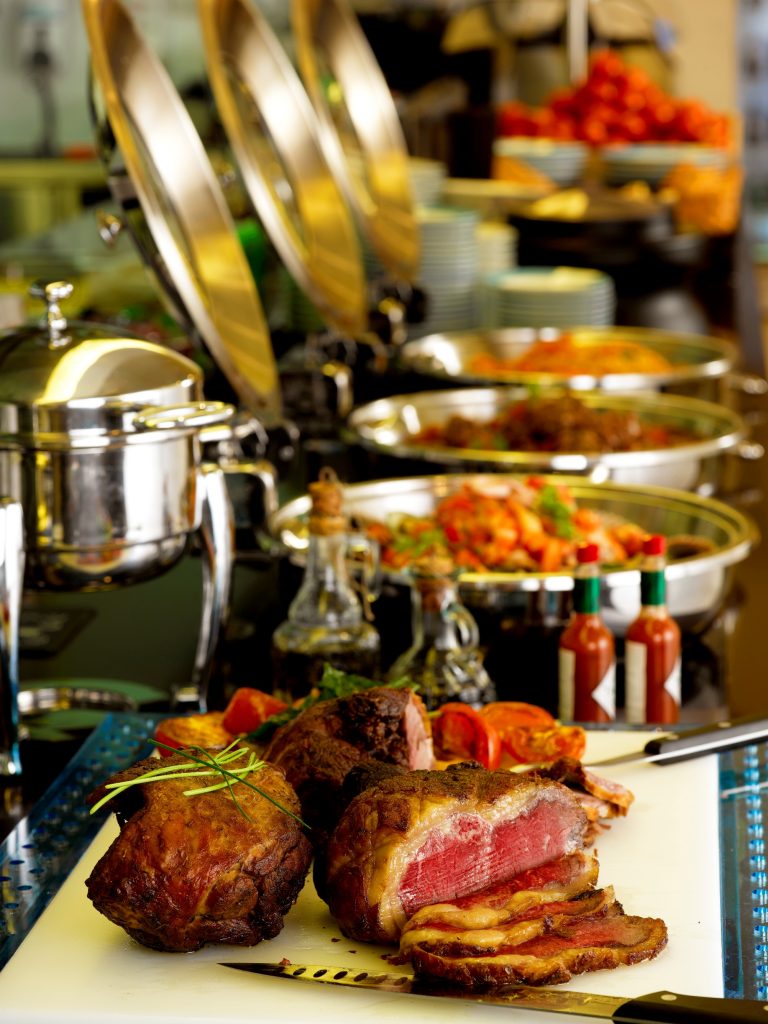 Well, if all that excitement is not your thing, you can always head down and enjoy the good ol' Meditter-asian buffet spread that 21 on Rajah is famed for. Guaranteed to satisfy!


21 on Rajah remains one of the best value-for-money buffets in town.
It's got a great spread, the staff are always tip-top, the prices are very attractive and it's got a great location.
The bottom line – 21 on Rajah has gone from strength to strength since it first opened and got its Halal certification. It's little wonder that this is the case because they have a great buffet that is continually improving and looks set to take on greater heights especially with innovative special buffets like this.
If you have yet to make your way down to 21 on Rajah, do so ASAP because you don't know what you're missing!!


You can make reservations for 21 on Rajah via Chope!
Just click on the BOOK NOW button and  you're one step closer to enjoying all the yummy food at 21 on Rajah!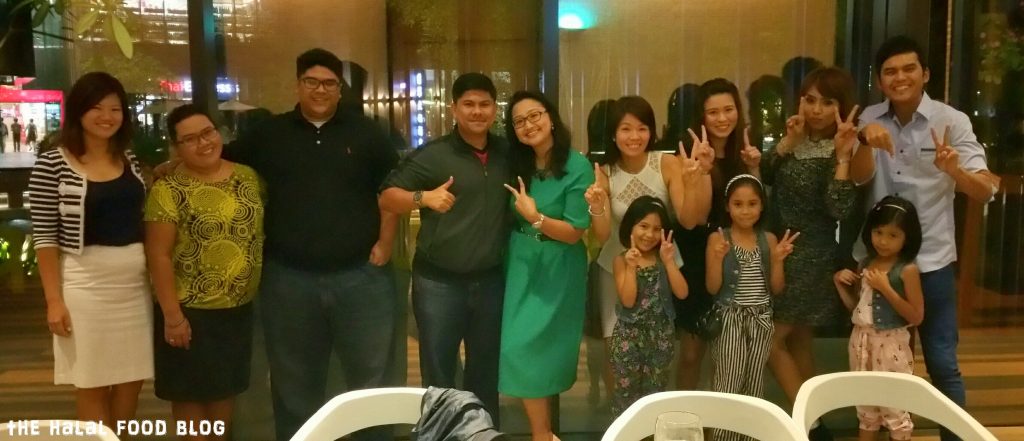 And before we sign off, here's a special shout-out to Diah Mastura and her absolutely lovely family!
Her girls were so cute lah and it's obvious they really enjoyed the buffet too!
Follow her IG account @etrangle and her site etrangle.net/redalert okay!
Good stuff!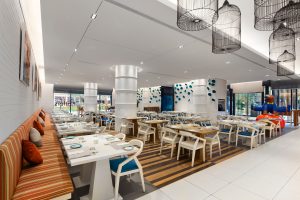 21 On Rajah

Days Hotel At Zhongshan Park
1 Jalan Rajah

Tel: 68086868
www.dayshotelsingapore.com


Operating Hours: Weekdays
Breakfast – 6.00am til 10.30am
Lunch – 12.00pm til 2.30pm
Dinner – 6.00pm til 10.30pm

Operating Hours: Weekends
Breakfast – 6.00am til 11.00am
Lunch – 12.00pm til 3.00pm
Dinner – 6.00pm til 11.00pm
All information (including prices, availability of item on menu and Halal status of establishment) are accurate at the time of posting. All photos used in this site are property of The Halal Food Blog unless stated otherwise.
---
21 on Rajah offers 15% off for all FRIENDS Card holders. Advance reservation is required. Discount is not valid with any other discounts or promotions. Discount is not valid during eve of Public Holidays, on Public Holidays and other special occasions. Blackout dates apply.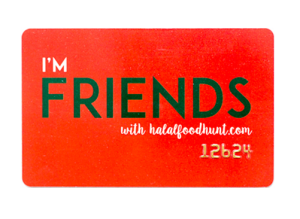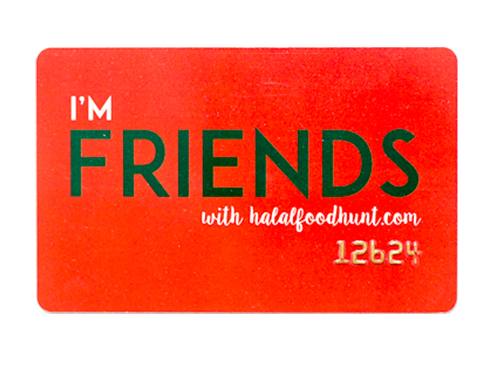 Get your FRIENDS with halalfoodhunt.com Rewards Card now at only $18/year and unlock discounts at over 60 halal restaurants, cafes, bakeries including online e-commerce businesses in Singapore. For a full list of where you can enjoy your card, click here.